"Music is the one incorporeal entrance into the higher world of knowledge which comprehends mankind but which mankind cannot comprehend. "
- Ludwig van Beethoven
True artists are their art. There is no separation between the human being and their creation;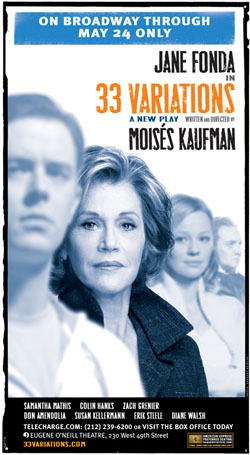 humans are merely a vessel for their creation. These are some of the hypotheses offered in writer-director Moisés Kaufman's new play, 33 Variations, which is opened Monday night at the Eugene O'Neill Theater. The idea of combining the story of how a set of variations came to be through the eyes of both Beethoven, himself, and the musicologist studying his sketches nearly two hundred years later, is what initially drew me to this play. When it was announced that Jane Fonda, after a 46 year absence from the stage, had signed on to play musicologist, Dr. Katherine Brandt, I bought my ticket knowing that the words "sold out" would likely follow soon after.
As pretty much expected, I was the youngest person in the theater, by a good 30+ years -- and that's being generous. Nearly everyone at the Sunday matinee I attended came to see Jane. They thought they had an idea of the Jane they were going to see: Barefoot In the Park Jane, Klute Jane, Julia Jane, Coming Home Jane, The China Syndrome Jane, and, maybe even Hanoi Jane. If you grew up in my generation, however, your point of reference is more likely to be this Jane: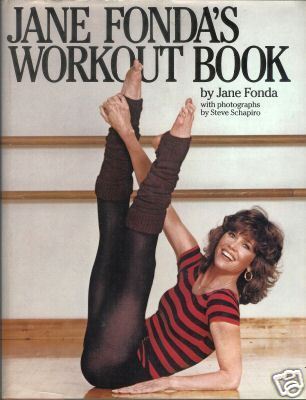 which is probably why the audience tipped in favor of the silver-haired set.
But now the older crowd has one-upped their younger, theater-going counterparts, because 33 Variations is a beautiful, exquisite work of contemporary theater. It is everything a play should be and more, drawing from both its uptown star power, downtown soul, and an ingenious set that combines pen, ink, paper, a pianist, and musical visuals projected onto a screen.
Kaufman has created an original piece of theater that marries language and music in an arresting fashion. To hear each line played by Diane Walsh on piano, while Ludwig van Beethoven (played tremendously by Zach Grenier) "thinks" each note through out loud allows you to feel as if you are right there with him. In the words of Dr. Katherine Brandt, "I feel like I am looking over his shoulder as he composes."
There are beautiful moments of straight monologue underscored, softly, by the piano,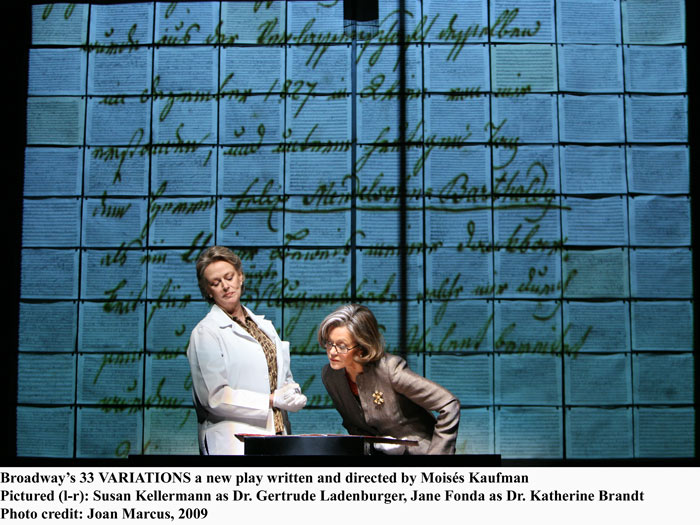 had me in tears. An emotional reaction cannot be held back when Dr. Brandt says Beethoven's variations stopped time: "They found moments to live in and expand. Right before he takes her hand to dance, when he misses a step, or asks, 'will she like me? '" And, the goal of the present-day story in 33 Variations is to stop time as well. Katherine needs time from the ravages of her disease (ALS) to finish her paper, to learn more about her daughter, and to leave the world with one last thesis proved.
Oddly enough, for a woman so well-learned, Dr. Brandt seems content not to have any sort of self-exploration beyond her investigation into the past of others. The story might be at fault here, but this is where Jane Fonda shines the brightest. In Dr. Katherine Brandt, Fonda has created a character, a vessel, that does not allow for second-guessing. She comes up with a hypothesis and proves it, no further questions asked. The confidence, cockiness and self-absorption run high, but instead of letting the audience write her character off as a bitch, Fonda plays Brandt as a deeply flawed, but fiercely intelligent woman. Perhaps the kind of woman we all are deep down. She may show a few cracks, but does not break. She is, quite possibly, the ultimate expression of the public woman.
The supporting cast carves their own characters so meticulously that it feels as if each of them takes turns becoming our lead actor, from Susan Kellerman (Katherine's German counterpart, in more ways than one) to Samantha Mathis (who portrays Katherine's daughter), the dynamic Don Amendolia (as the music publisher, Diabelli who composes the theme on which Beethoven's variations are based), to Erik Steele (as "Friend of Beethoven"), Colin Hanks as "Nurse Mike," (who manages to make the most of a part that could have used a little more attention on the page), and of course, the aforementioned Zach Grenier as Ludwig van Beethoven. They are all vital measures in each of the variations. It is a testament to both Kaufman as a writer-director, and the cast themselves, who appear to have the utmost respect for one another allowing each character, each variation, its moment to shine.
With all of the revivals and adaptations currently being staged, it's rare to walk out of a theater feeling as if you have witnessed something unique and learned a few things along the way. But, 33 Variations allows one to feel a glimmer of hope for future playwrights, and perhaps, in these new playwrights' work we'll catch a similar turn of phrase, note, or heady emotion. Moisés Kaufman has certainly succeeded in giving them (and us) 33 variations of inspiration.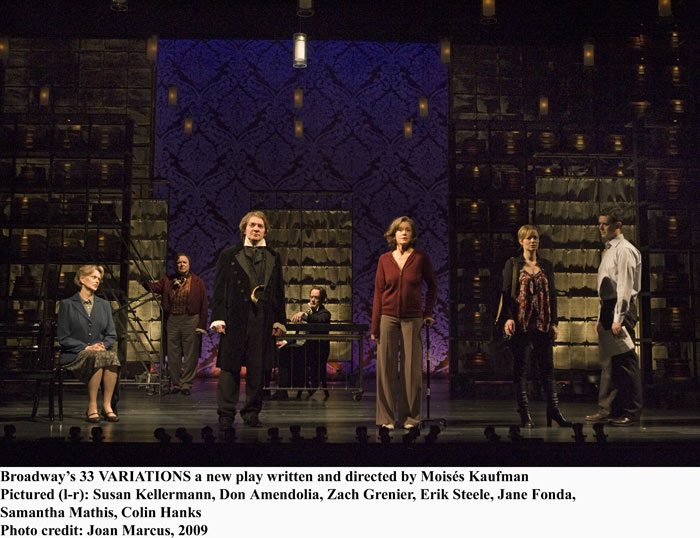 SUBSCRIBE AND FOLLOW
Get top stories and blog posts emailed to me each day. Newsletters may offer personalized content or advertisements.
Learn more