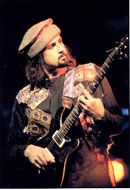 Dubbed the "Bono of South Asia," Salman Ahmad is a musician and founder of the Sufi-rock band, Junoon Urdu for "obsessive passion"); an activist, who is a UN-appointed HIV/AIDS ambassador for South Asia, a medical doctor; a teacher, as an artist-in-residence at Queens College; a husband/father and a Muslim. I talked with Salman just after his performance at the Nobel Peace Prize concert and as tragedy struck in his homeland of Pakistan with the assassination of Benazir Bhutto. What started out as a conversation about his life and social activism, turned into a need to talk about the current political situation and the lessons we can learn.
Having spent half of your life in the United States and half in Pakistan, what made you move back to Pakistan and conversely, what made you return with your family to the United States in 2002?
Growing up, America and Pakistan didn't really seem like two different planets to me. I went to Junior high and high school here. I was totally absorbed in the American teenage lifestyle. And I couldn't see a world outside of Rockland County, New York. But then my father's job in the airline industry took us back to Pakistan and I went on to study medicine at the University of Lahore. In Pakistan I found a country that was deeply divided between the forces of moderation and fanaticism. Playing music was the only thing that helped me keep my own sanity. When I quit medicine, to become a musician, I brought my friend from the U.S. to Pakistan to be my band's bassist. My world was interchangeable; I straddled two universes.
When September 11th happened and a hate virus began to spread, something in me began to think it would be interesting to see what it's like to live in the States now and for my sons to go to the same schools I went to, just to feel a kinship with them. All my life, everything I had done from college on was in Pakistan: my band, multi-million rupee sponsorships and connections. But we made the move. It's been five years now and it hasn't been a completely smooth ride, but it was the best decision we made. When events beyond your control take place in the world; these types of decisions come easier and need to be acted upon.

How did you become a UN Goodwill Ambassador for HIV/AIDS in South Asia?
In 2001, I met with Kofi Annan at the HIV/AIDS conference in New York. He told me there was a need for celebrities and public figures in South Asia to step forward and talk about HIV/AIDS because there is so much of a stigma attached to the disease. He also knew I had a medical background, so he thought I could approach it from both sides. I accepted, but then a few months later, September 11th happened. My role wasn't just about AIDS anymore, it was increasing knowledge about terrorism, people's cultures and difference and poverty. It cleared the way for me to be more of a social activist/musician rather than just a rock star.

During the late '90s, you recorded a song called "Accountability" and made a video that satirized Pakistani politicians whose corruption scandals were being reported internationally. Benazir Bhutto's government took action against you. Tell me what happened?
While I was on college, Pakistan was under a military dictatorship and there was no outlet for musicians. Democracy came when Benazir Bhutto became the first prime minister. My band wrote a national anthem, which became a hit song and Benazir invited us to perform at the prime minister's house. This woman blew us away; she was a charismatic, beautiful and we thought she was a great change for Pakistan. But over her reign, there was an abuse of power and siphoning of money. My band wrote a song and made a video called Accountability, which satirized politicians and their corruption. Benazir and her aids weren't thrilled and they told us if we continued with the video and making this type of music, we were taking our lives into our own hands, a direct death threat. I was persona non grata in Pakistan until she got kicked out of power. It's been ten years since that song and we're basically right back to where we started.
What do you think the impact of Bhutto's death will have on Pakistan's society? What legacy will she leave behind?
On a personal level, it saddened me. She meant so much to so many people, but at the same time, you can't obscure her corruption. I find right now you have to be tough and honest. There are so many lies that have been batted about in the last ten years, which has affected the lives of so many people. Two years ago, people were asking where she was after the earthquake. There were no relief funds, not money contributed to rebuilding and all of the candidates as well. None of them were there. Even in the tragedy of Benazir's death, you have to turn on all the lights. It's not about vilifying one person; it's the political elite in general that needs to be kept in check. And it's the job of the media and journalists, reporters and artists to keep questioning them.

Speaking of legacies, what is the one you want to leave behind for your family on a personal level and for the world at large?
My grandmother, Aziza, told me, "we have a purpose when we come on earth. We are vehicles for positive change. Whatever you do, follow your heart, be passionate and pursue truth. Whenever you do that, positive change will always find its way there." That's what my wife and I both try to do and what we tell our kids to do. Don't take the easy path, be curious about the world, be compassionate and bring about positive change.