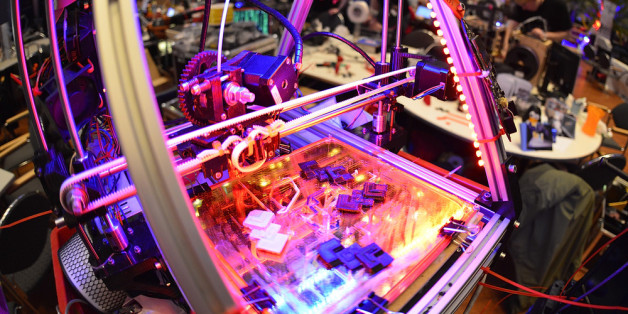 This article appears in YaleGlobal.
BERKELEY: The U.S. economy seems to suffer from a bout of schizophrenia, as it cannot decide whether it's doing well or not. There has been stable, albeit not spectacular, growth in the post-crisis phase, but analysts point to many headwinds. The bubble word is back, this time in the stock markets, and above all else increasing employment seems stubbornly resilient to macro-management.
There is a school of thought that is optimistic about a number of developments and innovations in the U.S. economy. The booming domestic energy sector will soon make the United States the world's largest oil and gas producer, and the resultant significant drop in the price of natural gas has had a positive impact on diverse industries, such as steelmaking, plastics and a range of energy-intensive manufacturing sectors.
Overall manufacturing output has grown faster than the broader economy over the last four years, with manufacturing's share in the economy increasing for the first time since World War II, for last three consecutive years. The prospects of 3D printing -- the technology that allows production of goods by layered "printing" of material - has given these scholars ground for cautious hope.
The attributes of niche specialization and customized manufacturing challenge the strengths of those economies, such as China, dependent on economies of scale, with highly concentrated agglomerations specializing in large-scale manufacturing. High-tech niche manufacturing, in addition to large-scale enterprises, have contributed to Japan and Germany still retaining significant industrial sectors. Combining craftsmanship with manufacturing, 3D printing could be the U.S. route to manufacturing resurgence, or so many think, although the employment implications are unclear.
"Analysts are bullish about prospects for
the U.S. economy, manufacturing and in-shoring. "
All this has prompted some analysts to be bullish about the prospects of the U.S. economy in general and manufacturing in particular. According to them the bogey of offshoring has been laid to rest. They point to a number of firms announcing plans for new manufacturing facilities or bring back offshored activities. The trend has been validated by the intellectual rite of passage for any phenomenon of our times -- the bestowing of a new term. New words for this manufacturing spurt include in-shoring, re-shoring, next-shoring and other imaginative neologisms.
The growth prospects for services sectors, which contribute over 80 percent to U.S. GDP, are critical to the long-term health of the U.S. economy. In that connection, the ongoing big data revolution has also fed the enthusiasm of commentators. A number of factors have come together to make this possible. The possibility of merging extremely large datasets from diverse sources -- publicly available databases maintained by governments, proprietary company databases and internet generated data streams, and huge advances in data storage and cloud computing as well as the new synthesis of computer science based data-mining techniques with statistical tools have wrought a sea change in data analytics. Add to this mix the economic sense and sensibility introduced by economists and domain experts, and it's easy to see why a field that's not new per se has now reached a critical mass of resources and capabilities.
At the same time, the emerging market economies, many of which were the recipients of offshoring largesse in manufacturing and services jobs from the U.S., themselves may be in a pickle. Their economies, especially Asian giants China and India, are slowing down. China is grappling with a potential housing bubble, a runaway shadow financial sector and uncertain municipal finances while India is caught in a complex vice of budget and current account deficits, inflation and supply-side constraints.
"A key advantage for China and offshoring -- wages -- is eroding. Capacity of emerging economies may be limited. "