Seven Myths About Video Games And The Seven Games That Proved Them Wrong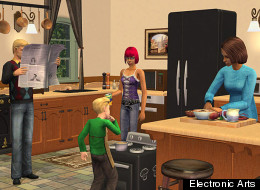 Austin Grossman is the author of You ($25.99, Mulholland Books), a novel about video games and the people who create them.
It's 2013 and the dominant stereotypes of gaming are going strong - the agreed-upon vision of the video gamer is a trash-talking fifteen year old boy slumped before a bright screen showing a cartoon protagonist bouncing through an explosively violent pastiche narrative. Video games are stlll captive of the first impression they made on the popular imagination, as arcade games, never mind that last year's demographic data from the Entertainment Software Association shows that 47% of people playing video games are women (and rising) and their mean age is 30.
But it's obvious to anyone watching that they can do more than they've shown. And in fact, no one knows what video games can do. The medium is changing so rapidly, a continuous 40-year explosion of technology and artistic inventiveness, that it's still impossible to say what its limits are.
This is a list of seven games that publicly put the lie to another limitation we've imagined for what games are and what they can do. They won't be the last.
Seven Lies About Video Games
The Lie: Games can't be beautiful The Game: Myst, 1993 Myst took perfect advantage of the then-revolutionary CD-ROM technology to create whimsical, serene, painterly worlds that told a haunting story. it isn't just beautiful for a video game, it's beautiful period.

The Lie: Games can't be female The Game: Tomb Raider, 1996 Lara Croft wasn't the first female video game protagonist but she changed the landscape most noticeably. There still a dozen sides to the question of her meaning as a figure of empowerment or one of exploitation, but she unquestionably taught the lesson that women could and should star in a video game.

The Lie: Games can't be quiet The Game: Thief: The Dark Project, 1998 At times the history of video games feels like an arms race to get bigger, louder, and faster. Looking Glass Studios turned that race on its head by creating the first stealth shooter, a game about walking silently, hiding in shadows, and waiting for the exact right moment.

The Lie: Games can't be domestic The Game: The Sims, 2000 Video game heroes creep around subterranean corridors or soar through space…right? What if they just stayed home?

The Lie: Games can't be intimate The Game: Ico, 2001 An adventure game where you play as a young boy exploring a mysterious castle with a young girl, connected to you by powerful, intuitive game mechanic: you hold hands. That simple vital connection carried more emotional power than a million virtual explosions.

The Lie: Games can't be creative The Game: Minecraft, 2011 Who would play a game where you have to construct your own tools and mine your own building materials before you can even start creating your own architectural masterwork? Over 20 million people, so far.

The Lie: Games can't be spiritual The Game: Journey, 2012 A gorgeous, primal experience of mourning and slowly building exaltation, which players go through alone or share with others. No one comes back unmoved.
Follow Austin Grossman on Twitter: www.twitter.com/Austin_Grossman