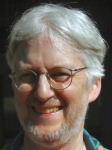 Richard Silverstein writes Tikun Olam, one of the earliest progressive Jewish blogs (started 2003). It is dedicated to a negotiated resolution of the Israeli-Arab conflict. He also created the Israel Palestine Forum, a site for progressive discussion of the issues related to the conflict.

Besides Huffington Post, he writes weekly for the Guardian's Comment is Free blog. He has also published at Haaretz, the Jewish Forward, the Los Angeles Times, and American Conservative Magazine. A Time to Speak Out (Verso Books) , an essay collection by Independent Jewish Voices will include a chapter by him.

He earned a Bachelor of Hebrew Literature degree from the Jewish Theological Seminary and an MA in Hebrew Literature at UCLA. He served as a fundraiser at Jewish federations in New York and California, and at Brandeis University.

He has been devoted to Israeli-Arab peace since 1968, and currently lives in Seattle with his wife and three children.