Sheila Weller
Author of "Girls Like Us: Carole King, Joni Mitchell, Carly Simone -- And the Journey of a Generation"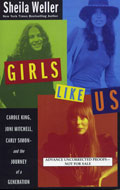 Girls Like Us: Carole King, Joni Mitchell and Carly Simon -- And The Journey of a Generation, which was published on April 8 by Atria/Simon & Schuster, was a New York Times bestseller. Janet Maslin of the New York Times called it "captivating...a strong amalgam of nostalgia, feminist history, astute insight, beautiful music and irresistible gossip." Available on Amazon, the book is based on hundreds of interviews, including with dozens of the women's intimates who've never spoken before.

Weller is the author of six books -– two of them New York Times bestsellers. Of her 2003 family memoir, Dancing at Ciro's, Carolyn See in The Washington Post said: "This chronicle of glamour, rage, sorrow and despair makes a substantial contribution to American social history." In its starred review, Publishers Weekly called her 1992 narrative nonfiction Marrying the Hangman, about the 1987 New York murder of Harpers assistant and fiction writer Diane Whitmore Pikul "a uniquely urban tragedy, told brilliantly." Her 1995 account of the marriage of O.J. and Nicole Brown Simpson, Raging Heart gave the case a major prosecution witness, was entered into the trial, and was top of the national news upon its publication. Her lauded 1997 Saint of Circumstance revealed five additional victims (three, unknown to the case's longtime prosecutor) of "preppy rapist" Alex Kelly.

For her magazine work: In 2005 Weller, for her Glamour investigatives, was the third place winner (behind Roger Simon of U.S. News And World Report and Paul Starobin of National Journal) in the magazine feature category of the National Headliners Award. She is the winner of six New York Newswomen's Club Front Page Awards, five of them in the last six years. She won a 2006 Exceptional Merit in Media award from the National Women's Political Caucus, as well as a third place 2005 award from the National Association of Black Journalists for her reporting in Mississippi, for Glamour, on the 40th anniversary of the Schwerner-Chaney-Goodman murders. Sheila Weller is the senior contributing editor at Glamour, writes on social history for Vanity Fair, was a contributing editor at New York (for which she wrote the only pre-trial investigative profile of any of the four "Diallo cops"), and has written for Rolling Stone, The Village Voice (for which she wrote the influential expose of dozens of mothers' custody-strippings through the bogus "Parental Alienation Syndrome"), Redbook (her two-part "America's Most Sexist Judges" led to the removal of three U.S judges), Ms., and The New York Times Book Review.