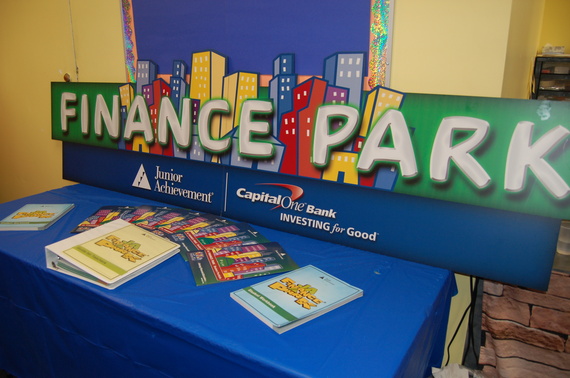 Photo Credit: Erin Marie Dey
Since its inception in 1916, Junior Achievement has been evolving and adapting to meet the needs of the students it serves. It has helped countless generations of students solve social, cultural and economic challenges including depression, war and technological revolution. It has delivered help to over 50-million American youth, and millions of others around the world. It has offered its services to high-need schools and communities in the NYC and Long Island area, and taught them financial literacy, entrepreneurship, and college and career readiness. Recently though, they made a move that has shown how forward thinking they truly are, by accepting donations in the form of Bitcoin.
Bitcoin, or digital currency, is an unavoidable phenomenon. Whether people choose to accept it or not, it is quickly becoming part of financial literacy, and that it why Junior Achievement decided to start accepting it for donations. They believe it aligns with their mission, and regard it as important for them to be pioneers in exploring, educating and informing their supporters of the new economic instruments that have potential to tremendously influence the way young people will do business, or handle their own personal finances in the near future. Also, accepting Bitcoin gives them the ability to create new relationships and opportunities to benefit the kids they exist to benefit and serve. Despite Bitcoin being a mystery to many people, Junior Achievement decided to truly act in line with their mission by accepting it, showing boldness that they have what it takes to stay current with emerging economic and innovative trends.
Junior Achievement New York is a huge program working with nearly 5,000 business professionals who fundraise on their behalf. They are partnered with 100 local business, and over 200 Kindergarten-12 schools. They recruit, train and activate over 5,000 corporate and community volunteers each year who deliver their programs to over 67,000 NYC and Long Island kids. Junior Achievement is truly helping kids to face the stark economic realities of life with their financial literacy programs that help these kids avoid future financial crises when they are adults.
Photo Credit: Erin Marie Dey
I went to see one of their classes in action this past week, and I was truly amazed. It was at Finance Park, located on 90 Broad Street, right by the New York Stock Exchange. Fifty-six kids from MS223 in the Bronx were all sitting around desks with calculators in hand. Each of the students was given an index card that gave them their hypothetical position in life. They were given an age, marital status, family size and income. From there they were given options on ways to spend their money including housing, transportation, bills and everything else that comes with reality. They worked on best budgeting their lives from what they were given. At the end of the class they put post-it notes on the wall to talk about what they learned, which was hilarious and enlightening at the same time. Looking at answers like "I never want to grow up," and "Now I understand why my parents say no to things," all the way to "I get how tiring and sad paying taxes makes you," showed me the program achieves exactly what it aims to.
Junior Achievement is an amazing program, offering kids knowledge and experience they may not be receiving at home. It's safe to say they are doing everything they can to meet the demands and needs of the 21st century kids they serve. The economic landscape is changing very quickly, and they are making the right decisions to help prepare these kids for a future where they can confidently own and manage their own economic success.