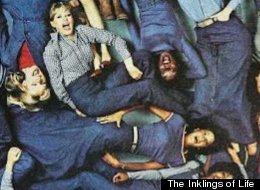 Written by Meredith Carroll for Babble.com.
We've come a long way, baby. Thank God.
Morgan Moss, who writes at The Inklings of Life, recently compiled a whole bunch of wicked cool vintage ads depicting how moms have dressed "while performing their jobs as cook, housekeeper, teacher, doctor, referee, and all of the things that being a mother entails" over the past century. Pore over the photos and you'll notice the discernible shift from fashion to function to family and back again. And again.
Take a walk down mom-fashion memory lane. And (wait for it) look out for the mom jeans, natch:
'Mom Style' Through the Decades
Ah, the joys of bouncing your baby girl on your leg. In a dress. With panty hose and high heels. In a sheer apron? Better to see you with, my dear? via The Inklings of Life

The dress, hose, and heels continue, but add a strap over the top of the foot, which had to make kicking off shoes at the end of the day that much more challenging. Of course by comparison, suffrage was hard, so what's a little shoe buckle? via The Inklings of Life

See ya later, corsets. Hello, comfort. Some of these fashions would pass for pajamas today, which means women back then had it made in terms of ease (except for those shoes; did women ever get to wear comfortable shoes? Sigh). via The Inklings of Life

Mom looks large and in charge, except for the picture in the lower right corner in which she throws on an apron to remind you she knows her place. Double sigh. via The Inklings of Life

"Vitality" is more like "versatility": Shoes that work on the town and in the dirt -- not to mention an apron that works in the kitchen and the garden. Yay? via The Inklings of Life

But who needs a dress in which to garden when I can wear pants that make it seem as if I belong in a prison chain gang? Gee, thanks, Blue Bell! via The Inklings of Life

Stop. The. Press. A detergent that works on my dishes and my pantyhose? It's like a little slice of heaven in a bottle. This calls for a celebration in -- what else? -- an apron and heels! via The Inklings of Life

Because nothing says "I'm a queen" like getting to clean my oven in style ... in a crown. via The Inklings of Life

Who doesn't want to look stylish while ... waxing? via The Inklings of Life

By all means, yes, denim was a brilliant invention. But perhaps the photographer might have wondered if there is ever too much of a good thing. (The answer is yes, by the way. Yes. Yes. Yes.) via The Inklings of Life

For more vintage ads from this series, click over to Babble.com. MORE ON BABBLE 11 hilarious tips for undressing in front of your husband (circa 1938) 25 chic hairstyles that take less than 10 minutes
MORE ON BABBLE
17 fashion trends that need to disappear
25 ridiculous vintage ads that scream sexism
5 things ALL women want to hear
Follow Babble.com on Twitter: www.twitter.com/babbleeditors