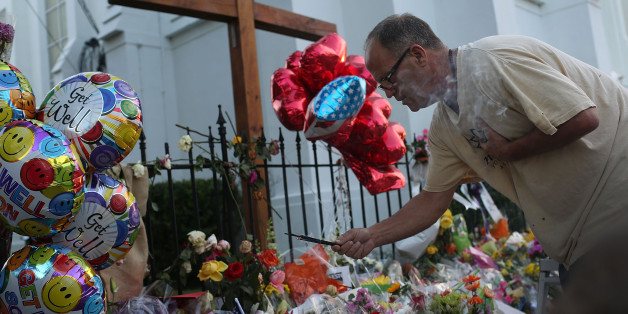 As I researched the subject of generosity for my recent book Inspiring Generosity (Wisdom, 2014), I became increasingly aware of the ways in which generosity shows up in our world under the name of something else. It made me realize that it is generosity that is the potent engine behind not holding grudges, giving the benefit of the doubt, collaboration over competition, going the extra mile, true public service, inspired activism for the public good - and especially behind acts of forgiveness. As we all witnessed the stunning power of forgiveness this week on the part of the Charleston families who lost precious relatives and friends, many of us wondered how such grace is possible.
It is a generous heart that knows how to open to desperate pain and loss, to extend itself to another who may have caused the pain and to realize that it is within our power to ease that very pain by meeting it with a forgiving heart. Holding on to what the Buddhists call "the hot coal" of anger and blame only perpetuates the pain. Setting the coal down and opening to love is the only path where peace can lie.
But these are just words and theories. The lessons for us all lie in the voices of those grieving for the Emmanuel Nine as they found it possible to utter the stunning words "I forgive you" as they addressed Dylann Roof. No one is advocating amnesia. The pain and anger will be with us all for some time to come. But these remarkable peacemakers have stepped forward in a way the world cries out for as they refuse to perpetuate the hatred.
I attended a prayer vigil sponsored by the NAACP this week in my home town in western Massachusetts. The church was filled with great sadness and great anger. But there was also a very powerful coming together of African Americans and their white neighbors saying "Enough is enough," a phrase that goes well beyond a state of mind as it calls us to action. Together we sang the beautiful spiritual "Lift Every Voice," all of us knowing that the path ahead to peace will require every voice and will require turning the voices of hatred into generous voices of peace, love and forgiveness.
Imagine if those in power in all the terrible conflicts around the world - the wars, the famines, the immense refugee crises as millions flee their homelands that have been overrun with hatred and violence - could pause just a half second to consider an alternative path. In nearly every case, even a slightly more generous heart that would allow one party to honor the rights of the other and to live in peace, safety and love could literally change our world.
As violence begets violence and hatred begets only more hatred, we should all shine a spotlight on the truth that generosity of heart is equally contagious. As Buddhist wisdom teaches us: "Hatred never ceases by hatred, but by love alone is healed. This is the eternal law."
Throughout human history we have conquered, pillaged, indulged in mass torture and killings all because we believe we know best, we know what is right, and that we are entitled, at any cost, to defend our way of thinking and living over our neighbor's. As we begin to take in the lessons of the Charleston massacre and affirm to live differently, let us tap into our natural human generosity of spirit to lead us down a new path.
A frequent contributor to The Huff Post, Barbara Bonner is a nonprofit advisor and the author of Inspiring Generosity. She is at work on her new book Inspiring Courage.
SUBSCRIBE TO & FOLLOW CULTURE SHIFT
Every Friday, HuffPost's Culture Shift newsletter helps you figure out which books you should read, art you should check out, movies you should watch and music should listen to. Learn more