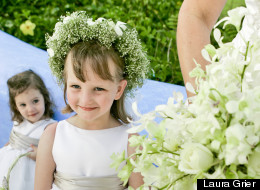 Laura Grier is a photographer who shoots engagements and weddings internationally as well as in the U.S. So far, she's been invited to India, Costa Rica, the Republic of Georgia, Tanzania, Indonesia, Portugal, France, England, Australia, the Cayman Islands, Aruba and Mexico. When I saw her gorgeous work, these words spilled out: "I have to do a book with you!" The result is our collaboration, "Flower Girl," out now. Below is a short conversation I had with Laura about some of the photos from the book and other weddings she has shot abroad.
Barbara Bottner: Tell me about the flower girl with sunglasses that appears in "Flower Girl." Laura Grier: There was this funky, pop art wedding at the Riviera in Palm Springs; sort of retro 6o's turned modern. A lot of LA weddings, or LA adjacent weddings are trendsetters; out of the box locations. Here there were amazing over-the-top outfits in hot pinks and an old throw back band. This little diva in sun glasses fit perfectly. It was a modern "Breakfast at Tiffany's." When her job was done and she'd already walked down the aisle, I caught her in a sort of cat walk.

BB: While we're in California, what about our moody pink lady. LG: This was a cool wedding in Agua Dulce, north of LA, where they shoot wild west movies, there was that kind of vibe. This couple was married on top of a rock formation you had to hike up to. A bagpiper led everyone up there. The dresses matched earth tones -- all different hues of pinks and browns; sort of hippy style. It was really hot, and the bride was getting ready in a tent. The flower girl was in the shade cooling off and I caught her just before the wedding began.

BB: I love that shot. Now, can we talk about your travels? Where was your first shoot abroad? LG: El Careyes, Mexico. This was a Los Angeles couple that chose El Careyes, which is where Heidi Klum and Seal were married. It's next to a ghost town in the middle of nowhere; super romantic and they took over the entire resort.

LG: After that I went to Indonesia. The Indonesian wedding had two parts. One was here at the Wayfarers Chapel in Palos Verdes and they had a second wedding for the bride's Indonesian family that couldn't travel to California. So we went to Sentul, outside of Jakarta. This was interesting because it was a Christian wedding in a Muslim country. There are only a small percentage of Christians there, but they had lots of life size statues of Christian saints. The ceremony is different as the entire event only took three hours. The ceremony itself was short, then there was an attendee line where the bride and groom they shake each of their 1,000 guests' hands; that's the tradition. They feed all of the guests then everyone goes home. The more people you invite, the more status you have.

BB: You've even traveled to India, one of my favorite places. LG: The father of the groom was a guest at the wedding in Indonesia. This wedding took place in New Delhi. They have a four day wedding, with events every day. The actual wedding is not even the biggest event. First there is the Mehendi, which is like the engagement party. The bride gets her ring, and henna tattoos on her feet and hands. As far as this little girl, it's different here; she's not exactly a flower girl as we know it. She has to be a family member and she takes part in the henna ceremony. In this tradition, the little girls are treated like young women. They wear traditional saris and are part of the procession on the final day. The following day is the Sangeet. This one was a Mayan-themed party, with reconstructed Mayan ruins as a tribute to the Mexican bride. They had body-painted dancers and constructed a pyramid with a dance floor inside of it. Up high, there were Cirque du Soleil-type trapeze artists. The third day there were two parties. In the morning is the Churha/Vatna where the family take turns smearing mud on their faces. This comes from a practice which originated to lighten the skin. In the evening was the Baraat, where the groom has a procession on white horses (sometimes on an elephant) to claim his bride. In this case, there was chariot of horses. The final day is the actual wedding reception. The bride wears red. Her family presents her to the groom. The ceremony lasts for many hours and the guests just come and go.

BB: Here's a flower girl in Australia. LG: A friend of mine planned the wedding around my availability, so I went from Indonesia to Australia. It was out in the Blue Mountains and it was cold. Everyone wore furs and there were 6' red kangaroos on the side of the road on the drive out there. This couple got married on their own ranch. The flower girl wore fur. I had never seen a fur on a flower girl before. She loved it.

BB: Tell me how you got to Russia. LG: This took place in the Republic of Georgia actually. The bride was Russian, the groom Georgian. This wedding occurred exactly when Russia was about to invade Georgia. There were tanks in the streets. We felt we were uniting the countries! They were married in a small 5th Century chapel, with original paintings and décor. Everyone stood and held candles -- there was no electricity and the entire ceremony was in Ancient Georgian. I felt as if I was back in time. For the bride, her dog was like her child. People don't normally bring their children to weddings there, but she wanted a flower girl so she dressed up her pug, who did a very good job.