Co-authored by Mark Popovich
Manufacturing is back -- or so it seems. The stats released this week on trends in durable goods shipments reinforce that point, as the value of durable goods shipments increased to $231.5 billion (seasonally adjusted) last month.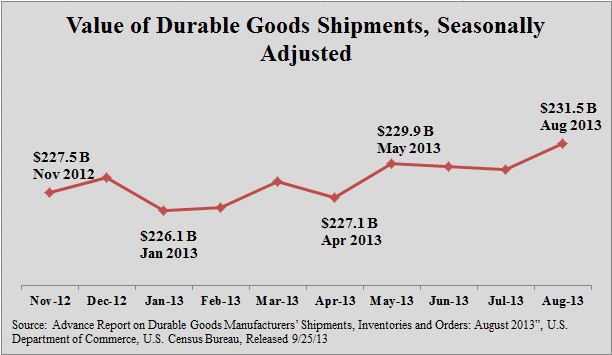 Let's look at one of the bright spots supporting these numbers. Grand Rapids Spring & Stamping, headquartered in Michigan, highlighted in our recent report, "Doing Well and Doing Good," is doing just that. As an automotive equipment supplier -- despite that subsector's deep crisis in 2008-09 -- the firm increased sales 300 percent over the last decade, with 29 percent annual growth since 2009. The company is committed to developing production associates to gain earnings and career advancement - ensuring that their workers have the hard skills and teamwork necessary to succeed in advanced manufacturing. And it shows. Worker turnover is 40 percent below industry averages and almost half of their staff has been developed from within.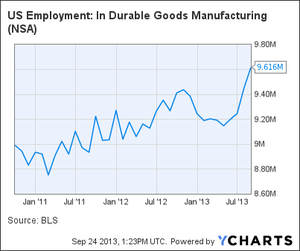 Jim Zawacki, GR Spring & Stamping Chairman & CEO, author and a respected industry leader, was recently interviewed on WGVU Public TV. The interview with Zawacki captures his business strategy -- invest for the long-term by investing in employees. This is how his company was able to remain profitable -- even when the automotive manufacturing industry took a dive in June of 2007. Jim Zawacki makes the case that even under the worst economic conditions, companies that stick with their workers are well positioned to bridge the downturn and spring-back quickly when the economy recovers. In his words:
"In the fall of 2007, we made adjustments... The higher paid, salaried employees took cuts in pay. We cut out some benefits. We didn't cut pay for the plant associates, but we did cut hours -- from an average of 40+/week to about 36 hours/week. They key to any of that is communications. We told them what was going on in our regular meetings- - so they knew what was coming in the industry. It went from 16 million built units in 2007 to (I think it was) 9.5 million in 2009. We've had quite a few companies go bankrupt. We are pleased to say that we made a profit."
The full interview with Jim Zawacki, GR Spring & Stamping Chairman & CEO, is available here:
Over the past five years, The Hitachi Foundation has collaborated with industry leaders to identify and learn from firms that are achieving success in part by investing in frontline workers. These firms are innovators in developing leading-edge products and services, production processes, and workforce talent development. For workers, this means good jobs with earnings gains and career advancement. For employers, this means strong performance. For the rest of us, it demonstrates that business and societal well-being can be mutually reinforcing. The Hitachi Foundation recently released a report, "Doing Well and Doing Good," that profiles several manufacturing companies that add to the story - they have helped workers gain skills, retain their jobs, and generate greater value - resulting in higher profits and increased productivity.
This blog post originally appeared in The Hitachi Foundation's Good Work Blog on September 25, 2013.
This blog post reflects the views or opinions of the authors, and not necessarily the Foundation Board, Hitachi, Ltd., Hitachi America, Ltd., or any Hitachi company affiliate.