Here I am in the mobbed frenzy that is the 53rd Biennale. I am so lucky to be staying with my friend Bianca in her palazzo Papadopoli, where I can smell the jasmine and lime blossoms coming through my window from her garden. I am in the San Polo district of Venice -- more residential than San Marco -- which is unfamiliar to me.
The Giardini, along with the Arsenale, the former naval shipyards, has been the site of this art fair for over a century. The Biennale is not limited to just these two sites, but takes over every square, church, palazzo and public space in this most ancient of cities. The preview week is full of collectors, museum curators and directors, auction house people, fashion, magazine, opera and movie personages. This is a wonderful place to "people watch," as well as a feast for the senses.
The preview party given by Francois Pinault at the Dogana (customs house) was my favorite in this week full of parties and openings. On a beautiful evening, with the most wonderful light reflecting off of the canal...a kind of transparent green-blue aquamarine...we jump, in evening clothes and shoes, off Bianca's little boat and enter the square in front of the Dogana.
There is a beautiful buffet set up, served by handsome, white-jacketed waiters. This was the most delicious food in Venice: the lightest polenta served with tiny, fluffy meatballs, zucchini flowers, tiny fried whitefish served in thin paper cones, a Venetian stew of chicken with artichokes, a perfect risotto and real Bellinis (no mix used here), and just-in-season peaches.
The crowd was so elegant and chic. I would say the party outdid the art inside, which was just mildly interesting. The same thought occurred to me when I attended the smaller dinner Pinault hosted two nights later. The food and people were far more interesting than the art he collects.
The party that French Vogue's Carine Roitfeld gave at Palazzo Grassi involved Marc Jacobs dancing in a kilt with his fiancé, Lorenzo Martone, to Pitor Ulanski's "Dancing Nazis," a flashing, neon-colored dance floor, with photographs of actors in Nazi uniforms on a wall in the loggia.
I think every young woman there had on a pair of gladiator sandals. Camille Miceli of Louis Vuitton with the tallest pair -- up to her knees. Each night she would wear a different version, always with the shortest of skirts.
With so much art to see, I will begin with a few of my favorites.
Brazilian Lygia Pape's "Tteia" -- huge golden threads of moonbeams in an enormous darkened gallery -- so unique and moving.
"The Collectors" -- two adjoining houses in the Danish and Nordic pavilions. This is an installation about a dysfunctional family and their gay neighbor. The homes are for sale and you are taken on a tour by two agents, who point out the various rooms with twenty works of art, including paintings, sculptures, and furniture. In the family dining room are framed cardboard pleas from starving, homeless, and ill people. Just below this is a dining table with a wide crack running down the width. The daughter's bedroom has an escape hatch low to the ground like a cat door, and an ax hanging over the entrance. Their gay neighbor's house has a dead ex-lover floating in his pool, as well as "trophy" boxer shorts of other lovers framed in his sitting room.
On San Giorgio Maggiore, the magnificent island across from San Marco, Peter Greenaway has used Veronese's painting "Le Nozze di Cana" to stage his "vision" of a painting coming to life -- actually, the sounds of a wedding party set to music. The setting is the beautiful Palladian Benedictine chapel with typical Veronese representations of earthly glory and happiness. Forty conversations are presented to our ears, with shouting, gossiping and laughing. Projected on the walls of the chapel, each person comes to life. Peter Greenaway has written dialogue for the characters in the painting whose mouths are open and whose faces are most animated. I just loved this hour-long, kind of opera-vision.
Walking out of the dark into the light of the cloisters, with the smell of boxwood from the orderly rows, was very special and why the Biennale is the most fascinating of fairs.
Bruce Nauman, representing America, with a small survey of his career in the American Giardini pavilion, also has a sound installation at Ca Foscari on the Grande Canal. "Days/Giorni" are rows of very thin white speakers with voices chanting the days of the week in Italian and English coming from them. It is ethereal, timeless. I felt everything suspended as I walked through, as if into another dimension entirely.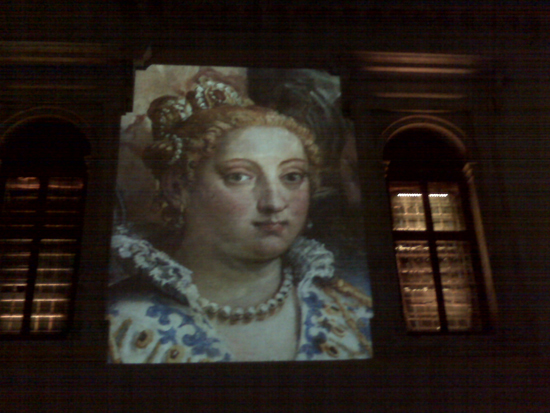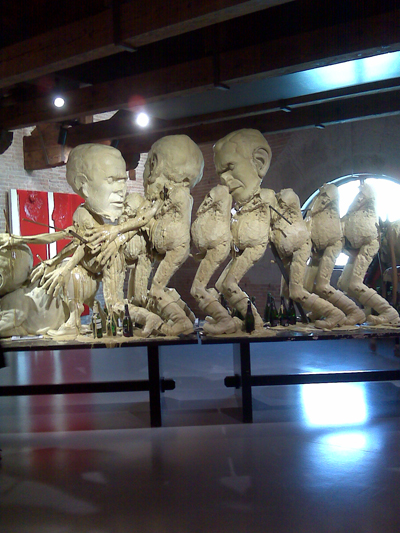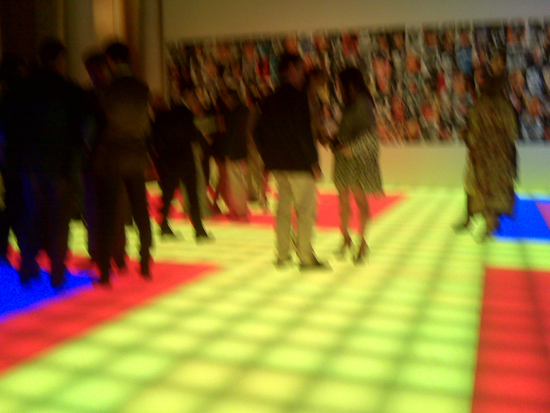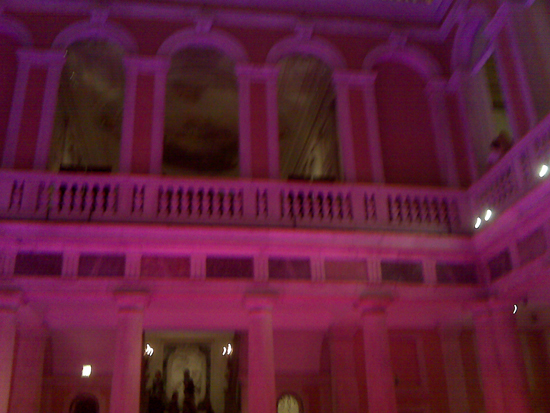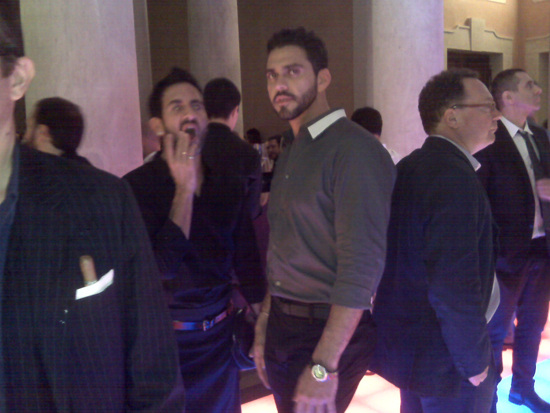 Next Biennale, I will only walk in sneakers, as my feet are so tired from always standing on stones and walking everywhere, all day, every day.
Love, Barbara
SUBSCRIBE TO & FOLLOW LIFESTYLE
We're basically your best friend… with better taste. Learn more