"Dazzle me," are the words out of ELLE DECOR's Editor-in-Chief Michael Boodro. He was referring to what he looks for when planning his magazine issues, the website, elledecor.com, its 'LookBook' and its 'Designer Registry.' Elle Decor now encompasses Showhouses as well. Once a magazine I launched for Hachette in the late '80s, it is today a brand that has numerous components and addresses its viewer at every turn. Michael Boodro is the person who is steering not just the magazine but also all of its enhanced content, new touch points, and additional platforms. Today, magazines have footprints that extend way beyond their original reach. ELLE DECOR was sought after from the moment it was launched and continues to be talked about, not only in the shelter field but also in the media arena.
Michael Boodro's position as ELLE DECOR's editor-in-chief / brand content may be relatively new but he has been in the art, architecture and design field for all of his professional life and has already had a long history at the magazine. His first job out of Yale was in the public relations field at the Museum of Modern Art (MOMA). He has always been involved in the art and design world. His background in art history and photography and his passion for architecture drew him to magazines.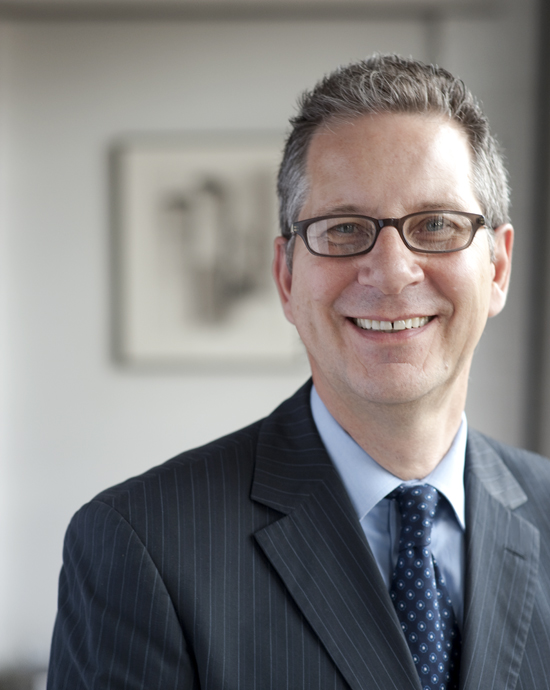 Editor-in-Chief Michael Boodro is the director who will guide the ELLE DECOR brand in this 21st century. Photography by William Waldron.
BLD: What magazines have you worked with in your extensive publishing career?
MB: My checkered career has involved stints of various duration at the following magazines: GQ, Harper's Bazaar, HG (as House & Garden was known then), Vogue (11 years!), Garden Design, The New York Times Magazine, ELLE DECOR, Culture & Travel (I was the launch editor), Martha Stewart Living, then the return to ELLE DECOR almost two years ago.
BLD: Do you think we will still have shelter magazines in the future or will everything be digital?
MB: Because they are so visual, I think there will always be shelter magazines on paper (not as many, alas!). Paper is the ultimate form for examining images closely. It's the best format for reading in the bathtub or backyard, and for tearing out and saving photos and ideas. Our website, elledecor.com, of which I am very proud, is full of information and inspiration, and it is fun and immediate. But a beautiful shelter magazine is a kind of luxury object, and there will always be a luxury market.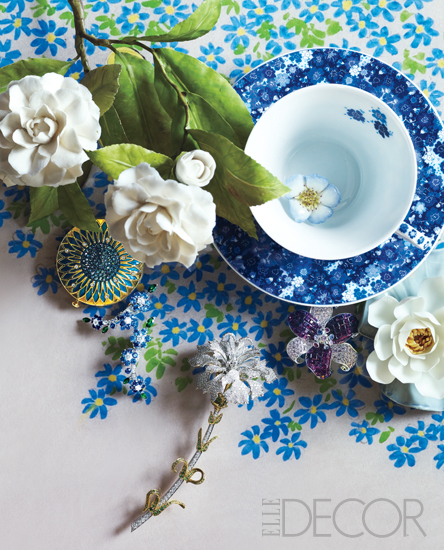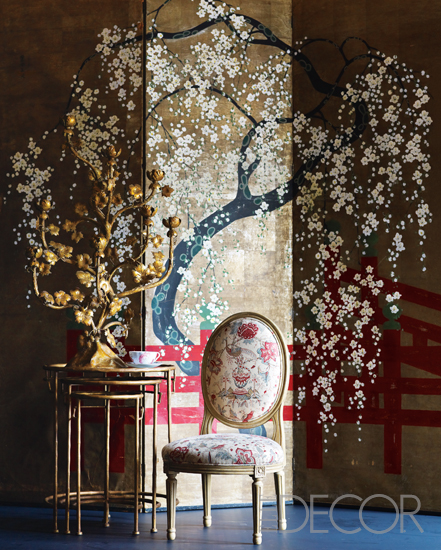 The "Shopping" pages have always been a signature component of ELLE DECOR. In addition to being visually strong on the printed page, as in "The Bold and the Beautiful" (Feb/March 2011), they are also a feature component of the brand's 'LookBook.' Photography by Sang An.
BLD: How has ELLE DECOR expanded into the digital world? And what added value does it offer?
MB: Our website provides instant inspiration, with thousands of room photographs, and daily updates on everything from new museum exhibitions to fantastic new shops and products. But we are going beyond that with our 'LookBook,' which makes it easy to shop for items similar to those featured in our room photographs, and our 'Designer Registry,' which helps readers find designers in their region of the country and lets designers showcase their work. We're even starting an e-mail newsletter just for designers, addressing their professional concerns and interests. Decorators and designers have always been among ELLE DECOR's most loyal fans, and this is another way we can serve them.
BLD: Media has so many more components than just print. Can you share your feelings on the importance, or non-importance, of each.
MB: Magazines now are brands, and you have to think of them that way. The Web, Twitter, Blogging--all are methods of reinforcing our message and disseminating our expertise. We want to deliver ELLE DECOR in whatever format our readers prefer or have at hand at the moment. We even think of showhouses (we just did our first in San Francisco) as extensions of the brand, and a way to bring ELLE DECOR to life for our readers and fans. So, we will be doing two more this year--a concept house with young designers in Manhattan in May, and a full-fledged designer showcase in Miami in December.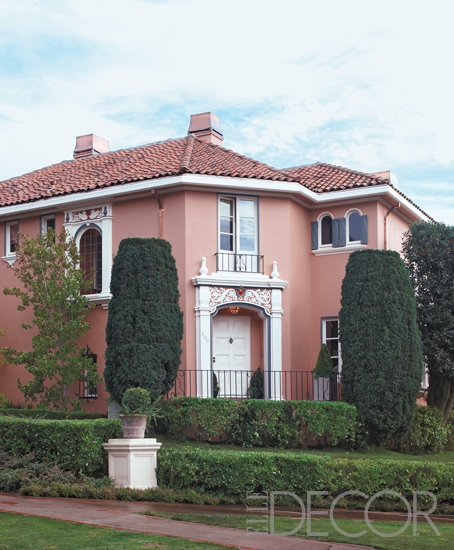 ELLE DECOR and top San Francisco designers transform a 1920s Mediterranean-style house into a cohesive showhouse.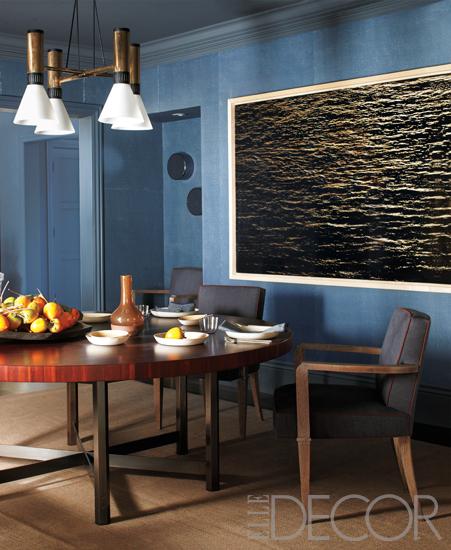 The dining area was designed by Steven Volpe. Photography by William Abranowicz.
BLD: When you came back to ELLE DECOR in 2009, had it changed much? Previously, you had been with the magazine as Executive Editor from 2004-2006.
MB: The greatest change was the importance of the website, which we relaunched last April. And of course, like every magazine, ELLE DECOR had suffered in the recession. But that forced us to focus, to concentrate on what was really important in the design world, and what we really loved. That's not necessarily a bad thing. In fact, it's one reason we've come out stronger than ever.
BLD: What can we expect in future issues that will show the stamp of Michael Boodro and your staff?
MB: The magazine won't change dramatically--we don't need to. We are doing well and the readers love us, thank God. But a magazine is like a shark. If it doesn't move ahead, it dies. If it becomes predictable, it's over. Being pretty is not enough. You need to have surprises. And we want to find new young designers, photographers, and stylists. It's very important to keep the content fresh.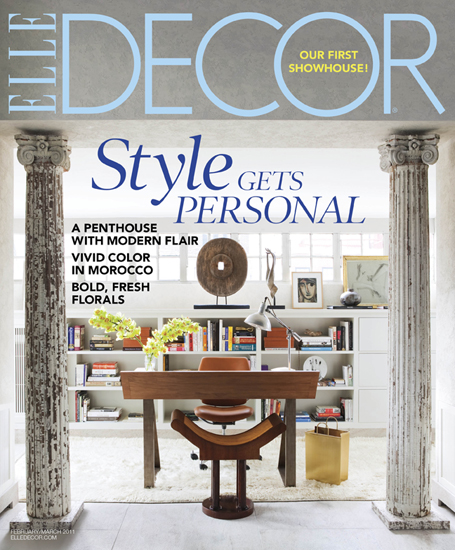 The ELLE DECOR February/March Cover, photography by Roger Davies, showcases a Bunny Williams design that is a bit unexpected for this designer who was schooled in the classics with the decorating firm of Parish-Hadley. Michael Boodro chose an "updated take on her signature." The Park Avenue penthouse "becomes a model of effortless modern style."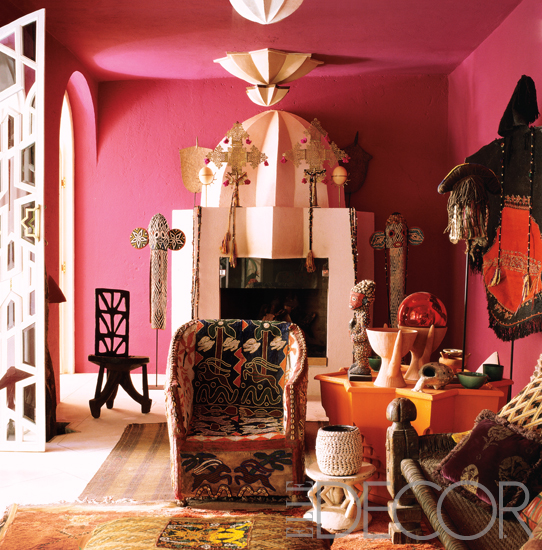 The colorful Moroccan retreat of fashion designer Liza Bruce and her husband filled with exotic artifacts is featured in the same issue. Photography by Simon Upton.

Fabric designer Kazumi Yoshida's Tribeca loft is filled with much of his own designs such as the artwork and rug in his entrance hall. Photography by Eric Piasecki.
BLD: You are always at events and in the market place, which is only one of the ways I know that keeps you up on everything in the design world. You also travel a great deal on business. Is there a trip that has been your favorite so far? A place you want to go that you haven't been to?
MB: I always love going to Paris and London. Rome is perhaps my favorite city on earth. I've never been to India and long to go, especially New Delhi and Mumbai.

Michael Boodro travels extensively, taking in design events. Here he is in Los Angeles at the Richard Shapiro gallery with Mary McDonald, Nathan Turner, and Martin Lawrence Bullard. Photography by Evans Ward.
BLD: On a personal note, where do you go for escape, physically and mentally?
MB: For physical escape, I go to my garden in the country. For mental escape, to museums and to the movies, or I read a book, or the New Yorker from two weeks ago. (I'm always two weeks behind!)
BLD: Speaking of museums and since you have always had a passion for art, can you share with us your favorite piece of art?
MB: I admire the work of many artists, but the artworks I love the most are by friends--Gary Falk, Frank Moore, Joy Episalla, Carrie Yamaoka, and Nabil Nahas. I also inherited a Shaker sewing box from a dear friend that is one of the beautiful and intricate objects I've ever seen. I treasure it.
BLD: I know it is impossible to say you have a favorite interior designer, architect, landscape designer, etc., but is there a certain style you are personally drawn to?
MB: I have a weakness for Biedermeier and Wiener Werkstaate pieces.
A favorite quote says, "To be interesting...become interested." We should all aspire to "this." I know it describes Michael Boodro and the ELLE DECOR brand. It will also be "interesting" to see how ELLE DECOR, the magazine and the brand, may evolve once it becomes part of the Hearst family later this summer.