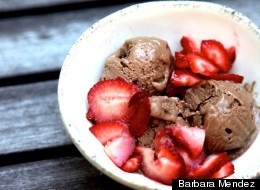 Eating well -- or eating at all -- can be a huge challenge in the days and weeks after a separation or divorce. It is a time fraught with the temptation to eat the wrong foods out of convenience and apathy. This in turn can only add to the anxiety and fear inherent in dissolving a marriage because of the negative impact these foods have on your brain chemistry.
When your world feels like it is falling apart, there are some foods that can help soften the impact by stabilizing the chemicals in your brain and fueling your body. Here are my favorite recipes for stabilizing mood and helping to nourish some of your darkest days.
This delicious soup is a great way to feel grounded when your anxiety level is high. Root vegetables help us feel connected to the earth during a time we can often feel untethered. It is this feeling of disconnect that often has us reaching for sugar as a way to boost serotonin, the chemical in your brain that allows you to feel calm and happy. Because carrots are also subtly sweet, eating them regularly can help offset sugar cravings. Additionally, the aroma of tarragon is very soothing and nurturing. The best part? This recipe is easy to make.

Recipe: Creamy Carrot Tarragon Soup Ingredients - 1 Tbsp Ghee (clarified butter) - 1 medium yellow onion, chopped - 2 cloves of garlic, split in half - 4 cups chopped carrots - 1 bay leaf - 2 to 3 tbsp fresh tarragon - 12 cups chicken or vegetable broth - ½ cup plain almond milk Sautee onion and garlic in ghee until onion softens. Add carrots and continue to sauté for another 5 minutes. Add broth, tarragon, bay leaf, pinch of salt, almond milk and bring to a simmer. Simmer until veggies are soft enough to blend. Once cool enough, remove the solids (minus the bay leaf) in batches and put in a blender. Blend until smooth and then place back in pot with liquids. Adjust salt for flavor. Heat to serve.

These oat bars are easy to make and are a great substitute for cookies and cakes when the temptation to soothe yourself with sugar kicks in. The bananas and pumpkin help to boost serotonin levels, as do the oats. Walnuts, flax and hemp seeds are a nice source of Omega-3 essential fatty acids which also help to boost serotonin and offer a sort of emollient to an anxious and stressed-out mind. You can even toss in a couple handfuls of dark chocolate chips for added sweetness and antioxidants. If you prefer subtle sweetness, then use raisins or even Goji berries.

Recipe: Homemade Oat Bars Ingredients: - 2 2/3 cup raw oats - 1/4 cup flax seeds (ground seeds) - ¼ cup hemp seeds - 1 can pureed pumpkin (plain, not pie mix) - 2 very ripe bananas, mashed - 2/3 cup total chopped pecans and walnuts - 2 tbsp cinnamon powder (or more if desired) - 2 tbsp agave nectar or honey or maple syrup - ½ cup dried fruit, such as raisins - One egg Combine all dry ingredients and mix well. Combine pumpkin mix, banana, egg, and sweetener and mix well. Add dry ingredients to wet ones and mix well until blended. Spread out on brownie tray and bake 20 to 30 minutes on a 350 degree oven. Cut into one-inch squares and enjoy alone or with a dollop of almond or cashew butter.

You can make a batch of this easy-to-make and versatile salad and it will keep you nourished for a few days. You can serve it cold, scooping it up with corn tortilla chips as a snack, or warm on it's own. The complex carbs in the beans help to boost serotonin levels and all the vegetables help provide a boost of needed nutrition. For added nutritional heft, serve with grilled wild Alaskan salmon, which offers up some Omega-3 fats that can help you feel calmer.

Recipe: Three Bean Salad Ingredients: - ½ red pepper, minced - 1 carrot, minced - ½ yellow squash, minced - 4 radishes, minced - 1 x 15 oz can of organic corn, rinsed well and drained - 3 x 15 oz cans of assorted organic beans (black, kidney, garbanzo), rinsed well and drained - ½ cup chopped scallions - ½ cup minced red onion - 2 Tbsp chopped fresh basil - ½ cup red wine vinegar - ¾ cup olive oil - 3 dashes oregano - 3 cloves garlic, minced - 1 tbsp dry red wine - Juice from half a large lemon - Fresh chopped parsley to taste - Salt and pepper to taste Mix all ingredients together and refrigerate for two or more hours. Serve as an appetizer with tortilla chips or as a side dish to grilled fish. ** Note: This yields a large amount of salad. If you want to make less, get one or two cans of beans and then reduce the other ingredients by one-third or two-thirds, depending on the number of cans of beans used.

This delicious recipe got me through the darkest days after my own divorce. It is super easy to make and lasts for days in the fridge. Made with cashews, a great source of Tryptophan (the precursor to serotonin), this recipe can be enjoyed with pasta or cut up vegetables. Here I served it with black bean pasta for a gluten-free option and for a contrast in color. This sauce is very rich and only a small amount is necessary. Heat gently before serving. You can add julienned carrots and cucumber to reduce the intensity of flavor and for added nutrition.

Recipe: Cashew-Miso Sauce Ingredients: - 1 cup 100% apple juice - 2 Tbsp red miso - 1 cup raw cashews - 2 tsp apple cider vinegar - 1 clove garlic - Dash of Tamari - Cayenne pepper to taste Soak the cashews in water for about 3 hours then drain and pat dry (the soaking helps to remove an enzyme inhibitor, thus making the nutrients contained in the cashew easier to absorb). Layer them on a baking sheet and toast at about 275 to 300' until tan to slightly brown in color. Place the apple juice in a pan or small pot and bring to a boil. Remove from heat. Place all the ingredients in a food processor or blender and blend until smooth. There may still be small pieces of cashews that remain, but this just adds texture. Keep in a covered mason jar in the fridge for quick meals or snacks.

Here's a great alternative to fried French fries that can help offset even the most ardent salt cravings while helping you stay connected and grounded. Yams, which grow in the ground, can help you feel steadier even on your shakiest days, and the subtle sweetness of the yams might help offset sugar cravings.

Recipe: Yam Fries Cut up yam in French fry slices. Toss with olive oil, salt and pepper and desired spices (rosemary works well, as does cinnamon). Bake at 350' for 10 to 15 minutes until fries are soft. Raise heat to broil in order to brown the outside for a couple of minutes. Watch fries carefully because at this point they can burn easily. Serve and enjoy.

This awesome and easy breakfast granola is sugar free, delicious and good for you. Made with flax meal, hemp seeds and a variety of nuts and seeds, this recipe offers up Omega-3 fats, amino acids and vital nutrients that can help balance brain chemistry, helping you start your day on a positive nutritional note. The cinnamon stabilizes blood sugar, helping to keep you feeling satisfied and full throughout the morning. Cinnamon also helps to rev your metabolism and has been shown to assist with weight loss. You can also try adding some low-fat coconut flakes for added flavor and to help nourish thyroid function, which in turn, can help stabilize energy levels and stamina. You can make this recipe with dried fruit if you prefer to make a big batch at once, or fresh fruit if you assemble just before eating. Honeycrisp apples go really well with this granola! You can make individual ready-to-eat batches of this granola for on the run breakfasts!

Recipe: Raw Granola - ¼ mixed nuts and seeds, raw and unsalted (cashews, walnuts, pumpkin seeds, etc) - 2 to 3 Tbsp raw rolled oats - 1 heaping Tbsp ground flax - 1 heaping Tbsp hemp seeds - Cinnamon... as much as you'd like. I add about 2 teaspoons per bowl because I love it and it is largely responsible for the flavor of this dish - 1 Tbsp oat bran (optional) - 1 Tbsp low-fat coconut flakes (optional) - Handful of chopped dried fruit or ½ an apple, chopped Assemble in a bowl and then add unsweetened vanilla almond milk for additional flavor. Enjoy!

If ice cream is your go-to coping food, then you'll want a supply of this in your freezer at all times post-split. Made with bananas and cashew butter, both of which boost serotonin production, this is as close as you are going to get to guilt-free indulgence. The unsweetened cacao powder offers up antioxidants while satisfying your need for chocolate. Here I use a combination of cashew butter for the tryptophan and peanut butter because of it's familiar and savory flavor. Sweetened with only the natural sugars it contains, this is something you can even enjoy with your kids and know that they are getting a treat that is good for them and tastes great too!

Recipe: Raw Ice Cream - 3 very ripe bananas - 1 to 2 tablespoonfuls cacao powder (depending on preference) - 1 Tbsp cashew butter - 1 Tbsp organic peanut butter - Dash Vanilla Extract - 1/8 cup vanilla rice milk - 2 Tbsp chopped raw hazelnuts or cashews Blend first 5 ingredients in food processor until smooth. Stir in chopped hazelnuts. Store in plastic container and freeze for about two hours. Serve alone or with fresh berries. Enjoy!
Follow Barbara Mendez, RPh, MS on Twitter: www.twitter.com/@barbaramendez