The summer mornings can be cold -- even in paradise. Drizzly gray skies and heavy coastal air can play havoc with touch and distance, and cause some mean stingers on miss-hits. Oh, don't get me wrong, it's nowhere near as bad as the bone chilling fog or torrential downpours of Crosby weather -- this is more like something out of Sam Spade. But hey, who cares, it's the U.S. Open at Pebble Beach. Iconic, historic, it's everyone's favorite golf course, and undeniably one of the most gorgeous spots on the planet. And now, it has been tweaked and tuned as the site of our national championship for the fifth time -- and perhaps the most anticipated ever.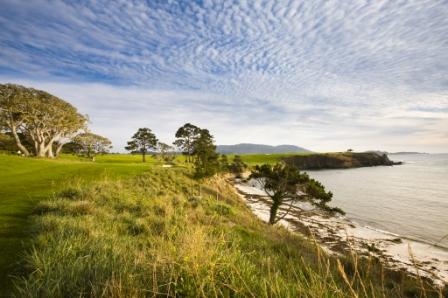 "The U.S. Open and Pebble Beach just go together like ham and eggs," said former Ryder Cup Captain and British Open winner, Tom Lehman, on a recent phone-in to a San Francisco sports talk show. Tough to argue with him, considering all that glorious history and some of the most memorable moments ever in the game. Like Jack's knife-like 1-iron on seventeen to clinch his victory in 1972, or Tom Watson's legendary chip-in from the rough also on seventeen to snatch the win from Nicklaus in '82. Or a decade later, Tom Kite's wind-whipped chip on the oceanside par three to punctuate his win against some staggering elements. Pebble Beach, breathtaking, and heartbreaking too. At least it was for rest of the field in 2000, who were vanquished by Tiger's double digit margin of victory, and a not so subtle statement that the caliber of things on tour would be different forever more.
And now, ten years later, so many story lines going into this one. Could 60-year-old Tom Watson re-create the magic of St. Andrews on a California course that he knows so well? Or would the young guns, the Rory Mcllroy's and Ryo Iskikawa's make that first major jump. Or maybe one of the tour's mainstreamers, the Paul Casey's, Ian Poulter's, or Dustin Johnson's will make their major breakthrough?
Ah, but let's not kid, it's Phil and Tiger we really care about. They're the ones that move the needle. So will this be the one where Phil finally vindicates himself for Winged Foot, and locks in this most elusive title, and on such a precious and meaningful venue? Or will Tiger rise above his recent travails, and show us again, who's really the boss?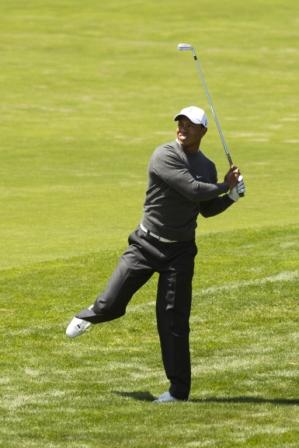 I drove down from the bay area on Friday, and caught Phil Mickelson's 66. Virtually every hole, every shot, he was greeted with fan adulation -- clearly, the definitive fave.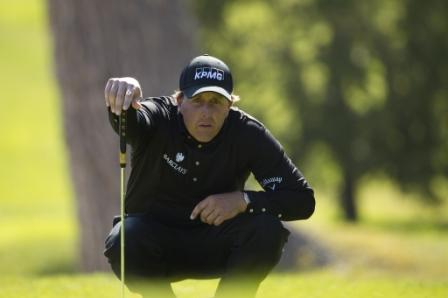 And for sure it looked like this could be his time. "I thought something in the 60s was out there and would get me into contention," he said in an after-round press conference. "I knew I needed to get off to a quick start because the birdie holes are the first seven and I needed to capitalize on that. And I was able to."

On Saturday, I watched on TV while Phil faltered and Tiger put together an eight birdie 66 that was truly superlative. "As I said this week, it was a process. I was building, and it was close," explained Woods. "And today, you know, I hit shots the way I know I can hit shots." So now it's early Sunday afternoon as I write this, and neither Phil nor Tiger have tee'd off yet. Phil is seven back, probably too far back, but Tiger is still a factor. Dustin Johnson, who has won here for the last two years running at the AT&T, seems in control. I'm gonna sit back and relish it all from couch control central. One final thought: regardless of whoever who wins the trophy, it's clear that Pebble Beach is every bit as much a star as any of the participants. Tom Lehman had it right on the moolah.
Photos courtesy of the USGA

SUBSCRIBE TO & FOLLOW THE MORNING EMAIL
The Morning Email helps you start your workday with everything you need to know: breaking news, entertainment and a dash of fun. Learn more