From 2007 encounters, some of the film, books, art, blogs, etc. that linger in my own mind:
Le Trou (The Hole) - Jacques Becker dir., 1960 (DVD)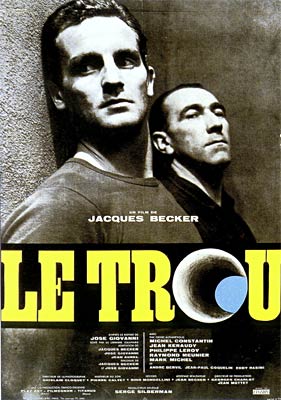 French auteur Becker's last flick and maybe the best prison-escape movie ever (from Paris's La Sante). In B&W existential relentless semi-doc style. The ending will knock you to the floor.
Timoleon Vieta Come Home - Dan Rhodes
The Lassie story as fable and shocker.
The Jewish Messiah - Arnon Grunberg (pubbing mid-Jan)
Goy tries to help Jews by Yiddishizing Mein Kampf. Provocative enough for you?
A History of Bombing - Sven Lindqvist
Hardly a "pleasure." Interlocking snippets and vignettes weave the mad history of death from the air. Pity civilians. Meet Gen. Arthur "Bomber" Harris, the RAF's presiding war criminal. Go Harvard!: napalm first tested on the turf at Harvard Stadium.
A Distant Episode: The Selected Stories - Paul Bowles
Atmospheric, exotic, stonily savage. The story "The Delicate Prey" is a gruesome masterpiece...a bad man meets his bad end:
"..Half the night they continued, until they were in a completely unfrequented part of the desert. While he lay raving, bound to the camel, they dug a well-like pit, and when they finished they lifted him off, still trussed tightly, and stood him in it. Then they filled all the space around his body with sand and stones, until only his head remained above the earth's surface. In the faint light of the new moon his shaved head without its turban looked rather like a rock. And still he pleaded with them, calling upon Allah and Sidi Ahmed Ben Moussa to witness his innocence. But he might have been singing a song for all the attention they paid to his words. Presently they set off for Tessalit; in no time they were out of hearing.
When they had gone (he) fell silent, to wait through the cold hours for the sun that would bring first warmth, then heat, thirst, fire, visions. The next night he did not know where he was, did not feel the cold. The wind blew dust along the ground into his mouth as he sang."
Samedi the Deafness - Jesse Ball
Fey, often precious, but distinctive thriller gambit in the wake of The Man Who Was Thursday.
Tackiest of titles (Threads of Splendor??) for an altogether astonishing spectacle of opera-scale, well, splendor, and energy--and color! Think color as deliriously intense as Mannerist painting. A knockout of an exhibition.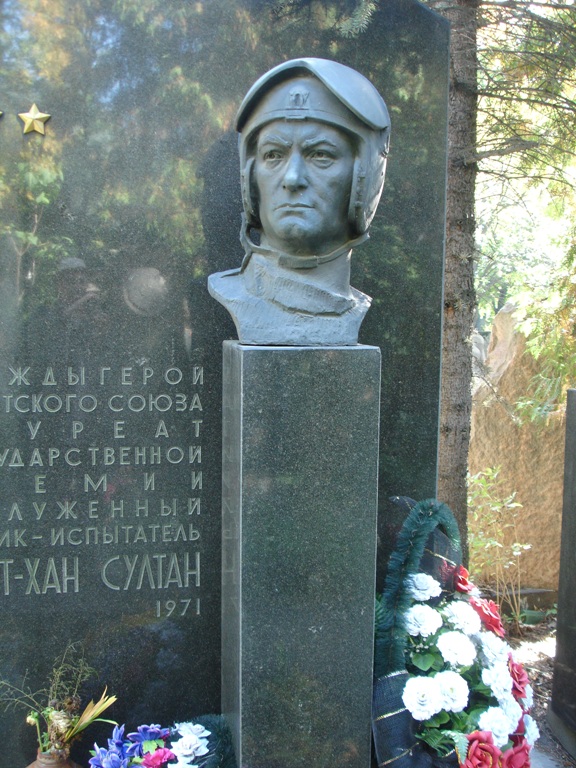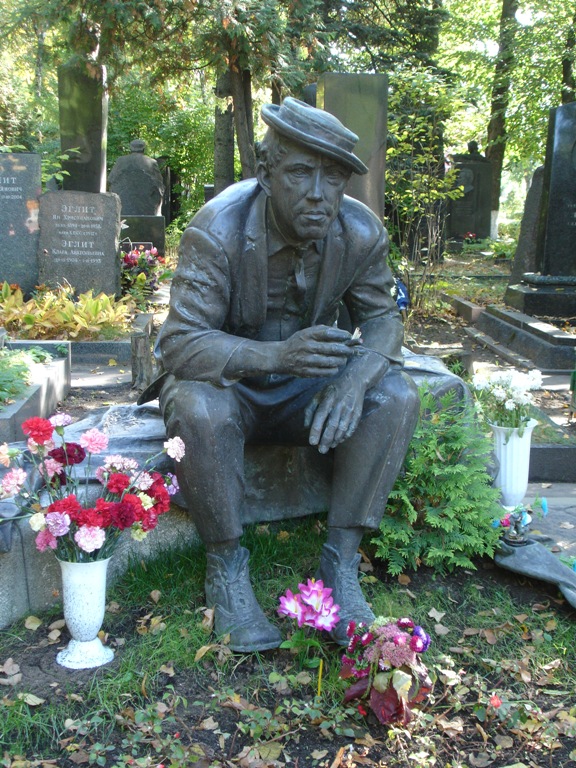 One of the best sculpture shows I've ever seen: the Soviet grave statuary here at Moscow's cemetery for the culturally prominent, second only to the Kremlin Wall in funereal status. Politicians, cosmonauts, singers, generals, in glories of kitsch.
The best piece of writing in New Yorker's "Raymond Carver" issue was in fact Paul Rudnick's hilarious and fine-wrought memoir of the horrors of staging his play about boozy monster John Barrymore with boozy monster Nicol Williamson.
This anecdote is not in Rudnick's piece: An extra in a movie Barrymore was shooting brought along his mom, a Barrymore fan, to meet the star during lunch in the studio canteen. B'more looked at the extra, who was 6'5'' and two hundred pounds, looked at the sweet old mom, barely 5' and petite, and exclaimed: "Wow, that must have been some fuck!" The extra punched him.
Best Individuals: Scott Horton, Glenn Greenwald, Juan Cole
Best Teams: Firedoglake and Talkingpointsmemo
I'm not up on current pop, but I stumbled across Lily Allen on the Today Show (!) with her nasty lilting groovy "Smile." Reggae's late 70's Althea and Donna gone all spikey. Lily in a yellow cocktail dress made a heart happy. And now she's a literary judge to boot.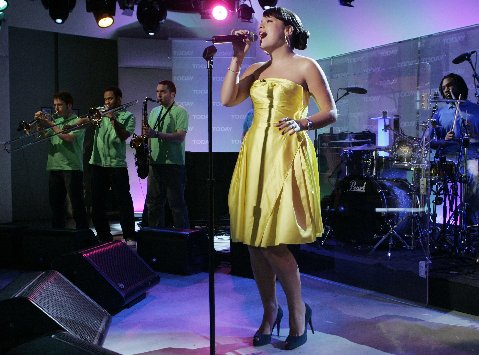 Appreciations to Uber.com, where this piece first appeared on my blog Brain Flakes.
This Blogger's Books and Other Items from...