I watched Live Free or Die Hard on the flight back from Spain to New York just now. Load of dried-up cow pie, I must say. Bruce Willis's head has come to resemble a turtle's--oddly bony and beaky and hairlessly sinister. And smirky. No more does his character gamely bleat wisecracks as, against all odds, he somehow manages to fumble lemonade out of the vast storms of lemons being blasted, hammered, and blitzed his way.
Now he just bulls right through everything and anything, sneering, threatening all and sundry in his path. He tells Kevin Smith (playing a porky computer wiz, and very well; co-star Justin Long also is geeky-cool, the movie should have been about them) that unless he cooperates, he'll beat the shit out of him in the sanctum of his own home, how's that? Gosh Dirty Brucie, perhaps a little waterboarding too?
Also, does Bruce run funny? His feet seem to angle out weirdly sideways behind him when he huffs along. Duck footed, maybe? I think Clive Owen is duck footed too, at that. So our movie heroes are...waddlers?
Live Free or Die Hard is based on a 1999 Wired article about the doom threat of a cyber assault on America, A Farewell to Arms , written by the world-traveling journalist John Carlin. Carlin was the influential correspondent for the Independent (U.K.) in South Africa during the momentous twilight of apartheid in the late 80's and early 90's. He got close to Mandela, and he has written a book, out next year, called The Human Factor: Nelson Mandela and the Game That Saved South Africa, about the watershed moment in the newly post-apartheid country, when Mandela blessed the South African rugby team in the 1995 Rugby World Cup--rugby being the sacred game of the Afrikaners, and so a despised symbol to non-whites. Until Mandela, in his nation-healing wisdom and courage (those worn-out terms freshen in his presence), shockingly donned the green shirt of the Springboks for the big final match. Which South Africa won.
It looks like Clint Eastwood will be directing the movie version of the book. Morgan Freeman will play Mandela, with Matt Damon as the South African rugby team captain. (I am originally from South Africa and will be much amused to hear Damon's accent; Afrikaner South African is a very hard on the ear.)
Carlin, whom I'm gotten to know in Spain, where he lives, has a great yarn about Freeman, involving his (Carlin's) being in Mississippi a couple years ago for a piece about poverty for a Spanish newspaper, and there, by sheer serendipity, encountering the actor, whom he'd never met, and to whom he brazenly pitched his Mandela story--only to discover that Freeman knew all about it, having just read Carlin's manuscript, which had begun circulating in Hollywood. I'll leave Carlin to tell the full story himself, beyond his account so far.
The 2008 edition of the Rugby World Cup just concluded, and for the second time, South Africa won. The team is still overwhelmingly white, but it's star player--in fact the best rated player in the world currently--is non-white, Bryan Habana, one thrilling bolt of lightning on the field. Rugby demands you play defense too; a ferocious Habana tackle stood out in the final match, against a rugged, surprising English side, the reigning champs who'd been long off form.
The triumphant Springbok team at first didn't have Soweto on their victory parade itinerary. After a bit of fuss, Mandela greeted the world champs there this weekend, in surroundings where soccer is normally king. Here's an earlier picture of Mandela posing mid-tournament with the Boks when their paths crossed--serendipity again--amid the splendors of Hotel Le Meurice, by the Tuileries in Paris. (Thanks to Le Meurice for the pic.; that's Bryan habana in front of Mandela.)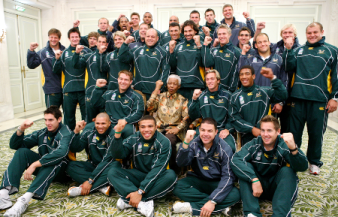 France hosted the World Cup, and went rugby gaga. Traditionally the game has a following mainly in the south. But the byways of Paris and every other bistro and bar, it seemed, were strung with the bright (officially distributed?) mini-flags of the competing nations--which included those burly-breeding specks in the South Seas, Fiji and Tonga. Not everyone in Paris was shouting "Allez France" though. In one of the ludicrously expensive cell phone store I mentioned le rugby to the clerk, a young guy from Mauritius in the Indian Ocean. He shrugged. "There's a lot of official hype," he murmured, "but a lot of us don't care how France does." Because, I hazarded, Sarkozy, that baiter of the banlieus, had made such a big show of embracing the team? He nodded. At the vegetable store the young North African-looking guy there shrugged too. He preferred football (soccer). Which team? His grin flashed. OM, of course! (Olympique Marseilles. Zinedine Zidane, of Algerian descent, hails from Marseilles.)
But still, as I say, le rugby was everywhere. A giant rugby ball hung under the Eiffel tower. In a shop window on the Boulevard St. Germaine, some culinary Rodin had carved a large-scale sculpture, from chocolate, of a existentially naked rugbyman and his ball. A high-production coffee table book of photos, Hors Jeux, featured chefs wittily paired with rugbyers. On the cover of Hors Jeux, there's the icon of the French team, big neo-caveman Sebastian Cabal, with the carrots.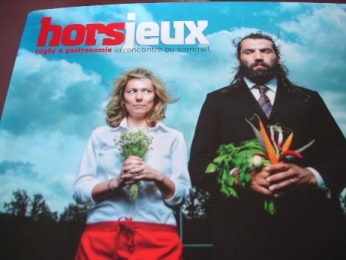 Cabal sank to his knees on the turf and wept when the whistle blew on France's grueling, tension-filled semi-finals loss to England. "Le Non de La Rose" as the French sporting bible L'Equipe put it with flair. (The rose being England's symbol). France began the tournament with a shocking humiliation by upstart Argentina. Les Blues reclaimed their honor with a shocker themselves, knocking off huge favorites New Zealand in an epic win. "C'est Immense," declared L'Equipe. Then humiliation returned, as Argentina hammered the home side again in their rematch for third place.
Maybe would have been different had Bruce Willis in charge...
As it was, the French coach resigned, as scheduled, to become Sarkozy's sports minister.
Thanks to Uber.com, where this piece first appeared on my blog Brain Flakes.