I flew to Amsterdam from New York a couple of days ago, connecting through Madrid with a long layover. So happenstance offered me a paired glimpse of the two capitals from the World Cup final: red winner, orange loser.
We had five hours in Madrid between planes. We figured to take the metro into Bernabeu Stadium, Real Madrid's casa, and have lunch at the bar at Puerta 57, one of the several fine restaurants in the stadium (even a Barca fan like me has to salute them). We planned to order octopus and express our admiration for the Pauline species with the highest of compliments: eating it grilled and glossy with olive oil, with a glass of cava rose to toast it.
But there was a strike Wednesday, the day after all the celebrating, by metro workers protesting pay cuts. (Victorious Spain's unemployment rate is around 20%) So we took a bus into a closer part of town, and found an Extremaduran bar -- right beside the headquarters, it turned out, of the UGT, one of the big unions involved in the strike. (Orwell readers may recognize the initials from Homage to Catalonia).
We ate chorizo, excellent acorn-fed jamon (for which Extremadura is celebrated) and the folkloric specialty of fried bread bits called migas, served with an egg. We washed it all down with a clara, the great summer refresher of cerveza and lemon soda. The heat in Madrid is very serious, but dry. Sensible summer weather, compared to the lunacy of New York.
All the sports papers were giving away posters of La Furia Roja, besides running a photo of hero Andres Iniesta's Dutch-battered knees. The lady at the news stand made no fuss taking our 50 euro note for a one euro paper-with-poster, and she beamed when we told her that New York shared in Spain's happiness. Felicidades, we said to the police we asked for directions. We said it to practically everyone we encountered.
In Transit with Poster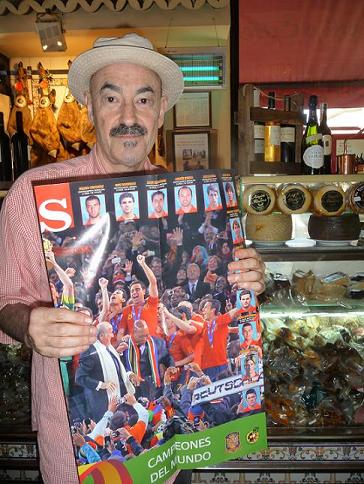 Clara, Chorizo, Tortilla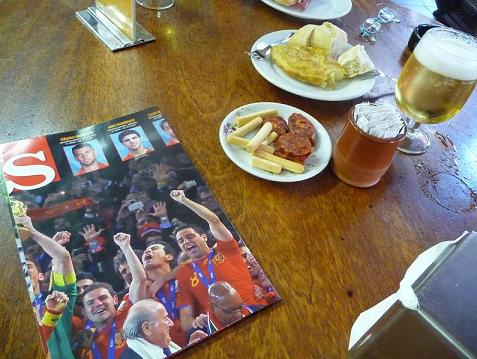 Beer and Labor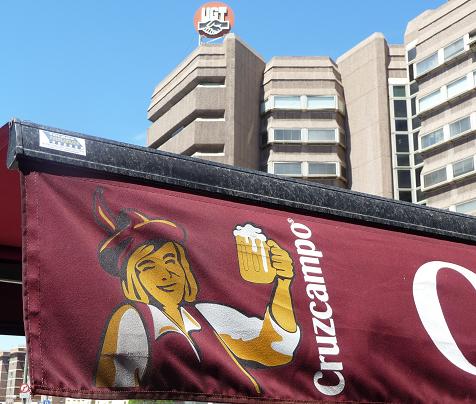 In Amsterdam, the entire front page of De Telegraaf, the main establishment paper, was a portrait of agony: a poster-sized photo of Arjen Robben and Robin van Persie in stunned anguish on the Johannesburg field of play. (If "play" was what was going on.)
Orange agony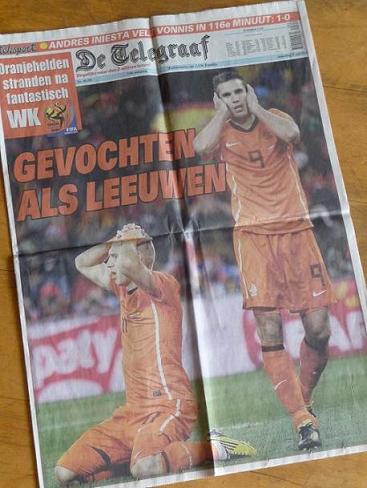 Despite the king-fu thuggery that outraged soccer fans across the continents, the Dutch regarded their brave boys as fightin' heroes. They gave the returning team a stupendous parade that jammed the canals in a tidal surge of appreciative orange. The god of Dutch football Johan Cruyff, however, was not as pleased. "Very dirty," an "antifootball" disgrace he called the team's tactics. Ditto Patrick Kluivert, another (if lesser) practitioner of Holland's older beautiful ways. I had warned myself to bite my tongue about all this once in Amsterdam. But hearteningly, already several people since we arrived yesterday have volunteered their disgust at Nigel de Jong's studs-up karate kick on Xabi Alonso and what else they saw on their TV screens. Maybe there's hope for Dutch football. (The discussion also allows us to carry on about "knowing Xabi personally," on the strength of having had a drink with the Basque midfielder, one night some years ago, in the chef's kitchen at Arzak in San Sebastian)
Really, the Spanish team is the one these days playing the great Dutch "total" style, as created by Cruyff and company, who brought it to club football at Barcelona, where even the central defenders like Gerard Pique can bring the ball up field with panache.
But the beer here in lovely Amsterdam, where I'll be a month, is on another planet from Madrid. (Actually, much of it is from Belgium). You can sit and sip beside a now quieter leafy canal -- hiding from the whizzing bicycles -- and reflect approvingly on the Dutch unemployment rate -- around 4%, so I'm told.
La Furia Roja by Oude Schans canal #1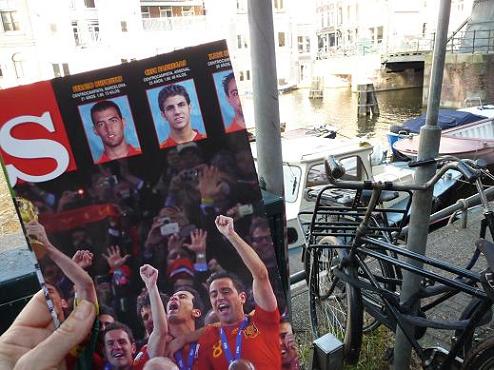 La Furia Roja by Oude Schans canal # 2

La Furia Roja by Oude Schans canal #3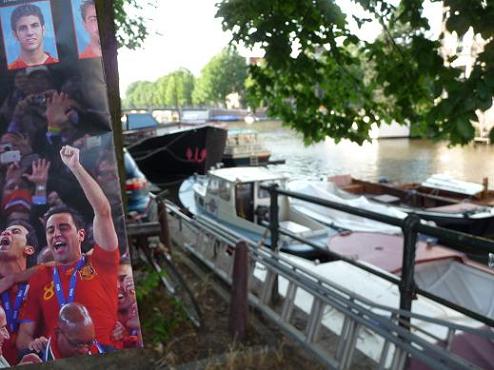 This Blogger's Books and Other Items from...
FOLLOW HUFFPOST