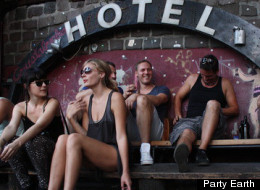 Berlin is popular amongst travelers, and that's for a good reason. Culturally, Berlin has a lot to offer. Once you've seen all the highlights, you'll want to get off your feet and relax somewhere. Do you want to taste some of the local cuisine, maybe, like at a "local's only" eatery. Or do you want to enjoy some live music in a cozy bar, that isn't filled with hordes of other tourists?
Are you in the market for unique spots, ones that locals highly recommend, spots that you might not find in a paper travel guide? Well, the locals who write for Spotted by Locals are the right folks to turn to.
Below you'll find a selection of 10 great spots in Berlin, secret hideouts or just plain unique, fun and local places, that our Berlin locals highly recommend!
Locals 10 Favorite Spots in Berlin
Martin Gropius Bau, Berlin (by Natalia Irina Roman) "MGB is a venue for many international exhibitions (covering photography, archaeology, art history and contemporary arts) and its profile makes it comparable with the Grand Palais in Paris and Royal Academy of Arts in London."

Bflat Jazzclub, Berlin (by Natalia Irina Roman) "I started wondering whether the piano and saxophone players were improvising or not. It was pretty good jazz. The answer came two minutes later when somebody from the audience asked the piano player for his seat and got it."

Henne, Berlin (by Robby Block) "[...] it really is all about the milk broiled chicken here. Well, and the beer. And maybe the potato salad."

Soju bar, Berlin (by Sharon Mertins) "[...] the little Angy Chicken take-out becomes a night club. The 'angry' chickens are put away to make way for a kitchen-like cloakroom right before the entrance of the 'Soju Bar' in the back."

Franziskaner Klosterkirche, Berlin, Berlin (by Robby Block) "Today the ruin stands as another reminder of the war that left the city devastated. The space now stands as an open art exhibition space in a garden-like atmosphere. In summer, theater productions are also performed."

Platoon Kunsthalle, Berlin (by Marcel Krueger) "What other Berlin gallery can claim a building crane that enables it to re-design the outlook and array of it's buildings at a whim? They also host panels, parties and concerts."

Mauerweg, Berlin (by Marcel Krueger) "A well-kept and way-marked trail leads you from the urban surroundings of central Berlin to the not-so-urban surroundings of the former border suburbs with fields and biotopes, along landmarks such as the newly built central train station and the Invalidenfriedhof (invalid's cemetery)."

Ting Ding Atelier, Berlin (by Sharon Mertins) "They have chic-looking dresses that have the mid section of an old shirt as the top and the top bit of a raincoat as the skirt"

Proviant, Berlin (by Sarah Curth) "When you step inside the corner shop you'll feel like you're in an Italian deli run by a real mamma who offers only the best gourmet food in her display: sausages in every possible form, ham that makes your mouth water, cheese from different countries and delicious antipasti."

Luigi Zuckerman, Berlin (by Sharon Mertins) "What's best, is they get most of their ingredients from local producers. It's a mix between Italian and Israeli kitchen creativity plus a touch of American, including American apple pie!"
Spotted by Locals, at the moment, consists of 44 city blogs throughout Europe. Each city blog is filled with tips, varying from eating and drinking to dancing and culture, all supplied by locals who are without a doubt in love with their city.
And for more local Berlin tips, check out Spotted by Locals Berlin, download the iPhone app, the Android app or purchase the PDF city guide.
Follow Bart van Poll on Twitter: www.twitter.com/spottedbylocals