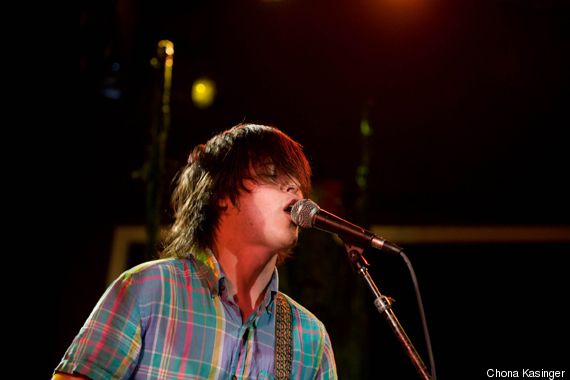 Out of last night's 20 inaugural Northside Festival shows within the four-mile radius of Williamsburg and Greenpoint, Wavves was the only headliner to sell-out days in advance. Wavves, the project of 23-year-old San Diego-native Nathan Williams, first set the indie blogosphere buzzing less than two years ago by posting noisy, unpolished, self-recorded mp3s for free download. Impressively, the band has released two albums since then, Wavves and Wavvves, and still receives a great deal of attention whenever a new show is announced or a track is posted.
The set list at Wavves' full-to-capacity show alternated between the simpler songs of the bands' first two records, and the more structured, developed sounds off the soon-to-be-released King of the Beach. The songs played from Wavvves could have been arbitrarily chosen. Like other songs on that record, "Weed Demon" is made up entirely of a simple electric guitar riff and cryptic lyrics: "darkness, dirt paved, crawling, I love crawling." Williams harmonizes with himself only on the chorus, "Who are you? Weed demon." Following that trend is "So Bored," which features the reductive chorus: "I'm so bored, yeah I'm so bored." Though his feelings are understated and such boredom is an obvious punk cliche -- think of the Ramones' entire catalog -- Williams builds a catchy, lovable pop song out of a steady drum beat, cleverly simple guitar riffs and harmonizing "oohs" and "aahs" that lead the song.
And that's the gist of it: in most of his songs, Williams professes to be hopeless, bored and restless, if not just plain weird, while being backed by a great beat and singalong-like ooh-ahh-oohing. And so , while the subject matter is somewhat juvenile, the impact is immediate; and most importantly, the songs feel unassuming and honest.
From King of the Beach, Wavves played the exciting new summer anthems "King of the Beach," and "Super Soaker," the sneering head-bouncer "Idiot," the driving "Linus Spacehead," and the poppy, self-deprecating-though-unapologetic slacker love song, "Green Eyes," which features lyrics such as, "My own friends hate my guts/so what, who gives a fuck?" and "I try running away/I'm just not fast enough/I'm just not man enough." Ouch.
Perhaps most telling from King of the Beach is "Take On The World." "Well I hate my writing/ it's all the same," Williams sings. "When it drips like posture/ my head just hangs/ and I hate myself man/but who's to blame?" As Williams sings the verses, the song gradually builds and finally explodes into the chorus "To take on the world would be something." Williams is still restless and self-loathing, but this time he gives a reason: he expects more from himself -- he expects to take on the world. Wavves are a young band and, with a more mature and totally awesome record soon to drop, in a very exciting place. That's a challenge they are definitely ready for.
Setlist:
1. Friends Were Gone
2. King of the Beach
3. To the Dregs
4. Idiot
5. Wavves
6. Green Eyes
7. Weed Demon
8. Super Soaker
9. So Bored
10. Take On The World
11. Linus Spacehead
Wavves, "Post Acid" by HuffingtonPost