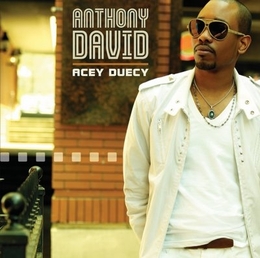 Anthony David, an Atlanta-based neo-soul artist, recently released his first major label album entitled Acey Deucy. David's album is the first release from Soulbird Music, a new venture from Universal Republic Records and multi-Grammy winning artist/songwriter India.Arie.
I first met Anthony in Atlanta in 1996. At the time, I was a college student promoting and producing music showcases featuring unsigned artists. The first time Anthony and I spoke was at a showcase called the Hobo Banquet which took place at a club called Lou's Blue's. Back then, Anthony was not a singer. He was actually playing guitar in a hip-hop/rock band called El Pus. He was also managing an unsigned artist with a remarkable voice and an exquisite talent for songwriting. Her name was India.Arie. India was a staple at showcases such as the Hobo Banquet and FunkJazz Kafe.
I caught up with Anthony this week and asked him some questions about his new album and about his newest fan, Michelle Obama.
Ben Arnon (BA): Recently in an interview with Marie Claire, Michelle Obama was asked what's on her iPod. She had this to say:
Michelle Obama: I have a pretty eclectic mix of everything, from Beyonce to Stevie Wonder. He's my favorite artist of all time, so I probably have every song he's ever recorded. But if I hear something I like somewhere, I'll add it. I just heard this CD by Anthony David, who's an R&B guy - I put him on there. That's brand new, so I'm kind of enjoying that a lot now. I also have some old Mariah Carey; the girls have reintroduced me to some of her older stuff. So I have a good mix: some pop, some R&B, some jazz.
What was your reaction when you read this?
Anthony David (AD): It definitely picked up my day. Just to think that somebody on that level is listening to you - someone whose husband is running for President. The mindset you have to be in to be in that zone. To think that I could be a part of that mindset, that's awesome. It also made me think about how much I can relate to this candidate.
I wrote part of a song for India.Arie that's on her last album called There's Hope. I did the hook and I produced it. That song is being used in the Obama campaign. So it already felt good to be a part of his campaign. Then to find out that Michelle Obama literally listens to my music is awesome.
BA: Tell me more about There's Hope. Was that song inspired by Barack Obama?
AD: No, actually we wrote the song about three years ago. People have been asking me all year if I was going to write a Barack Obama song. But my brain doesn't always work like that. I write current but I try to write in a way that is timeless. The hook that I wrote for There's Hope was really about the conditions at the time in general. For me on a personal level, I was actually extremely broke but I was feeling good that day.
Lyrics to the hook in the song There's Hope:
There's Hope
It doesn't cost a thing to smile
You don't have to pay to laugh
You better thank God for that
India's album had already come out. Then Barack Obama's campaign started taking off and the theme of the song matched the theme of his campaign.
BA: That really is a testament to how universal and timely Obama's message of hope is. Hopefully Barack Obama will tap you to perform at his Inauguration in January!
AD: That sounds good to me!
Anthony David's first single is a duet with India.Arie called Words. Here is the video:
My favorite song on the album is called Something About You. Here is the video:
SUBSCRIBE TO & FOLLOW ENTERTAINMENT
HuffPost Entertainment is your one-stop shop for celebrity news, hilarious late-night bits, industry and awards coverage and more — sent right to your inbox six days a week. Learn more