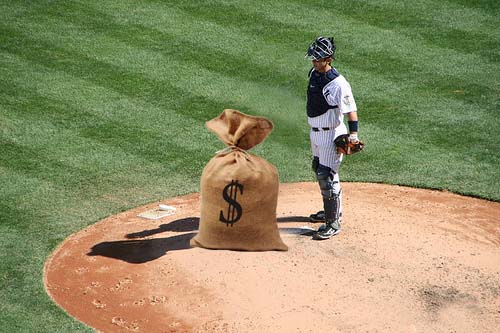 In baseball news, the pitching-starved New York Yankees plan to use a sack filled with $24 million as their fourth starter for the upcoming 2011 season. Ever since the 2010 season ended, the Yankees and their fans have been anxiously looking to shell out an obscene amount of money for something to pitch every fifth day -- and the Yankees front office thinks this sack will do the trick.
"We're not changing our off-season strategy at all, in fact, we're still spending the same amount of money on our rotation we had always planned to use," said a red-eyed Brian Cashman. "We're just hoping this sack won't disappoint. And hey, MLBTradeRumors.com said the Red Sox were interested in the sack, so that's something -- right?"
According to sources, once officially signed, the sack plans to inquire about Derek Jeter's "$" jersey number.
FOLLOW HUFFPOST