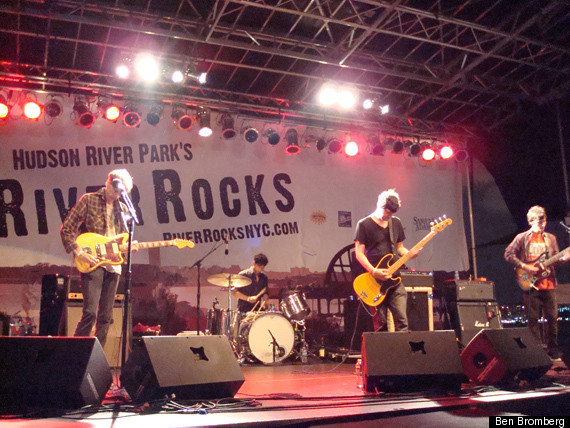 This Thursday, Deerhunter headlined a free show at Pier 54 in Hudson River Park, part of the River Rocks concert series that take place every summer. Brooklyn locals Real Estate opened the show, hypnotically drawing in concert-goers towards the stage with their polished brand of soft surf guitar. Real Estate is the kind of band whose songs best fit as transitional numbers on your mixtapes, a mellowed out break to provide breathing room between hits and bangers.
Four or five songs into their set, and the gentle, sleepwalking melodies of Real Estate started to threaten the audience's abilities to keep their eyes open. Songs rarely pick up in tempo or develop in format -- this is something that a listener of Real Estate's recently released self-titled LP might also notice while trying to make his or her way to the end of the album. But as the band debuted new songs it became clear they weren't interested in developing beyond what they had already built. There were actually several times that I believed I recognized a song from their record as the lazy, languid chords strummed in, but thirty seconds later I would realize it was actually something else, and must have been a new song, albeit with startlingly similar chords.
Of course, the band that the crowd of hundreds had truly come to see was Deerhunter, the Georgia-based psychedelic rock outfit that has never had any trouble playing dynamic, engaging sets. And loud. Did I mention loud? Deerhunter has the habit of building momentum within tracks before ripping them open with screeching guitar solos and walls of feedback, and the first time they ripped one open in their set at Pier 54, it was as if they had stabbed an adrenaline needle right into the heart of every audience member who was still reeling in Real Estate heroin overdose.
The last time I had seen Deerhunter was in the summer following the release of their very first album, 2007's Cryptograms, and I was blown away on Thursday by how they had since come to perfect their sound, accomplishing absolutely everything they were working towards but not quite finding in 2007. It's not that the band was any less inspired in 2007, releasing music as original and groundbreaking as anything they've released since -- they were just unfocused. The ambient instrumental washes that Deerhunter likes to segue into between rock numbers made up the majority of Cryptograms and their 2007 live set, and back then the band seemed less interested in marrying the two extremes as they were in perfecting the wash. On Thursday's show, however, the band had clearly come to master all aspects of their live performance, each and every sonic element landing just where it was supposed to in the mix. Every echo, every bark of feedback came together to form the most perfect kind of controlled chaos, something frontman Bradford Cox and his bandmates kept under their thumb with as much casual candor as Real Estate exhibited keeping their narcoleptic guitar strolls at bay.
Deerhunter's progress as a band was perhaps most clearly displayed in how brilliantly they performed their older material. Cox's crew has been preparing to release their follow-up record to 2008's Microcastle, titled Halcyon Digest and due out this September, so naturally a great deal of the band's set on Thursday was debuting new material. And while these songs did indeed promise another solid record from the psych-rockers, the night's most surprising success was when the band tore through "Wash Off", a track off of their 2007 Fluorescent Grey EP. Although I had seen the band perform this same number in 2007 -- and it was no sleeper, back then, either -- on Thursday's performance the band was able to breathe new life into the track, proving how far Deerhunter had evolved from their early stages of experimentation as a young band on the rise. Fair-weather fans of Deerhunter would do well to give the band a chance to convince them in live performance; this is a band that has the power to completely win you over, while playing the same songs you thought you already kind of liked.
SUBSCRIBE AND FOLLOW
Get top stories and blog posts emailed to me each day. Newsletters may offer personalized content or advertisements.
Learn more