Brazil matches even Argentina for flame-cooking cred. Anchoring any self-respecting brazilian neighborhood is a churrascaria, complete with espito (spit) wielding waiters marching on you like an elite brigade, dropping meat to plate until you happily surrender.
(And by the way, if you are a carnivore living in an American city lucky enough to host a Fogo de Chao churrascaria - an embassy of Brazilian culture far more rewarding than the government type - stop reading, take your lipidor and get down there. I digress.)
But it turned out a churrascaria visit wasn't the gustatorial highlight of this year's run down south, but camp cuisine.
The Pananal is a floodplain in the west of Brazil, near the border with Paraguay. The area is teeming with wildlife, thankfully a preserve, and barely bothered by humanity. Like the Amazon in fauna density, the Pantanal is open in the dry season like the Serengeti. The locals fish with bamboo sticks in low flat-bottomed boats and herd cattle through gentle-looking rivers hiding zillions of ungentle yellow piranha. Jaguars patrol the bank while caimen cruise the shallows. Raptors of all stripes watch from the treetops. The Pantanal is a hands-down carnivore carnival.
So it was on a muddy riverbank and under crocodilain eyes that the Pantanal James Beard award was earned every lunchtime by a wiry little guide named Mosquito, wielding a razor-sharp machete, some firewood and little else.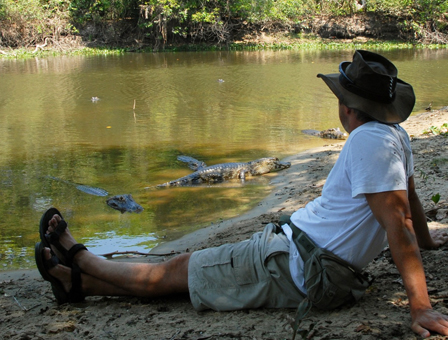 No need to go to Brazil. Catch or buy yourself a whole white-meat fish. Ours were native Golden Dorado and Pacu, but any firm-fleshed variety will do fine. Clean and scale it (if needed), but otherwise leave it be, head-on if your guests can handle it.
With a very sharp knife cut vertical lines, parallel to the ribs, into each side of the entire length of the fish. 1/4" apart and 1/2" deep. This is by far the most time-consuming and vital step. The fish's flank should look like it was scored by a fine-toothed comb.
Pour a couple cans of pilsner beer into a container large enough to hold the fish and allow it to soak there for about ten minutes. Remove and blot dry.
Rub coarse sea salt into the fish's surface, over and into the cuts. Squeeze a couple limes-worth of juice over the salted fish. DO NOT SUBSTITUTE WITH LEMON; the lime works with the char - i.e. this falls into the "going with" rather than "contrasting" flavor strategy.
Grill the fish gently over wood or charcoal until the skin is brown and beginning to crisp. Serve.
Obrigado, Mosquito.
SUBSCRIBE TO & FOLLOW THE MORNING EMAIL
Start your workday the right way with the news that matters most. Learn more