At home or at work - you undoubtedly have something that would be meaningful to the men and women putting their necks on the line under the crappiest conditions imaginable. And if you're a foodie - as is likely if you're reading this - consider the special value of what you have to offer.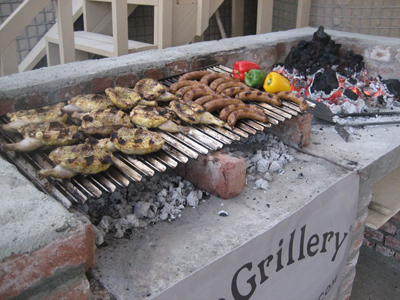 A Special Forces Asado in Afghanistan
There is little so comforting as food. The story of it, the preparation, the social warmth of communal eating, the fond memories the dishes evoke - these things bolster the thing in shortest supply during deployment: morale. And reminding warriors that they haven't left our thoughts does more than cheer them while they're gone. It also softens re-entry.
Your gesture needn't be big nor conventional - in fact unconventional begets disproportionate joy. Recall Mom's lessons about gifting: a poorly drawn card in your own hand stays on the refrigerator far longer than the cleverest Hallmark.
I was guilty of thinking conventionally about "helping the troops" until a single soldier asked me, via email, for assistance building a grill. His words opened my eyes. I could help directly and immediately. And my small gesture put smiles on the faces of Americans thousands of miles away, braving a bitter Afghan winter on the front line. I was even lucky enough to see those smiles in my email, and one later in person, offering a handshake of thanks on my doorstep.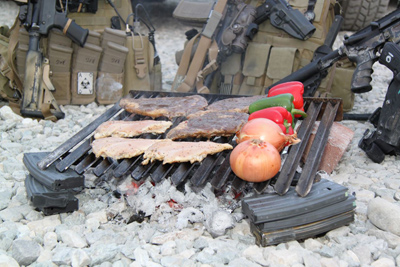 If you design websites you can help. If you prepare taxes you can help. If you grow vegetables - or just write about growing vegetables - you can help. And as I found - If you make grills you can help. Don't wait. Everyone knows a soldier - ask him, ask her - how you can share a little piece of home.
Then send them your version of a card that would warm a mother's heart - and do it in your handwriting.