The Texas Rangers recently had their 12 game win streak snapped, courtesy of the surging Los Angeles Angels, who are only 3 games behind the Rangers in the AL West. The Rangers' impressive run has been big news; the streak was the longest in the majors this year.
Well, actually, as of last night, the Seattle Mariners tied the Rangers, but on the other end of the success spectrum: their 5-7 loss to the Toronto Blue Jays marked #12 in the red for the slumping Mariners.
Here at SeatGeek, we decided to take a look at Rangers ticket prices over the past few weeks to see how the secondary market for Rangers tickets has changed in response to the teams stellar, possibly-record-breaking performance as of late. Much to our surprise, there was really no discernible increase in price over the last 30 days.
So we decided to look at the data in tandem with Mariners tickets for the same period, and also throw in data from some of the longest winning and losing streaks from 2010 (also over a 30 day period).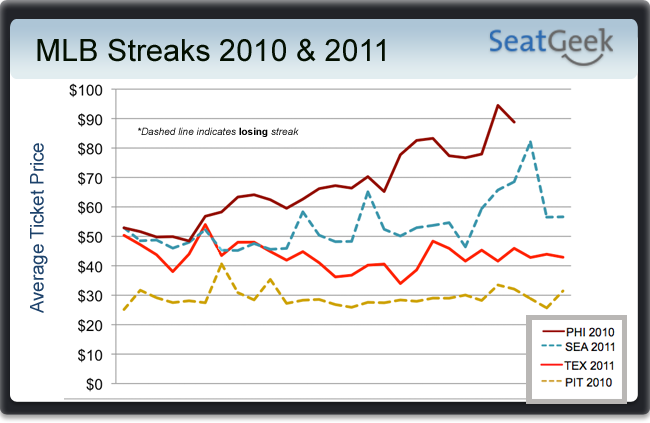 Again, we were surprised to find relatively no effect on current Mariners ticket prices despite their slump, and a similar non-effect on Pirates ticket prices last year (which was also a 12 game skid). In fact, Mariners tickets prices took an upward leap last week.
The Phillies' 11 game winning streak in 2010 was the only example of a clear positive relationship between accumulated consecutive wins and ticket prices, but the streak happened between 9/12 and 9/24, right at the end of the regular season as the team surged past the Braves to finish with the division title and the best record in baseball. Because this streak effectively served as an 11th hour upset for the NL East, it's impossible to say how much the 'streak' really mattered -- which is to say that it's entirely possible, given the other three examples, that if the Phillies had won 5, lost, then won another 5, the effect on prices would have been identical.

It's evident that long winning/losing streaks may have absolutely no effect on MLB ticket prices, absent a coinciding playoff bid race. Though we'd need to look at a larger dataset to be sure, we suspect this might be the case, if the biggest streaks of the past two years are any indication.
[Note: Phillies ticket prices continued to rise after 9/26, but were left off the graph because they fall within the postseason.]
SUBSCRIBE TO & FOLLOW THE MORNING EMAIL
The Morning Email helps you start your workday with everything you need to know: breaking news, entertainment and a dash of fun. Learn more