Fashion fiends, in particular Yves Saint Laurent devotees, will get a chance to lay their fervent hands on some sleek loot on April 8. Neapolitan beaute' Marina Schiano is parting with some very personal mementos that were bestowed upon her through the platinum years, by her friends Yves Saint Laurent and Karl Lagerfeld.
Ms. Schiano, a Saint Laurent confidante, operative arm and "alter-ego" received whimsical "Marina Cherie" letters from the couturier's poetic port in Marrakech, Morocco, much adorned by his hand nonpareil. "I used to wish for more of his vacation time, as I knew that's when the letters would come" declares Ms. Schiano, from her own poetic port of Porto Seguro, Brazil.
Ms. Schiano is also known for her indelible Fashion Director/Creative Stylist contributions to Tina Brown's Vanity Fair. Among the items on the block are Yves Saint Laurent fashion drawings in colored pencil and marker on paper dedicated on the verso. And a letter "Untitled, Marrakech, le 8 Juin 1981" signed Yves, with marker on paper shrink wrapped to board. Also on hand, vivid jewelry by Karl Lagerfeld for Chanel. "In 1992 Karl summoned me to the Pierre Hotel, with the promise, much delivered, of plentiful jewelry. I felt as adorned as a Brazilian Madonna," says Ms. Schiano.
Most coveted is a "Karl Lagerfeld for Chanel, seven-piece Haute Couture runway parure, early 1990s, probably Gripoix, in poured glass beads, cabochons and gilt-metal." Fans of Elsa Peretti Tiffany's oeuvre might also be interested in a rare "Elsa Peretti Heart Belt, designed in the 1970s for Giorgio di Sant'Angelo, in sterling silver and leather." Before Ms. Peretti's definitive global deflagration. Ms.Schiano and Ms.Peretti, the 2 Italian rarae aves, shared a Halston runway in the Seventies. The items (lots 516 to 525) are part of the Doyle+Design/Street Art/Photographs at Doyle New York, April 8 at 10am. www.doylenewyork.com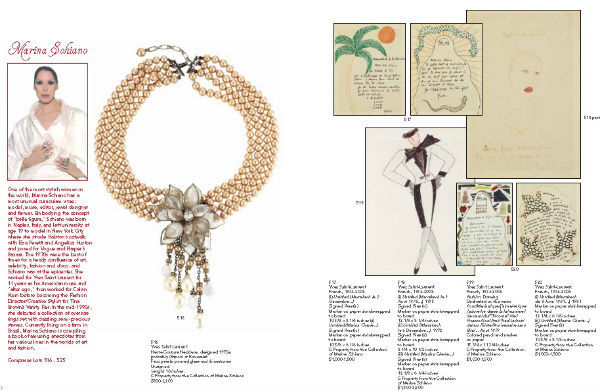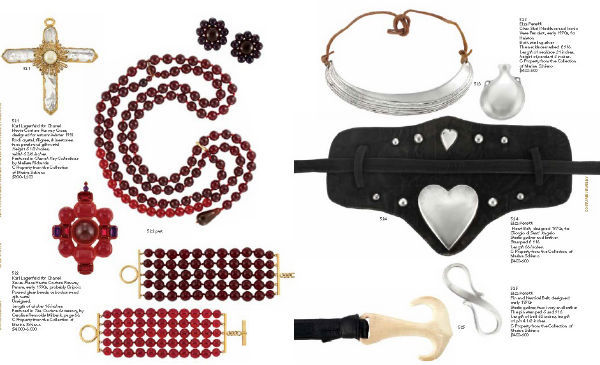 SUBSCRIBE TO & FOLLOW LIFESTYLE
We're basically your best friend… with better taste. Learn more