Something about the J.Crew / Timex military watch never really jived with us. They claimed it was designed after a watch built to military specifications in the 1940s, but we could never actually find that watch. Even when we went into the vault at Timex, we saw watches from the 1940s, but they didn't look anything like the modern interpretation that we see so often on the wrists of the young menswear set. So, we went on a mission to discover where this design came from, and when, if ever, Timex had a military contract to make wristwatches. We found the watch that inspired the J.Crew piece, but we came to realize that it wasn't from the 1940s at all, but rather from the first half of 1982. And the story doesn't end there.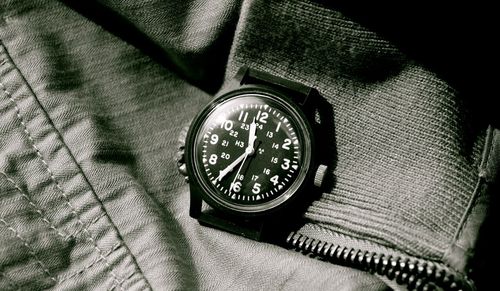 The J.Crew Connection
Timex indeed has a long history of producing timepieces for the United States' government. Included are bomb-timers, stop watches, and of course wristwatches. But you already knew about that last one, didn't you? After all, the Timex / J. Crew military watch is practically issued to any white man under the age of the 40 years old as he crosses south of 34th street. But, the thing is, Timex and J.Crew claim the watch they sell was built in tribute to a US-military spec watch from the 1940s. That's not true. In fact, Timex only held one contract with the US Government to build mil-spec watches, and that was in the 1980s. Other Timex watches were built and subsequently purchased by the military for issuing, but that's not the same thing.
We had heard rumors of the Timex MIL-W-46374B, a plastic cased watch that resembled many more common Benrus watches from the 1970s, for a while. There were even a few pictures online. The rumors around the forums is that Timex produced these mil-spec watches for only two months, February and March, 1982. Since they were produced for such a short period of time, cased in plastic and had clear disposal instructions, the survival rate is excruciatingly low.
We found one, bought it, researched it, and photographed it.
SUBSCRIBE TO & FOLLOW LIFESTYLE
We're basically your best friend… with better taste. Learn more