The Empire State Building was lit in tie-dye colors on Wednesday, October 21, and Grateful Dead fans of all ages flocked to the New York Historical Society to meet their idols, Bob Weir and Phil Lesh, at a benefit to support an upcoming exhibit of artifacts culled from the Grateful Dead Archive at UC Santa Cruz.
A cover band played Grateful Dead songs in the usually pin-drop quiet NYHS Library, and Weir and Lesh didn't seem to mind, and even tapped their feet along to the songs. At one point, Billy Procida, an investment banker in shirt and tie, jumped onstage, slung a guitar over his shoulder and played "Not Fade Away." Procida, one of the organizers of the benefit, says Weir and Lesh promised to play at the benefit if he did. And they made good on the deal, to the delight of the swooning Deadheads, playing Bob Dylan's "When I Paint My Masterpiece," followed by "Going Down the Road Feeling Bad."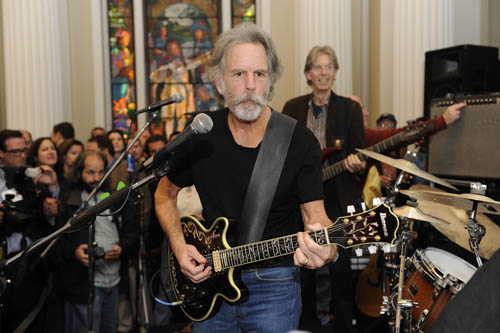 "I used to get in so much trouble for going to see this band when I was young," a 50-something fashion consultant next to us in the crowd said. "Now, I have trouble getting up for work in the morning after their concerts," she added. NYHS president Louise Mirrer wore a Grateful Dead sweatshirt that was a souvenir from a 1968 Dead concert at a bowling alley in Lake Tahoe. "The Dead were young then, and I was just a kid, but already into their music!" Dr. Mirrer said.
"I have no words ... I don't know what to make of it. In any way," Weir said about the august Historical Society honoring the Dead with an exhibition. "You know, I'm kind of tickled; I guess I'm honored," he added. "People are taking us seriously, you know, and I don't know how to react to that because being taken seriously is something I never expected out of life. I think I can speak for all of us, we always thought of ourselves as being, um, on the edge a bit, and we never really required that we be taken seriously."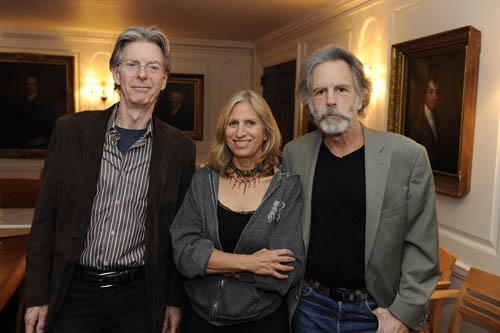 Weir acknowledged that fans, known as Deadheads, take the band very seriously. "Apparently there's nothing we can do about that, because we've tried," he said.
The exhibit, "Grateful Dead: Now Playing at the New York Historical Society," opens March 5, 2010.
SUBSCRIBE TO & FOLLOW THE MORNING EMAIL
Start your workday the right way with the news that matters most. Learn more