The Lone Wolf and I slipped onto the TGV and sat down in our single seats facing each other in the First Class car. We were escaping from Paris. Yes, even though it's pleasure to live here one still needs to get out of town. And it was a fast 46 minute train ride to Vendome, where we were picking up a car. In fact, I didn't even finish making my "To Do" list before we arrived and hopped into our darling little Fiat that was a cross between a Volkwagen Beetle and Mini-Cooper in which we would sportily zip around the Loire for the next few days.
We were headed to chateau country. Better than that, we were checking into a chateau-B & B, the divine Chateau de la Barre, which is near the tiny village Conflans-sur-Anille in the Sarthe department in the Pays de la Loire region of France. The chateau is owned by the Count and Countess de Vanssay, whose family it has been in since 1404. Countess Marnie de Vanssay is our new Grace Kelly--a beautiful former model who happens to be American and became a countess when she and the count (Guy) married. Marnie and I had gotten to know each other through social media, and she had invited the Wolf and I down for a weekend ages before. It had taken us months to get there, but we were on our way now. We couldn't have been happier.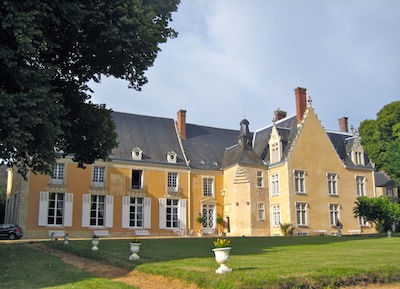 Chateau de la Barre (Photo by Beth Arnold)
We arrived in Vendome in time for a nice lunch and a walk around town before making the short trip, well-marked and easy, to the chateau. All L.W. and I could say to each other once we saw it was, Oh my God, this is going to be one fantastic weekend. And I'll just cut to the chase right now, and say it absolutely was.
Guy met us and showed us to our gorgeous yellow room. But by the time we descended the ancient stone stairs, Marnie was home and served us wonderful artisan-made cider and homemade banana bread in the Salon Rose.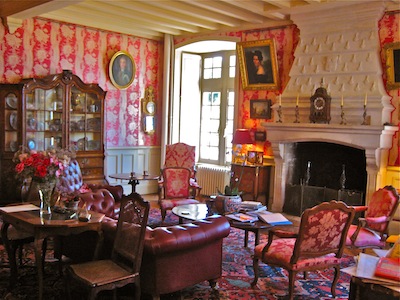 Salon Rose (Photo by Beth Arnold)
I don't even like to bake but thought I would love to have the recipe. L.W.and I wanted to relax, and we took our books down to the lawn to read in the fresh air and enjoy the scenery. But I could hardly force myself to crack my book open because we sat at the table near Kakoo, who I immediately fell in love with. I spent my time talking to the handsome bird.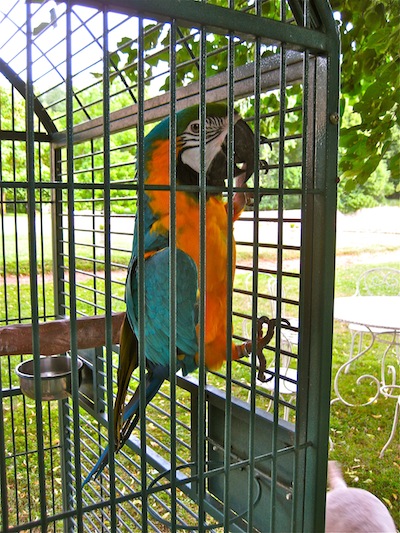 Kakoo (Photo by Beth Arnold)
Before dinner, we gathered in the Grand Salon of the chateau for a chamber music concert that was marvelous.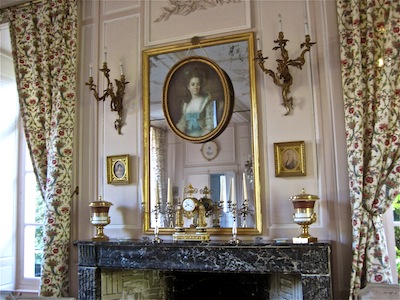 In the Grand Salon (Photo by Beth Arnold)
The musicians, a German couple, had found the chateau several years before on their way to Brittany and now made a yearly pilgrimage. I can see why, and what we discovered while we were there is that there are lots of repeat guests to Chateau de la Barre. I'll tell you right now that we will be some of them.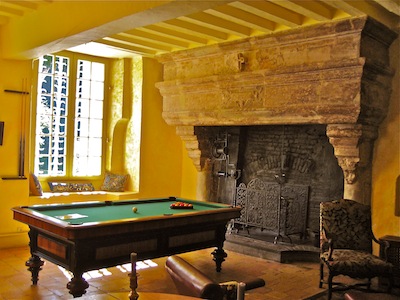 Ancient Fireplace & Billiards (Photo by Beth Arnold)
It is not just the fact that the chateau has been renovated impeccably, and the rooms are elegant and wonderfully comfortable, it's also the graciousness of Marnie and Guy that charms everyone who walks in their doors. They're the kind of people one likes immediately, genuine and fun, who are comfortable in their own skins. But I don't want to tell you too much about the chateau and spoil Guy's superb tour of his family estate.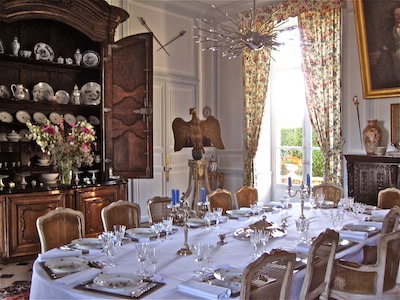 XVIIth Century Dining Room (Photo by Beth Arnold)
There were 12 of us at he Grand Siecle Dinner in the XVIIth century dining room, and I've never been to a better dinner party anywhere. We were one with fine company, delicious food, and amazing champagne and wines. Even the Lone Wolf, who has his name for a reason, was warm and glowing in this communal convivial embrace.
L.W. and I have been to the name-dropping chateaux one comes to the Loire to see, and we spent the next two days frolicking through Marnie and Guy's neighborhood to add new experiences to our French repertoire.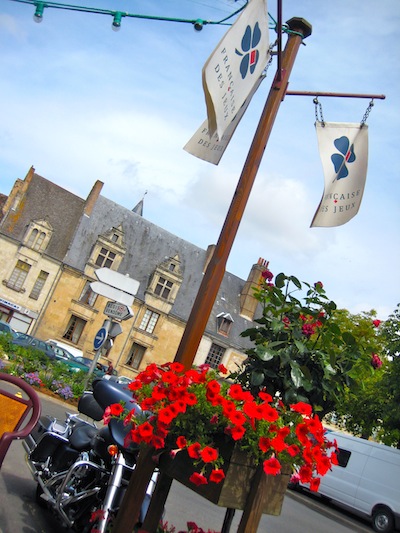 Montoire-sur-le-Loir (Photo by Beth Arnold)
After breakfast, we started the next morning at Montoire-sur-le-Loir, a pleasant village that is (unfortunately) best known for the handshake between Adolf Hitler and Marechal Petain, which marked the beginning of organized French collaboration with the Nazis. But for WWII history buffs this is quite a spot. L.W. and I perused the local market and stopped for a cafe creme before continuing on to the charming village of Troo.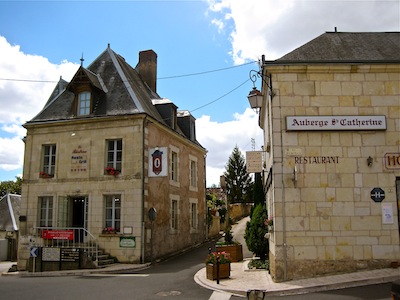 Troo (Photo by Beth Arnold)
Troo is a troglodyte village, that we found winsome in its architecture as well as its history. This is a village that protected Jewish children in the war.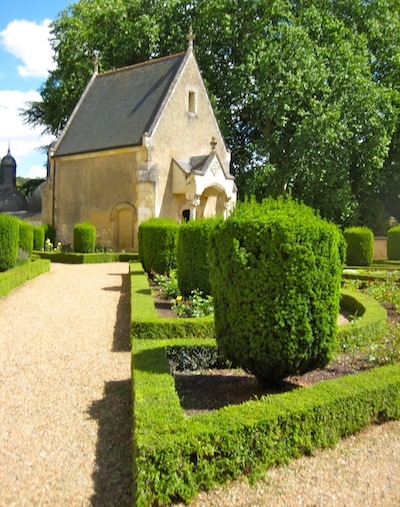 Chapel of Chateau de Courtanvaux (Photo by Beth Arnold)
We also made a quick stop at the renaissance Chateau de Courtanvaux, which I'm told can be rented for a song.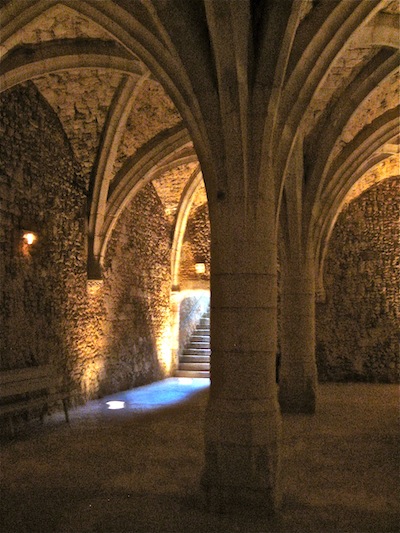 Montmirail (Photo by Beth Arnold)
And then we drove on to Montmirail, a private chateau where we saw the 12th Century guardroom where Henri II signed his will sharing his kingdom among his three squabbling sons. We also were given an extensive tour of the dungeons, which I must say were appropriately creepy, and we were shown rooms decorated in the XVIIth Century by Louis XIVth's daughter, the Princesse de Conti.
Artichoke and Crab Salad with Foie Gras (Photo by Beth Arnold)
We drove to nearby Lavardin to Le Relais d'Antan for a delicious dinner in the garden before we hurried out to the Chateau Rochambeau for an open air performance of the opera, Carmen.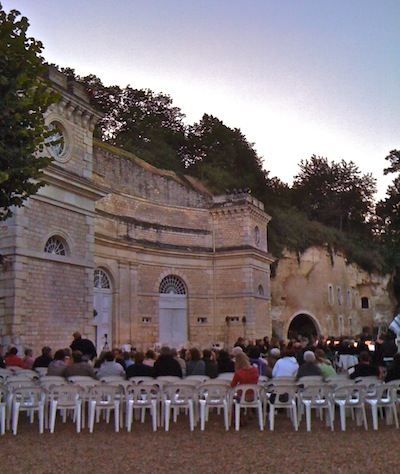 Honor Court of Chateau Rochambeau (Photo by Beth Arnold)
It was a full Saturday of chateau-ing.
On Sunday, we had only one chateau in mind to visit, and this we'd actually toured 12 years earlier: Chateau du Clos Luce in Amboise, where Leonardo da Vinci spent the last few years of his life under the patronage of Francis I. I am a great da Vinci admirer, and I wanted to make the return visit along with the fact that Marnie had suggested we book there for a Renaissance lunch.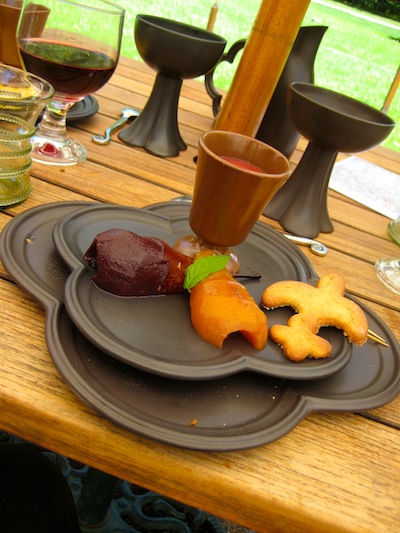 L'Auberge du Prieure (Photo by Beth Arnold)
Our server was dressed as a Renaissance maid, which actually was not too Disney-ish, and she explained the food and wine selections in relation to the years in which da Vinci lived. We sat outdoors at L'Auberge du Prieure, which is on the grounds of the chateau.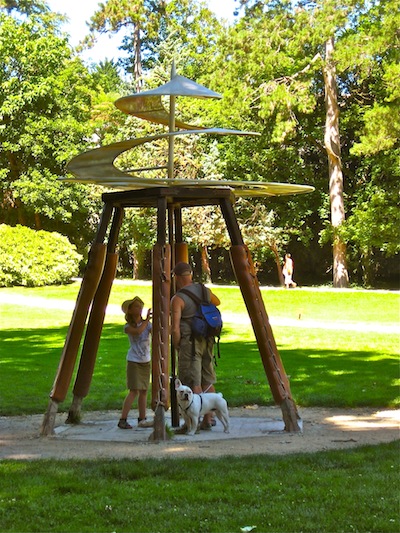 Leonardo da Vinci invention (Photo by Beth Arnold)
Amboise had changed since we'd last been there. It seemed busier and more touristy, and Chateau du Clos Luce had been improved. The park is now dotted with da Vinci's inventions with some even having a soundscape with his own words. If one is interested in da Vinci--and who's not--it is a unique experience of this artist-genius's mind and life.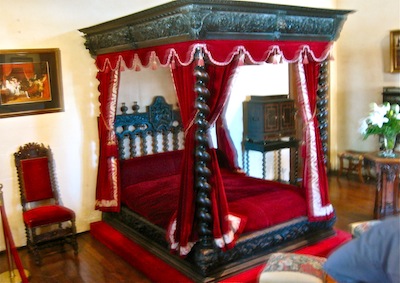 Leonardo da Vinci's Bed (Photo by Beth Arnold)
Our last night at the Chateau de la Barre was lovely and relaxed. We had a simple supper with Marnie and Guy and watched fireworks explode above the treeline over the chateau's park as Conflans-sur-Anille celebrated its village fete.
The Lone Wolf and I hated going back to the city the next day. But our great consolation was that we would come back here. It is too close to Paris and it is too lovely for us to ever forget. For us, it was like jumping off the Eiffel Tower and landing in cloud.
For more information about Chateau de la Barre, click here.
Beth Arnold lives and writes in Paris. To see more of her work, go to www.betharnold.com.
SUBSCRIBE TO & FOLLOW LIFESTYLE
We're basically your best friend… with better taste. Learn more