As Obamamania gripped the United States with our new president's taking this iconic ritual of our democracy--his oath of office--American citizens in Paris were overwhelmed as well, and not just with the fulfillment of what was and is a new American Revolution, as far as I'm concerned. We were also touched by the kindness of Mayor Bertrand Delanoë and Pierre Schapira, his deputy in charge of International Relations. These progressive Parisian officials hosted a gala reception for Americans and French in the magnificent city hall of Paris, its Hôtel de Ville.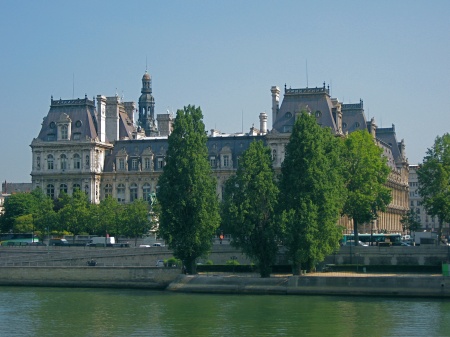 Hôtel de Ville
One thousand lucky Americans and French attended. It was the place to be, but there was no shortage of parties being thrown around town. Scottish pub The Highlander, Carr's Irish Bar, the Canadian Moose Bar, restaurant Breakfast in America, and ever-popular American hangout Joe Allen all had TVs broadcasting what felt like a sacred event for the Democratic Americans here. The American Church in Paris held a prayer service and a gospel choir program, and BIZZ'ART (ex OPUS) held a Happening of the Inauguration as well as photo exhibition, Obama clothing expo and sale, and soul music concert. The famous Queen Club rocked all night with Le Queenie warming up their crowd.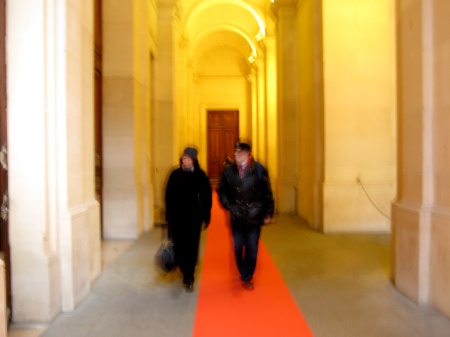 Red Carpet Treatment
The French conservative daily newspaper Le Figaro reported the French wanted their share of the immense emotion that accompanied Obama's ascendancy, and Mayor Delanoë didn't disappoint with the generous hospitality he offered his citizens. Americans were wowed with the handsome invitations we received in mid-January. The line to get in was long though not crippling, and, once in, we were dazzled with the grandeur of the historic place. From Project for Public Spaces:
A swampy area of the Seine known as La Place de Greve, this site has held a lofty spot in the history of Paris since the fourteenth century. The site of public uprisings (faire la greve = to strike), political rallies, executions and innumerable festivals and celebrations.

Originally a meeting place of the Water Merchants, the Hotel De Ville or Town Hall was built on the square in 1357.

Many of Paris' most dramatic events took place in the Place de Greve. This is where Ravaillac, Henri IV's murderer, was hung, drawn and quartered, and heretics were burned at the stake; where speeches were given, noblemen decapitated and crowds and revolutions gathered.



In 1533, François I endowed the city with a Hôtel de Ville which would be worthy of the Parisians. Two architects, Dominique de Cortone, an Italian, Pierre Chambiges, French, designed a building in the spirit of the Renaissance. Work began in 1533 and was not finished until 1628 during the reign of Louis XIII. During the following two centuries no changes were made to the edifice.



This building was burned to the ground during the revolt of the Paris Commune in 1871, but was reconstructed according to original plans in 1882.
The Obama reception was the first chance for many Americans to see the Hôtel de Ville's stunning interior. Naturally, American Ambassador Craig Roberts Stapleton was the honored guest. "The dreams of our Founding Fathers are still alive," he commented, and also remarked that Obama brought reconciliation. Popular Mayor Delanoë talked of the potent history of French/American relations. "I have confidence in the American people, democracy, and Barack Obama," Delanoë proclaimed to great applause. Both men were examples of elegant diplomacy and the tremendous warmth that Obama has generated with people around the world.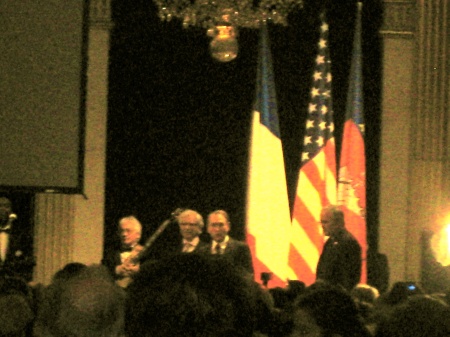 Ambassador Stapleton on right, under American flag. Mayor Delanoë just to left of French flag
When Obama took his oath, there was applause mixed with whoops of delight. Tears were shed throughout the night by many. For the most part, the crowd was tolerant of George W.'s appearances, although they clapped, waved, and said, "Buh-bye," as his helicopter departed.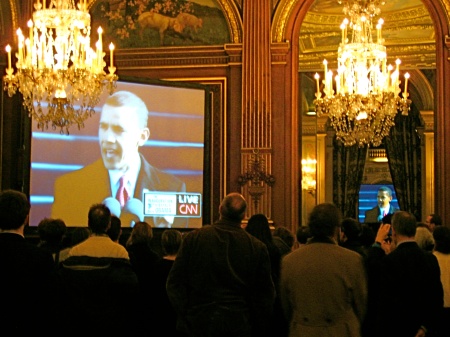 Two Obamas
After the great transfer of power was complete in Washington, the Mayor's guests were served delightful French champagne and hors d'oeuvres.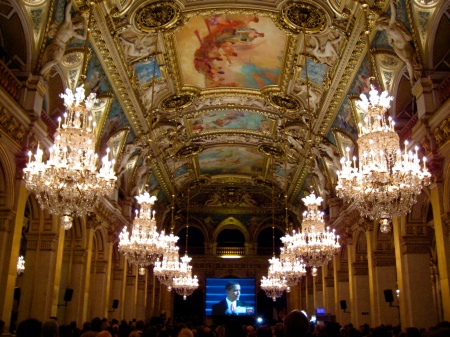 Salle des Fetes
The common theme among all who attended was that Obama's election and presidency gave not only the United States but also the entire world hope. "For the minorities here, the only model for us is security guard, athlete, or artist," said French citizen and Professor of Economics Guy Numa. "...Minorities here want to fight. We are fighting. We want to be taken into account...with this guy (Obama), everything is possible for everyone."
Guy Numa and Alexia De Saint John

And with this beginning of a new American era, a new French/American Revolution has begun repairing the damage of the last eight years.
Beth Arnold lives and writes in Paris. Her "Letter from Paris" column will appear once a week on the HuffPost World page. To check out more of her work, go to www.betharnold.com.

FOLLOW HUFFPOST