My father, W.J. "Bill" Arnold, died 40 years ago today. This is in honor and in memory of him.
I hadn't heard my father's voice in almost 30 years -- until today, when I played an old tape recording. The pace dragged, and the sound quality was scratchy, dating the mid-60's age of the tapes to the audio we have of President John F. Kennedy. Still, Daddy was giving quite a speech.
My father was a lawyer. Among his peers, he was known as a great trial attorney with exceptional oratory skills, and this was a tape of Daddy's courtroom argument that kept his crazy Uncle Clyde, by marriage, not blood -- an important distinction in the South -- from getting sent to jail. Clyde had feuded for years with his two neighbors over a property line before he finally shot them dead. With a brilliant legal performance, Daddy set Clyde free. But instead of the courthouse packed full of people who'd come to scrutinize the choice event, this time I was my father's sole audience.
My father's voice was iconic. I'd once known it as well as the beating of my own heart, and I thought I would recognize his deep resonance instantly. But now that I heard it again after more long, sad years without him than the happy ones with him, I wasn't sure I remembered the music of his words. So I played the tapes over and over listening to the recorded timbre and inflections of his speech, and a thousand thoughts of my father and our relationship engulfed me.
My brother, Blair, had given me these tapes more than a year before I'd finally played them. I had put off hearing them long enough. I was afraid of two things: First, that a false feeling of comfort and safety would ensnare me -- a deception that couldn't possibly last longer than the length of the tape. Second, that the pain of my father's death would be catapulted back beyond the barrier of numbness to the place where I would have to feel.

My father's death blew our family apart, and in one way or another, crippled each of us individually.
***

My father died unexpectedly on August 17, 1969. I was a raging 15-year-old at the time, and he was a vibrant 42. August 17th was a typical hot humid day in the small Arkansas town where we lived. We had been to church, as usual, and after we arrived home Daddy tried to persuade his family -- my mother, my brothers and me -- to drive the 30 miles over to the Greers Ferry Lake to swim. Daddy loved the water -- swimming, boating, skiing, skin diving, or fishing. He taught us three children to swim when we were no older than age two. I remember his concise instructions on how to stroke and kick and our aquatic rides on his broad back, his strong arms slicing through the water in the pool.
On family car trips when we were older, Daddy stopped at every historical marker and read them aloud to us while we children groaned. He was intensely curious and enthusiastic about the world around him -- about life -- and he wanted us to share his feelings. We were more interested in our reward for not killing one another by the end of the day -- a long, raucous swim. Daddy would show us how to do front flips, back flips, swan dives, and jackknives. It was what we lived for.
But this August day he couldn't convince his family to go out on our party barge. We all had better things to do, we thought, and besides, we'd been to the lake the day before. We'd had enough for that weekend. Daddy, on the other hand, was determined. He longed to slide into the cool, quiet deep water and go spear fishing.
I had just returned from my usual Sunday afternoon teenage cruise around town when our neighbor ran into the house and blurted out that he'd heard Daddy was dead. I'd never before experienced words with such crushing power. I cried, paced, and fretted, and my mother tried to rationalize that this horrible rumor of my father's death simply wasn't true. Then our preacher pulled into the driveway, and my mother's and my denial seeped away like the air from my father's lungs.
He had been diving alone using a new piece of equipment, an air compressor that floated on top of the water while a hose and mask piped the oxygen to him underneath. He swam down too far, and the compressor turned over. He lost his oxygen supply and came up too fast. And that was it. He died of the bends. The cool lulling water, which had played such a memorable part in our family's life, had now become the cause of my father's death.

Daddy's entreaty to come with him for an afternoon swim was the last time I heard my father's voice.
Until today. And truthfully, it wasn't what I expected. Oh yes, it brought back the impact of the emotional hit and run that changed every aspect of my life and its direction -- or lack of one -- and my perspective on the meaning of life -- or the lack of one.
Over the years, I'd often thought about my father and the way he loved life, the way he loved me and my brothers. The sweet and funny things he said, the things my family did. Like in the afternoons, when Daddy arrived home from his law office and burst in the door with his shiny bald head and exclaimed, "Hello, boys and girls and sweet patootsies." I never really knew what sweet patootsies were, but I knew I was one and my father loved me.
There were the cold winter days when he took us out to the farm to slide across the frozen pond in our slick-soled shoes. And on fall weekends, we picked purple muscadines and wild grapes in the country. In the summers, he drove us to Blanchard Springs in a vehicle we called the "Beep-Beep Jeep," and we jumped off rocks into lazy Sylamore Creek and swam.
They were wonderful carefree memories, but they could never bring solace for my terrible loss. The being-in-heaven theme didn't fill up the void, either. I wanted him to be there with me, to give me fatherly advice. To provide a shoulder for me to cry on when some boyfriend broke my heart. To tell me that whatever was wrong in my life would be all right.
As adults, my brother Brent and I came to view Daddy as Atticus Finch in To Kill A Mockingbird. I've missed what I imagine as the adult version of Atticus's talks with his daughter, Scout. Real conversations that got at some "truth" in life. Encouragement to follow my dream or to raise my sights. To trust myself. Even though my father lived when the roles of women were still clearly defined, when I was in my want-to-be-a-nurse phase, he said, "Be a doctor instead." He could see small-town life might be a dead end for his only girl. He wanted more than that for me.
At my father's funeral, the statement that stuck hardest in my mind was from a small country man I didn't know. "Your father," he said, "was not just my attorney. He was my friend."
I wanted to know my father as an adult -- as my friend. At the time Daddy died, my surging independence and infatuation with boys had hacked open an antagonism between us that never existed before. I'd been gearing into the arrogance of teenage-hood full throttle, and when he died, I drowned in the remorse I felt for testing him to the edges of his limit. It's not how I wanted our relationship to end.
My mother, my brothers, and I didn't know how to deal with our debilitating grief. We each suffered silently and alone. Our family lost its center, and we didn't get the help that we needed. Nevertheless, life went on. My brothers and I grew up, graduated from college with advanced degrees, and created new families. Now I sometimes call my daughters sweet patootsies, although they never knew the goodness of their grandfather and have no idea what the words mean.
I press the tape player's button and find that the voice I know to be my father's doesn't sound familiar. I call my oldest friend, Libbi, who lives in California and play the tape for her. She thinks the tape is too slow, but she recognizes his voice.
Why can't I remember?

I listen a little longer, interpreting his cadences and tones. Do I remember my father's voice?

I don't know.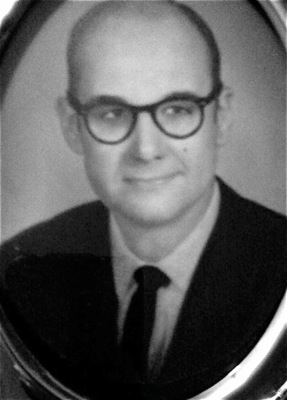 My father, W.J. "Bill" Arnold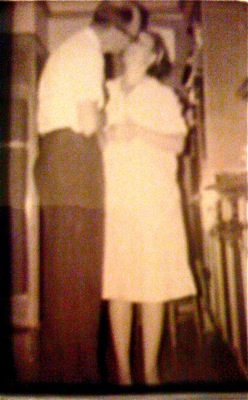 My father & mother
Bill & Bobbye Arnold
SUBSCRIBE TO & FOLLOW LIFESTYLE
HuffPost Lifestyle is a daily newsletter that will make you happier and healthier — one email at a time. Learn more