There has never been more worldwide attention on the creative culture of Los Angeles. People from all over the world came to LA for the opening of the Broad Contemporary Art Museum (BCAM) and the recent celebration of the 30th anniversary of MOCA, and are already planning for Pacific Standard Time in 2011. We are living in the city everyone is watching and visiting. Get engaged.
Each Week, ForYourArt highlights select cultural offerings throughout the week ahead to help you Plan ForYourArt.
Thursday, February 25
UCLA Department of Art Lectures: Mary Kelly
Hammer Museum (Westwood)
7pm
Artist and UCLA Department of Art professor Mary Kelly, who has contributed extensively to feminist and post-modernist discourse, will present a lecture of her work. Free, tickets required and are available one hour prior.
Saturday, February 27
How Many Billboards? Art In Stead
MAK Center for Art and Architecture (West Hollywood)
Saturday 1-6pm; Sunday 1-5pm
The opening artists' reception and bus tours of How Many Billboards? Art In Stead , on view at the MAK Center and on billboards throughout Los Angeles. On Sunday, February 28 from 1-5pm, the MAK Center will host a panel discussion with participating artists. Exhibition on view through March. View website for a full list of public programs.
Mark Grotjahn: Seven Faces
Blum and Poe (Culver City)
6-8pm
The opening reception for a new exhibition by artist Mark Grotjahn, whose paintings, visually reminiscent of Picasso, blend both abstract and figurative renderings in a reconfiguration of the conventions of modern and contemporary painting. Exhibition on view until April 3.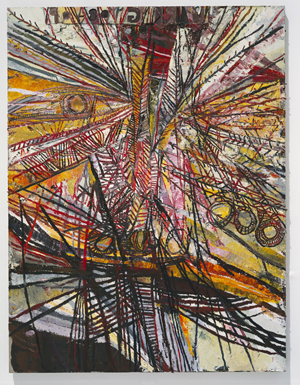 Mark Grotjahn, Untitled (Pink and Yellow Face 808), 2009
Kimberly Brooks: The Stylist Project
Taylor De Cordoba (Culver City)
6-8pm
The opening reception for Kimberly Brooks' latest exhibition, the first in a series of portraits of renowned stylists and fashion industry insiders who have styled themselves and posed for the artist. Exhibition on view until April 3.
Tuesday, March 2
Criticial Conversations: Mark Bradford and Rick Lowe
Graduate Fine Arts Building (USC)
6-8:50pm
Mark Bradford and Rick Lowe partake in the Roski School of Fine Art's Critical Conversation series, which invites artists and other cultural figures to give a lecture on their work and engage in rigorous conversation with graduate students and other visitors. Free and open to the public.
Kyong Park: New Silk Roads
REDCAT (Downtown)
8:30pm
New Silk Roads is a multi-faceted urban research project that explores the nascent urban conditions emerging in rapidly expanding Asian cities. Through a nomadic practice, Kyong Park has conducted a series of sequenced expeditions through cities between Istanbul and Tokyo, documenting his encounters through photography, video and audio/video interviews. Park presents the project as a study of the conditions forming these urban networks. Tickets $10.
Wednesday, March 3
Antonio Damasio: Art and the Conscious Brain
REDCAT (Downtown)
8:30pm
Neuroscientist Antonio Damasio speaks about the connection between emotions and the conscious mind, particularly as both relate to creativity and the arts. As founding director of USC's Brain and Creativity Institute, Damasio has been employing state-of-the-art brain imaging techniques as well as developing new research methods in collaboration with artists and social scientists to further explore this arena. Tickets $10.
SUBSCRIBE AND FOLLOW
Get top stories and blog posts emailed to me each day. Newsletters may offer personalized content or advertisements.
Learn more