Every summer, when Chandrika Gaipai returns home, she describes a rugby ball to her mother. "It looks like a dinosaur's egg," she says.
Gaipai enlightens her tribal settlement by drawing elaborate sketches in the dust about the game. "There is no television here so my people can't even imagine it," clarifies the 14 year-old rugby player who belongs to the Ho tribe.
The students of the Kalinga Institute of Social Sciences (KISS) in Bhubaneshwar, the capital of Orissa, are described as the "poorest of the poor". They come from tribes living deep in the forests with little access to education, health care and clean drinking water.
Many institutions in the region are named after Kalinga, an ancient kingdom devastated by Ashoka the Great in the third century BC, which moved a remorse-stricken emperor to embrace Buddhism.
The school is not, however, famed for providing free education and medical facilities from the kindergarten to the postgraduate level for thousands of tribal children. KISS made headlines when its boys' team started winning international rugby tournaments.
"Running and tackling was a chance to do something new," says Baleshwar Chhitaranjan of the Murmur tribe, explaining why he chose to play rugby in a cricket-crazed country. But even Chhitaranjan, 14, did not imagine the media storm that would follow the sweeping victories abroad. "It feels really good," he puts it simply.
The extraordinary success of a band of tribal boys at a novel game tickled the nation. The extensive coverage in national dailies and local papers also generated popular interest in the sport. "I believe that more Indians now know about rugby after KISS, at least in Orissa," says Debasis Rout, a sports teacher.
Unlike most schools in India, KISS takes women's sports seriously. Rugby practice is scheduled twice a day, except on Sundays, for the three teams of under-11, under-14 and under-19, which are supervised by three coaches.
After a few months practice, their girls' team debuted in the national championship. A senior player, Sunamane Mandange, 18, recounts how it felt to play against real opponents for the first time. "I was very scared but after the first tackle it gets easier," she says, smiling shyly.
"You never imagine yourself doing something and then you're doing it," chimes in her 19-year-old teammate, Heramani Kisku. "Now we're gearing up for this season."
The girls' team, however, has not been catapulted into stardom. The main constraint for them is the limited openings available for playing against another side. There are around 22 women teams in the country, which face each other once or twice a year.
"We want to play in London just like our brothers (boy's team)," says Gaipai, the captain. "But right now we play against each other most of the time." Opportunities abroad are also rare.
In the wake of the Commonwealth Games in New Delhi, the Indian government has engaged two foreign coaches to train the men's national rugby team. But there is no similar category for women at the Games, next October.
A coach, Rudrakesh Jena, predicts some changes. The Indian Rugby Football Union, for instance, is planning to dispatch "Rugby Development Officers" in Orissa schools to introduce the game for all students. "We might see more rugby for girls in this state," he says. Already, external agencies are sponsoring underprivileged children to play rugby overseas.
While Jena wants rugby developed in a well-ordered manner in all its techniques, the coach also sees the game as fulfilling another purpose. "These children have nothing," he says. "Rugby has given them a platform to learn and enjoy life."
Sports are a big part of the privately-run school, which provides for the education and health care of 50,000 children from 62 tribes, 13 of which are called "primitive tribes."
"My dream is to inculcate sports in the tribal areas," says Achutananda Samanta, the founder of the institution. "These tribal children do so fantastically at games because they have been so deprived and they value their one chance."
To absorb more students, the new plan is to build more KISS branches in remote corners of the countryside. Already, the number of candidates is exceeding the school's resources. This year, 2000 children were selected from 10,000 applications. The "neediest" are admitted to become "first generation learners".
Despite the monetary crunch, sports at KISS continue to receive vigorous attention. The latest investment has been the hiring of a foreign coach who trains the girls. An opera major, Brian Wolf, played rugby at Bard College in upstate New York.
A curious play of events brought the 27-year-old coach to the action in Bhubaneshwar.
"I wanted to do something meaningful with my life," he says. "The best part is seeing the kids really get into it and feel good about themselves."
Fortified by a few words of Hindi, "achha hai" (that's good) and "jaldi" (fast), Wolf leads a rag-tag group of girls below the age of 11 for a spirited practice of "Tag Rugby." Peals of laughter spring from the young players taking their first steps into the game by swiping off colorful ribbons instead of tackling each other to the ground.
After passing out from school, a few intend to pursue the game. While Mandange aspires to make rugby a mainstream sport in India, her friend, Kisku, wants to become a coach in the school of her tribal village. "Many girls don't do well in studies and drop out", she says. "Games will keep them in school so they won't get married off."
Gaipai dreams of opening another KISS-type place. Brushing aside her friends teasing that running a school will leave her no time for rugby, she declares, "I'll find a way to play everyday."
Evening practice....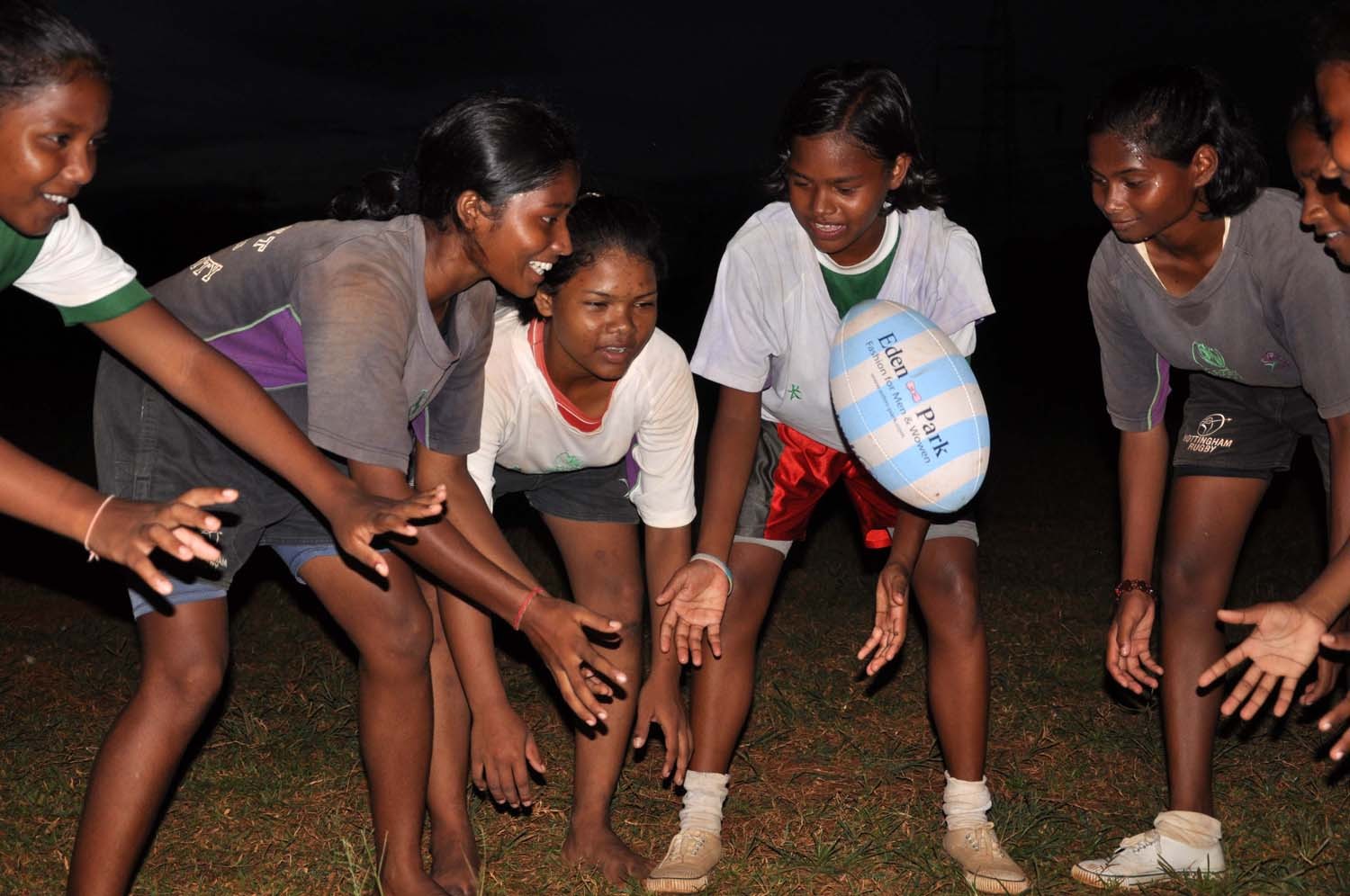 Girl's team lunch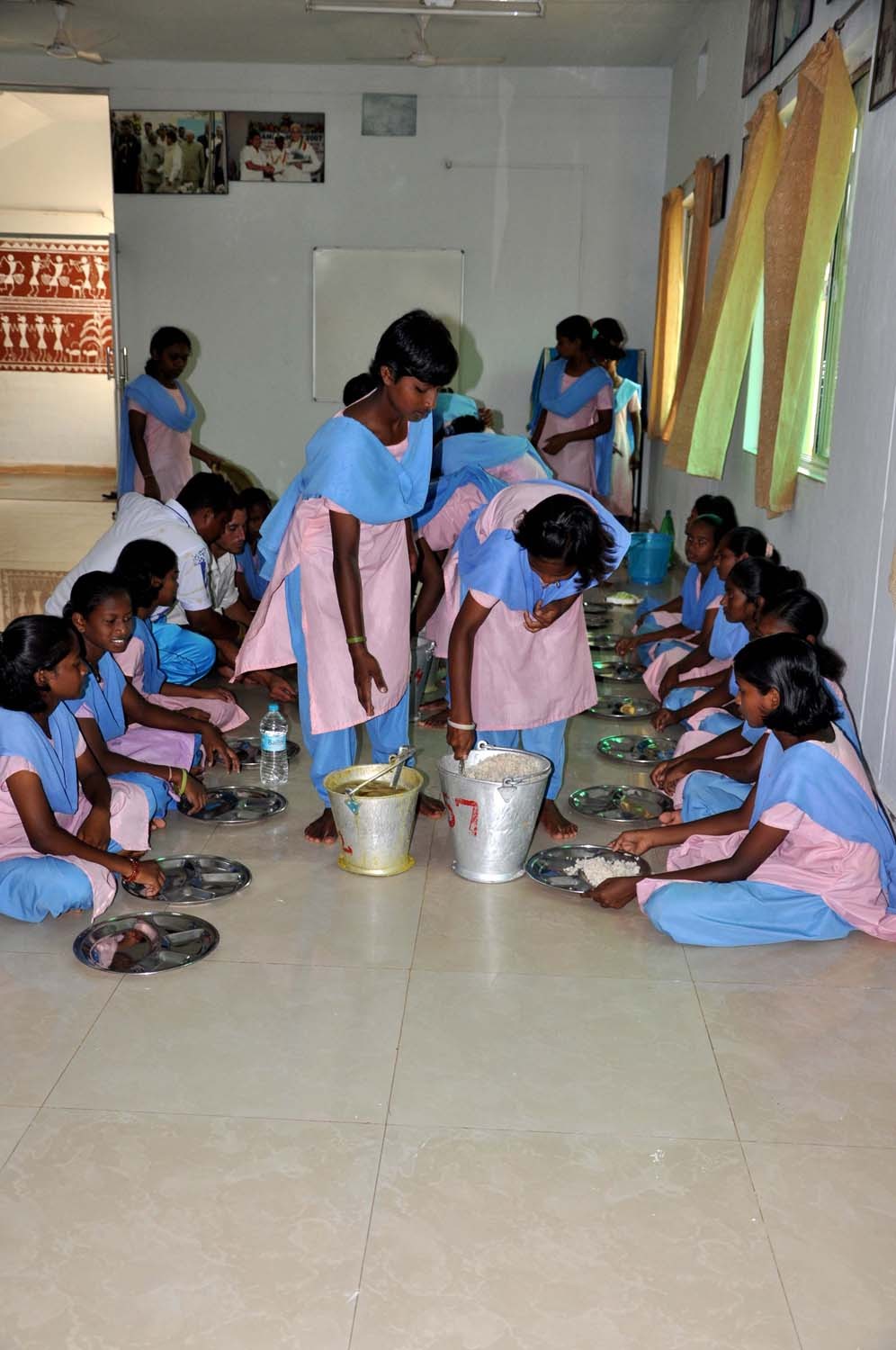 SUBSCRIBE TO & FOLLOW WORLD POST