Let's Save the Real Avatar
The Survival of the Kondh Tribe is Hanging in the Balance
For centuries, tribal and indigenous people have been victims of exploitation, first at the hands of colonial powers and now, at the hands of powerful businessmen representing mining, oil, gas and logging companies. Their policies are implemented "in the name of progress and development" and their mantra is "maximum production" and "minimum cost." The struggle of indigenous and tribal people versus corporations and states, over land rich in natural resources, is a global issue. The Kondh tribe's battle to save their livelihood against British based mining company, Vedanta Resources plc, illustrates the struggle for survival that indigenous and tribal people are facing throughout the world.
On July 28, I attended Vedanta's shareholders' meeting in London. At this year's AGM the company's human rights and environmental record was brought under public scrutiny by British Member of Parliament, Martin Horwood, and NGOs including Amnesty International, ActionAid, the London Mining Network, Banktrack and Survival International. During the meeting I read an impassioned plea on behalf of the Niyamgiri community to the Vedanta board, and to shareholders. I also delivered an Amnesty International petition signed by 31, 428 people urging Vedanta to halt a planned mine and refinery expansion in Orissa, India until the Dongria Kondh are fully informed and consulted.
Vedanta plans to mine for bauxite - the base raw material in the production of aluminium - in the Niyamgiri Mountain, which is considered sacred by the Dongria Kondh, an endangered tribal group recognised by the Indian government as "a people requiring particular protection." The lush forests of Niyamgiri Mountain are a pristine ecosystem of great conservation significance. The Kondh have lived in Niyamgiri long before there was a country called India or a state called Orissa. They consider the mountain to be a living God and claim that their spiritual, cultural and economic wellbeing are embedded deep within it. The proposed mine will violate the community's rights to water, food, and health; it will displace and endanger the survival of 15,000 Kondh.
For the past two years, the Bianca Jagger Human Rights Foundation (BJHRF) has spearheaded a campaign in support of the Kondh, denouncing the activities of Vedanta. In April this year I travelled to Orissa representing the BJHRF with ActionAid to meet with the Kondh communities. At every stage of my trip, at every village I visited, the communities and their leaders were eager to tell me their tragic side of the story. (Read the full story about my trip to Orissa in the Huffington Post)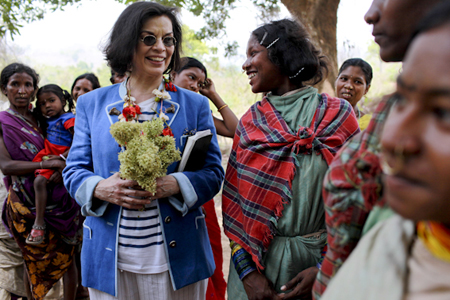 Bianca Jagger with Dongria Kongh girls in Tamaksila Photo courtesy of ActionAid
The messages the Dongria Kondh villagers asked me to carry back could not have been clearer: "No amount of financial reward or relocation packages can compensate for the loss of our livelihood and our sacred land". "Please tell Vedanta that the Kondh do not want the mine to be built."
At the AGM I asked Executive Chair of Vedanta, Anil Agarwal and the Vedanta board four questions on behalf of the Kondh:

1. The conveyer belt construction has resulted in two perennial streams that we used to cultivate vegetable, cereals, pulses round the year, drying up. Tell us what will happen to the rivers and streams when Niyamgiri is mined?
2. Why are people not being compensated for the land that Vedanta has acquired forcefully? (example: Jagannathpur, Tudra Majhi, Sambru Majhi and Mala Dei villages)
3. We are suffering from TB and skin diseases because of pollution caused by your refinery. Vedanta claims to provide health care that we have not seen. Where is the healthcare that you talk about and that our people now need so desperately?
4. For generations we depended on sustainable livelihoods drawn from Niyamgiri. You are trying to destroying that. Your income generating initiatives like strawberry cultivation, leaf plate stitching using machine and phenol product have failed. You have failed to keep your promise and provide job to local tribal youths. What development do you mean - Your Profit at Our Cost?
Mr Agarwal, and Non-Executive Director, Naresh Chandra, failed to address the Kondh's questions, and responded instead with a deceptive argument. Mr Agarwal declared, Vedanta is "more concerned than anyone" about the welfare of the Kondh. He argued that malnutrition rates have fallen, and poverty has decreased since Vedanta opened its aluminium refinery in Lanjigarh, in 2006, calling it Vedanta's "biggest achievement."
In fact, the Lanjigarh refinery has brought nothing but poverty, disease and suffering to the Kondh. The refinery has created two red mud ponds the size of several football pitches near Rengopali into which bauxite ore is washed, along with chemicals, causing toxic fumes and polluted dust. As a result, diseases affecting peoples' lungs and eyes have become widespread: 13 people have died from TB in the last two years and 200 to 250 cattle and goats have perished.
Vedanta claims that they have adequately compensated the Kondh for all land acquired and that they cannot be held responsible for the displacement of the Kondh communities. Mr Chandra argued that people were being forced out of their villages due to poverty and unemployment before Vedanta began its operations.
This is in stark contrast to the testimonies given to me by the Kondh. They told me that in 2003, Vedanta had forced the community of Kinari to vacate their village, coercing farmers into selling their land for far below its market value. The few people who had titles to their land or records given by the revenue department (TATA) were promised 100,000 rupees (US $2,000) per acre. Those without titles were promised a one off settlement of 50,000 rupees (US $1,000) to give all their rights away. Worse still, those willing to give up their homes were promised up to 1,000 rupees (US $ 21). In contravention of the 5th and 6th Schedules of the Constitution of India, hundreds of people have been displaced.
The top of Niyamgiri mountain, where Vedanta proposes to mine bauxite to feed the refinery that is currently poisoning the communities around Bandhaguda and Rengopali, is the source of two rivers and thirty six springs. The streams that run through the hills are the only source of water for the Kondh. The Central Empowered Committee to the Supreme Court anticipates "adverse effects of mining will affect not only bio-diversity but availability of water for the local people." The mine will also cause increased erosion and pollution of the water systems, resulting in deteriorated water quality.
In an attempt to justify Vedanta's policies, Mr Agarwal claimed "We are bringing development to the most backward part of India...Vedanta has a long standing commitment to sustainability... an integral part of managing our operation is a commitment to health, safety, the environment and our communities."
I cannot fathom how a company that refuses to acknowledge the harmful impacts of its activities on tribal people, communities and the environment, can have the audacity to claim a commitment to sustainable development.
Vedanta continues to deny all allegations of human rights violations and environmental degradation. The day before the AGM, Mr Mehta, Vedanta's Chief Executive, refuted all claims made by human rights groups, arguing in the Financial Times, "There is no shred of truth here." At the AGM, Mr Chandra suggested that "NGO's, human rights and environmental organisations have based their allegations against Vedanta on misguided reports." I asked him how twelve independent investigations, including those conducted by the UK National Contact Point for the OECD Guidelines for Multinational Enterprises, the Wildlife Institute of India, the Central Empowerment Committee to the Supreme Court, the State Pollution Control Board of Orissa, the Norwegian Council of Ethics, the Public Interest Research Centre (PIRC), the Experts in Responsible Investment Solutions (EIRIS), India's Ministry of Environment and Forests, the India Resource Centre, Social Watch, Mines and Communities and Amnesty International, could all have found Vedanta to be violating human rights and labour rights, causing environmental damage and contravening OECD guidelines. According to the Norwegian Council of Ethics report, the company has also been accused of "repeated breaches of national environmental legislation, illegal production expansions, irresponsible handling of hazardous waste, violations against tribal peoples, deplorable wages, and dangerous working conditions in the mines and factories." My question, like so many others at the AGM, went unanswered.
Vedanta's public relations efforts are a relentless attempt to mislead the public, with endless promises of new jobs, new roads and new facilities for local people. A glaring example is the billboard I saw on arrival at Biju Patnaik Airport, Bhubaneswar, Orissa: "Mining happiness for the people of Orissa - Vedanta." What cruel irony. It should read, "Undermining human rights for the people of Orissa."
According to the Times of India, India is the second largest growing economy, it is the second most populated country in the world. During the last decade, India's GDP has remained at above six percent, however, during that period the country's Human Development Index has not improved. If India is going to assume its status with the other BRIC countries as an economic power-house, its model of 'development' needs to be reassessed. Development must be sustainable; it must take into account the rights and needs of local communities, indigenous and tribal people, and should benefit all sectors of society, without endangering human life or the environment.
The pertinent questions of development, displacement, and livelihood, have not been at the heart of the policies implemented by the Indian states The Kondh are just one of the many tribes that have fallen victim to the so-called 'development' promoted by multinational companies in India. As Arundhati Roy writes, "structural adjustment, privatization and huge infrastructural projects like dams, power plants and mines have resulted in the displacement of hundreds of thousands of people." India has one of the largest populations of internally displaced people in the world, the majority of which are Adivasis. On World Indigenous People's Day, August 9, Adivasis from eight states protested in Delhi against the hunger, displacement and violations of rights, which have left them marginalized and disempowered.
It is up to shareholders, to hold companies to account. Some prominent members of the investment community have shown their condemnation of Vedanta's human rights and environmental record by disinvesting. Dutch pension manager PGGM sold their £11 million stake in the FTSE 100 company in July, stating that its "intensive effort" to urge the company to devote greater attention to human rights and the environment had failed to have the desired effect." This follows pull-outs on ethical grounds earlier this year by the Joseph Rowntree Charitable Trust (£1.9 million) and the Church of England (£3.8 million). Edinburgh-based investment management company Martin Currie sold its £2.3 million stake in Vedanta in 2008 on ethical grounds. In 2007 the Norway pension fund withdrew its investment of $15.6 million based on the findings of its ethics committee, which stated: "Allegations levelled at Vedanta regarding environmental damage and complicity in human rights violations, including abuse and forced eviction of tribal people, are well founded."
At the AGM, a representative from the Railways Pension Fund, said, "Vedanta could make major improvements in terms of its investor briefing sessions." Steve Waygood, representing blue-chip City investor, Aviva voiced concern regarding Vedanta's lack of respect for OECD guidelines, stating, Vedanta has "not engaged in the process [beside] the most cursory reply." The Vedanta board's response was that they were not "answerable to the British government". Aviva voted against three resolutions at Vedanta's meeting, regarding the annual report and accounts, the remuneration report and the reappointment of the board member who chairs the health, safety and environment committee. In an interview with Amnesty International after the meeting, Mr Waygood called the AGM "a symptom of a much deeper problem, which is that for a number of years the company hasn't engaged with stakeholders, including minority shareholders." He said it was "unacceptable" for Vedanta to treat the OECD guidelines with the disdain they have demonstrated.
I am surprised that share-tipsters continue to recommend the company as an investment. Regrettably, many shareholders, content to read about the share price, remain silent about Vedanta's impact on local communities.
I will continue to campaign in support of the Dongria Kondh until their voices are heard. I appeal to Vedanta shareholders to take into account the plight of the Dongria Kondh, and the human rights and environmental consequences of the proposed bauxite mine, and to reconsider their investments .I urge investors to follow the example of those who have divested from Vedanta, making this year a landmark year for justice, human rights and the environment.

Please sign my letter to the Chief Minister of Orissa, Naveen Patnaik, urging him to refuse permission for the mine at Bianca Jagger Kondh Campaign on Facebook
For more information you can read my other articles about the Kondh:
The Battle with Vedanta is not over yet

The Battle for Niyamgiri
Follow Bianca Jagger on Twitter: www.twitter.com/BiancaJagger