Chocolate bark has been my go-to ever since I was a kitchen-deprived, chocolate-craving freshman at college. Back then, I melted chocolate in the communal microwave and mixed it with nuts and raisins from the gourmet store near campus. I cooled the bark on a baking sheet I'd brought from home, and I contributed it at parties or gave it to friends. It was the least I could do to feel like I was cooking.
But my infatuation with chocolate bark didn't end when I graduated. In the past years, I've made the bark with white, milk, and dark chocolates of both good and mediocre qualities. I've made double-layer bark, fruity bark, and New Year's Eve Bark--a winning batch for which I toasted the nuts with with a sweet-and-spicy coating before mixing them with chocolate and cherries. All the people I serve chocolate bark to seem to develop their own infatuation with it. Even some bloggers who've never tasted the bark have made if from our recipe, and it seems to have won hearts as it spread on the web.
The first time I made this particular rendition was as part of the dessert menu at our best friend Jordana's 24th birthday -- the party whose recap was our blog's first post. I poured in a bag of toffee bits and broken pretzel pieces and stirred them with melted dark chocolate. When the bark hardened it was salty, sweet, and crunchy. Everyone loved it. I did the same thing for Jor's 25th, only that time I forgot the bark in the freezer.
As I was trying to create a new version of chocolate bark for yet another 25th birthday party--Sarah's -- I was thinking about add-ins and chocolate and how to find the right balance and texture for bark. Though bark is flexible, it does still require good proportions and interesting ingredients. If I had to write tips on how to make successful bark, I think I'd advise: 1) add crunch 2) add salt 3) use a variety of textures. Nuts are good for crunch and sometimes salt, as are pretzels. Dried fruit, broken cookies, and mini marshmellows are great for creating textural variation. I'm currently making use of these "guidelines" to improvise some new flavors of my old go-to. I'll report back on my success.
--Cara Eisenpress of Big Girls, Small Kitchen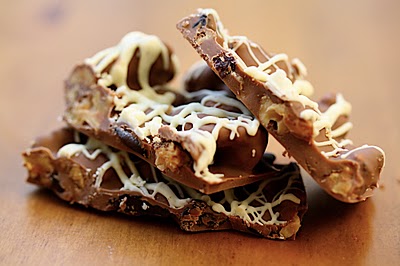 Toffee-Pretzel Chocolate Bark
You can use your favorite chocolate in place of the chips if you prefer. Use 16 ounces of chocolate.
1 cup milk chocolate chips
1 ½ cups semi-sweet chocolate chips
2 cups broken pretzel pieces*
1 cup toffee bits**
*To break up the pretzels, put a handful or two in a ziplock plastic bag. Pound with your fist until they're broken up. Measure after breaking. You may need to repeat this until you have 2 cups.
**Sometimes you can find toffee bits in the baking aisle. If not, chop up a couple of Heath Bars.
Melt the chocolate over a double boiler or in short bursts in the microwave. You want it to be just melted--don't let it bubble or anything. Add the nuts and the cherries OR the pretzels and toffee and stir to distribute.
Pour the bark onto a parchment-lined pan and spread it evenly with a spatula. Put the pan in the freezer and let the bark sit until hardened.
Using your hands or a knife, break the bark into bite-sized pieces. Keep in the fridge until ready to serve.
Optional: Before breaking up the bark, melt 2 ounces good quality (contains cocoa butter) white chocolate in the microwave until just melted. Remove the chocolate bark from the freezer. Using a fork dipped into the white chocolate, flick your wrist to create streaks of white chocolate all over the bark. Return to the freezer and let harden.