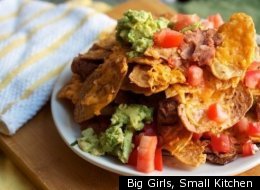 Saturday is Cinco de Mayo! While I can't vouch for the authenticity of any of these dishes -- I actually can't vouch for the authenticity of the Cinco de Mayo celebration itself -- if you're partying this weekend, you'll want to be cooking, too. Mexican and Tex Mex and California Mexican (or whatever you want to call it) are the best foods for a rowdy party. Make some of these favorites!
As you juggle the various Tex-Mex possibilities you might serve to guests at the annual Cinco De Mayo shindig this weekend, you might rule out serving nachos . But actually, nachos are fabulous party food, as good as chili and tacos. And they're sublimely easy to make. Get the Recipe!

Totally rice and totally Tex-Mex (as opposed to Mexican) this gooey casserole contains all the right things (namely, chorizo). Get the Recipe!

Chipotle-spiked black beans and soft, cheesy scrambled eggs take this favorite Mexican breakfast to the next level. Get the Recipe!

Spicy pulled pork makes these quesadillas amazingly rich. Healthy red cabbage chips in to lighten them up just a bit. Get the Recipe!

Chipotle mayo is so much more than mayonnaise and chili peppers. It's a smoky, rich condiment that improves whatever it touches and makes all foods, from fries to sandwiches, instantly Cinco de Mayo worthy. Get the Recipe!

Chili Con Carne is the classic, the basic, the one chili you really need to know how to make. With a big pot of this, all you need are cases of beer, bags of chips, and it's a party. Get the Recipe!

To finish it off, there's ice cream. This rich, caramelly ice cream has a coconut base. A pinch of cinnamon would be a nice topping! Get the Recipe!
Follow Big Girls, Small Kitchen on Twitter: www.twitter.com/BGSK