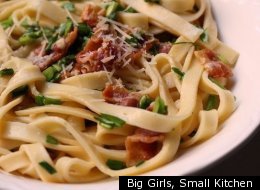 Lemon is a unifying flavor. Really -- can you name more than like two people who don't like a squeeze on their salmon, some juice in their tea, or a cool, tall glass of lemonade. You can't? Exactly.
These recipes -- from sweet to savory to snack-worthy -- all take lemon and make it the central part of their flavoring. Start with Herb and Lemon Popcorn, move through Lemon Fettucine and head towards Lemon-Almond Cake.
Pucker up!
--Cara Eisenpress of Big Girls, Small Kitchen
Pucker up: Great Lemony Meals
I've doused freshly popped corn with a mixture of almost-browned butter, lemon, Provence-inspired dried herbs and thinly sliced almonds. Easy. Satisfying. And a little bit puckery. Get the Recipe!

It's after 1 am in Paris, France, and you're at the crepe stand, hungry. What do you get? You might think the answer is a nutella crepe, but you'd be wrong. Order a crepe with butter, sugar and lemon: it's the thing to do. Get the Recipe!

This dessert is an incredibly light and satisfying treat for a casual spring dinner party. The berries get a nice fresh handful of basil as flavor; which makes them go remarkably well with the lemon pudding. Get the Recipe!

While bacon gives this pasta dish a connection to winter, the rest of its flavors, from lemon to fresh herbs establish it firmly as a springy dinner dish. Get the Recipe!

Refreshing, boozy, and easy to make, homemade lemonade is definitely a lemony addition you need to make to your repertoire. Get the Recipe!

This might be my favorite cake. It has so few ingredients -- one of them is lemon -- and such a fresh, clean taste -- partly from the lemon -- that I can't help but want to make it for every dinner party, every box of treats, every day. Get the Recipe!

This mouth-watering birthday cake is perfect not just for lemon-lovers but for chocolate-haters needing something just as dramatic as a chocolate layer cake. Get the Recipe!

Grain salads are irreplaceable for meals that involve picnicky. They're light, durable, and get better with time. In this one, a lemony dressing holds the delicious pantry ingredients together. Get the Recipe!
Follow Big Girls, Small Kitchen on Twitter: www.twitter.com/BGSK