It's after Labor Day, October to be exact, and though the 70-degree New York sunshine might have temporarily fooled us, it's more or less official now that summer is over. I've put away my white linen shorts and begun stockpiling tinted body lotion to remedy my imminent paleness. But so long as the Union Square farmers' market is still dishing out bright summer squash and multi-colored tomatoes, I'll keep the spirit of the season alive in my small kitchen by preventing a different kind of white -- the pasta, grains, and potatoes that will soon become a staple of my fall diet -- from taking over my table.
For now, this means Parmesan Polenta Steaks, still all gussied up for summer even though the season is winding down. Their inspiration? During one of my last half-day summer Fridays at work, I enjoyed a leisurely three hour lunch at 'inoteca, where my colleagues and I managed to polish off two bottles of Prosecco among the three of us. Now, granted, anything would taste pretty good after that much Prosecco. But it was the polenta dish we shared, a seasonal special, that stuck with me: an elegant, beautifully fried steak piled high with delicately shaved raw summer squash, fresh corn kernels, and julienned basil. Normally I'm not a huge fan of pairing a piping hot protein combined with a cold, raw topping. But at 'inoteca the quality of the summer vegetables made them perfectly crunchy and vibrant, complimenting the creamy sharpness of the Parmesan polenta and the salty, smokiness of the crumbled speck on top. The combination was heaven.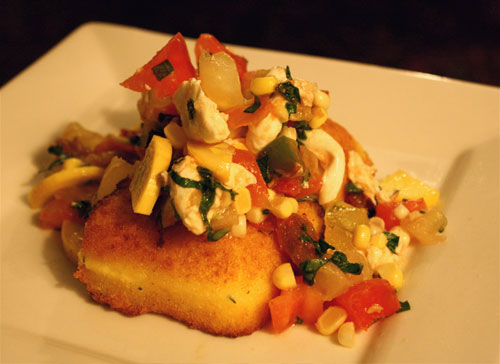 As the days shorten, this polenta dish seems like the perfect meeting of my meals to come and those pleasures I will have to leave behind. I am finally beginning to crave rich risottos and dark, meaty stews. And I now remember what it's like to be able to turn on my oven without wanting to peel off all of my clothes. But there is still a part of me that won't let go of leisurely afternoon lunches, sunshine and produce that was made all the more vibrant by the July glow. Soon I will willingly top my polenta with woody Madeira mushrooms, pumpkin purees and rabbit ragout, and no doubt there will be much of the same at restaurant tables to inspire me. For the moment though, I will continue to fight the pale complexion of my dinner, which is now enjoyed under a dark night's sky.
Parmesan Polenta Steaks with Heirloom Tomato-Corn Salad and Crispy Prosciutto
Makes 4 large polenta steaks
Polenta steaks are a great make-ahead meal for any season. The mixture is best made the night before and chilled in the refrigerator, and then only requires ten minutes or so before serving to fry and assemble the other ingredients.
1 cup polenta
2 cups water or chicken stock
1 cup heavy cream (or you can just substitute water)
1/2 cup freshly grated Parmesan
1 tbsp butter
1 tbsp fresh thyme (optional)
Salt to taste
Olive oil or canola oil for frying
3 medium heirloom tomatoes, seeded and chopped
2 ears corn, kernels removed
¼ lb fresh mozzarella or boccacini, roughly shredded or chopped
3 tbsp chopped basil
1 clove garlic, minced
1 small summer squash, quartered and thinly sliced
1 tbsp olive oil
1 tsp balsamic vinegar
1 tsp salt
In a medium stockpot, bring water and cream to a boil over medium-high heat. Slowly pour the polenta into the pot in a gentle stream, while whisking briskly. Turn the heat down to low and cook, stirring constantly, for ten minutes, or until almost all the liquid is absorbed. Add the cheese and butter and whisk to combine. Taste for seasoning, and add salt as necessary.
Butter an 8 x 8 inch baking dish and evenly distribute the polenta. Cover tightly with plastic wrap and refrigerate for at least 2 hours, preferably overnight.
Fill a large skillet or Dutch oven with about an inch of oil, and place it over high heat. Remove the polenta from the fridge and cut it into 4 squares. Pat dry each steak dry, and add to the pan, two at a time. Fry each steak on both sides until brown and crispy, about 3-4 minutes per side. Remove the steaks to a paper towel to drain.
While the oil is still hot, add the prosciutto one slice at a time and quickly fry on both sides, about a minute. Set aside to drain.
In the meantime, combine all ingredients for the salad in a medium mixing bowl. Toss until all ingredients are well incorporated and taste for seasoning.
Arrange polenta steaks on a large platter or on individual plates and top with the salad mixture. Garnish with some coarsely torn basil and, for the meat eaters, a handful of crumbled crispy prosciutto.

This Blogger's Books and Other Items from...
FOLLOW HUFFPOST