If the responses to the Grill Pan Giveaway we did on our blog were any indication (we asked readers about their favorite fall foods) autumn makes people crave pumpkin like summer made them yearn for tomatoes. Come October, pumpkin gets stirred into cheesecake, quickbreads, muffins, pies, and more -- even if it comes from a can we could technically have opened at any time of year. With Halloween past and Thanksgiving fast approaching, I'd say we're in prime pumpkin-eating territory.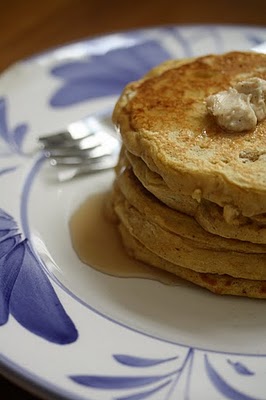 I had the idea to make pumpkin pancakes a while back, and eventually I got around to actually making them. In pancakes, pumpkin works like ricotta or yogurt, making the pancakes slightly denser, almost more egg-y tasting. They turn slightly orange of course, which is festive, and when stacked up they might be one of the more beautiful foodstuffs around.
Though I was recently inspired to try to combine the flavors of pumpkin and butterscotch -- or caramel -- for the moment, I've stuck with the go-to pumpkin flavors, nutmeg and cinnamon here. Those spices get a second moment in the sun, since they also get mixed into a sweet-salty honey butter, which is fantastic atop a stack of pumpkin pancakes. If you're in an indulgent mood, that is. Which of course you are, since you probably have about 5 pounds to gain before New Year's if you're to keep to your annual schedule. I pictured these as breakfast on the morning of Halloween (a Sunday), and I think they'll be nice as breakfast the day before, or day of, Thanksgiving. Or, the day after, with a side of leftover stuffing, pecan pie, or turkey hash.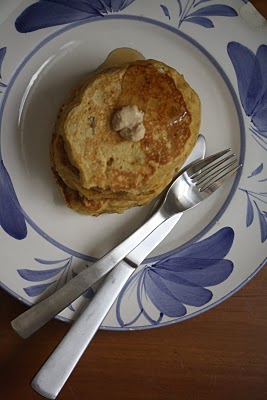 Pumpkin Pancakes

Serves 2
These are easily made dairy-free. Just sub almond milk for the milk and a neutral oil for the butter. And, of course, skip the butter on top.
Ingredients
1 cup flour
1 tablespoon baking powder
1/4 teaspoon salt
1/4 teaspoon cinnamon
1/8 teaspoon nutmeg
2 tablespoons brown sugar
1/3 cup pumpkin puree
1 egg
1 cup milk
1/2 teaspoon vanilla
2 tablespoons butter, melted and cooled
Combine the flour, baking powder, salt, cinnamon, nutmeg, and brown sugar in a medium bowl.
In a separate small bowl, combine the pumpkin and the egg and whisk to combine. Add the milk, vanilla, and cooled melted butter, and whisk again to make a smooth mixture.
Pour the wet ingredients over the dry ingredients and fold until they are only just combined--a few lumps remaining are fine.
Heat a cast iron skillet or frying pan over medium-low heat for 3 minutes. Using about 1/4 cup of batter for each, cook the pancakes until golden brown, flipping once, about 2-3 minutes per side.
Remove to a plate and serve immediately with Honey-Nutmeg Butter and maple syrup.
Honey-Nutmeg Butter
Makes 1/2 cup
Ingredients
1 stick butter, softened
2 tablespoons honey
1/4 teaspoon nutmeg
pinch of cinnamon
pinch of salt (if using unsalted butter)
Cream the butter with the honey, nutmeg, and cinnamon until slightly fluffy and even. Scrape into a small bowl and refrigerate until about 30 minutes before you're ready to use. Then, let it soften slightly.

SUBSCRIBE TO & FOLLOW THE MORNING EMAIL
The Morning Email helps you start your workday with everything you need to know: breaking news, entertainment and a dash of fun. Learn more