During my childhood, I'd always make sure to take a few weeks away from the summer's main event -- camp, community service adventures and, eventually, the all-important internship -- to spend a few lazy weeks on Martha's Vineyard with my parents and extended family. When the sun was shining, there were plenty of active ways to spend my time. But when the weather decided to offer up no means of outdoor distraction, it was fairly easy, and not without pleasure, to simply hunker down with a book in front of the sprawling gray ocean, zone out, and eat.
Now that Cara and I have finished the first draft of our book, I've been lucky enough to salvage a few days of afternoon relaxation, albeit at home in the city. I was looking forward to some long walks along the West Side Highway, and reading/sunning myself in the grass. But, unfortunately, it seems that the city has fallen prey to post-April depression and decided to plague us all by making weather.com's favorite prediction--scattered thunder showers--a reality. But I take the downtime gladly, and with it, one of my favorite lazy afternoon meals salvaged from my summer memories of rainy days on the island.
When daily cardio warrants it, my lunches on the vineyard consist of all the indulgences I attempt to fit into my week of vacation meals, namely: fudge, ice cream, fried clam rolls, and the ever tempting fried green tomato BLT, which I force myself to bike 7 miles in order to eat. These activities and eats are usually shared with my dad, whose sweet tooth and love for lobster rolls usually direct him town-bound (with me as company) for every meal. But when it's gray and gloomy, I am more than happy to join my mother in front of the TV to watch tennis and eat whatever she's decided to whip up.
Given her affection for mayonnaise, it's no surprise that my mother's cooking-for-one go-to involves a creamy, mustard base and whatever fresh herbs Morning Glory Farms has been able to salvage from the persistent rainfall. Since she is cooking for two when I stay home, I requested one of my childhood favorites: shrimp salad with a combination of fresh basil and chives. Aside from the bike ride to Edgartown Seafood to pick up shrimp, this salad is an easy way to get your slow-moving bones back in the kitchen, mix up some condiments in large, lazy spoonfuls, and in less than a few minutes, return to the couch where, without an inkling of guilt, you are happy to temporarily belong.
Or, if you're stuck in the rainy city, like me, you just might be able to find someone (Fresh Direct) to deliver ingredients for this salad right to your door.

--Phoebe Lapine of Big Girls, Small Kitchen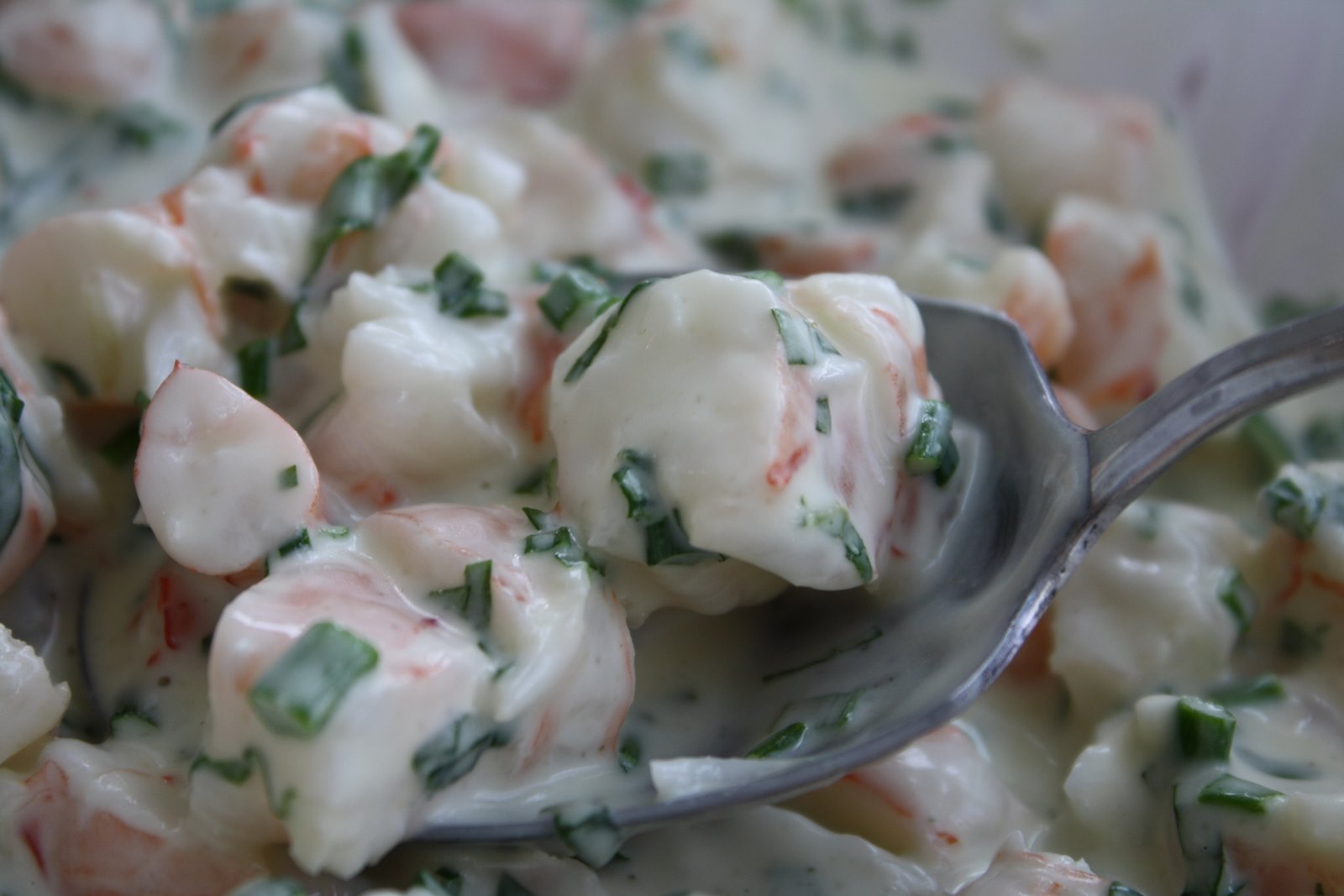 Shrimp Salad with Basil and Chives
Lemony Tarragon Chicken Salad
Makes 2 servings (each)
These two salads share the same composition with slight modifications to suit the protein at hand. For the shrimp, my mother used fresh, bright basil and just a hint of dried mustard to give it a bit of heat. For the chicken salad, she used Dijon mustard to give a more full bodied mustard flavor to the sauce, and tarragon as the main herb since the stronger anise flavor holds up better against a less delicate meat.

Ingredients
For the shrimp:
1 lb cooked shrimp, peeled and tails removed, chopped
1/2 tsp dry mustard
2 tbsp chopped fresh basil leaves
NOTE: If buying uncooked peeled, deveined shrimp, cook for a few minutes in boiling water until they turn pink. Drain and reserve in an ice bath to stop the cooking.
For the chicken:
1lb roasted chicken breasts (about two), skin-on and bone-in
2 tbsp Dijon mustard
1 tbsp chopped fresh tarragon
NOTE: roast seasoned chicken breasts, skin-side up, at 350 degrees for 35-40 minutes. Allow to cool, then remove the skin and break chicken apart with your hands into large chunks.
For the base:
3 tbsp lemon juice
2 tbsp olive oil
1/4 cup mayonnaise
10 chives, snipped with a scissor
white pepper
salt
Whisk together: lemon juice, mustard, and olive oil. Add in the mayonnaise and continue to whisk until combined. Add white pepper and salt to taste.
Mix in the fresh herbs, snip chives directly into the bowl, and toss together with the shrimp or chicken. Serve piled on top of a simply dressed salad (mixed greens, olive oil, and white vinegar) or sandwiched between two crusty pieces of wheat bread.