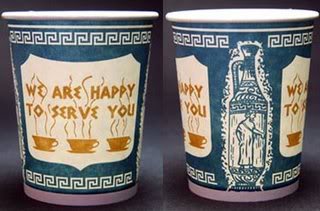 Is glory real if it's anonymous? That's one of the questions raised by today's front-page New York Times obit for Leslie Buck, the designer of the iconic Anthora to-go cup. The cup is more ubiquitous these days in imagination and memory than it is in life; demand has dropped, and the company that makes it only does so now on request. But any student of pop culture can tell you that's the best kind of ubiquity there is -- the kind that's been detached from the vagaries of the real-world marketplace. A cultural artifact lives forever, on TV ("Without the Anthora, 'Law & Order' could scarcely exist," says the Times) and on store shelves: I myself own six ceramic coffee cups emblazoned with Buck's design. There's a whole website devoted to selling them.
So who was Leslie Buck? Buck was 87 when he died on Monday, a survivor of Auschwitz and Buchenwald. He was a salesman for a paper-cup company and scrambling for a way to crack the New York City market when he executed the Anthora design in the mid-'60s. Greeks owned most of the coffee shops, he reasoned; why not a cup with classical motif, in the colors of the Greek flag? Here's the great part: Buck knew nothing about art or design. Almost fifty years later his design for the Anthora cup is one of the most widely recognized in the world, or at least the world of people who've ever spent time in New York. (The name, by the way, represented a mangling of the Greek word "Amphora," or vase.)
I was a young guy when I came to New York to work for Newsweek in the early 1980s, and every morning I'd get my regular two sugars at a cramped newsstand operated by a father and son just off the lobby of what was then the Newsweek building, at 444 Madison. That faux-Greek design is inextricably tied up with my memories of the decade I spent in New York City. It's Proust's Madeleine in blue and white. Until today I never knew the name of the man who was responsible. He was a salesman and the product he invented survives him and endures, and maybe that's the greatest legacy a salesman can ask for. But he was also a husband a father, and today, finally, for millions of us who know his product, he has a name.
SUBSCRIBE TO & FOLLOW THE MORNING EMAIL
Start your workday the right way with the news that matters most. Learn more