Taking a cue from curator Shana Nys Dambrot's approach to her upcoming exhibition, Consumption, we have assembled five L.A. Women for this issue of This Artweek.LA who represent a "true cross-section of contemporary art in Los Angeles," both as artists and curators.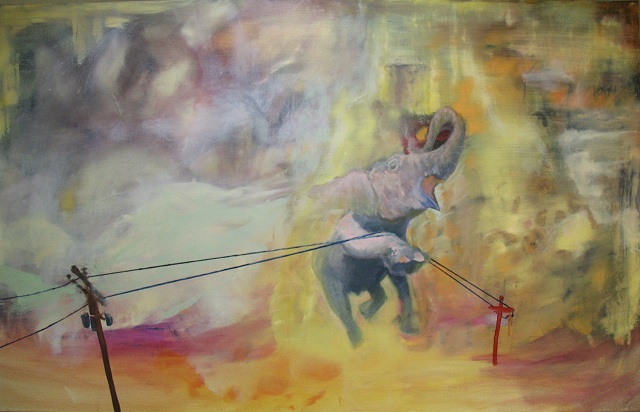 Consumptive | "When it comes to curating group shows," confides Dambrot, "I like to start with an idea, something I can use to tell a story. Sometimes, I carry this idea around with me, looking for a way to get it expressed. Sometimes, it's the happenstance of time and place that suggest it all. In the case of Consumptive, it was both. I've been registering visual art that increasingly reflects our culture of extreme consumption, acquisition, appearance, and materialism -- not always in a positive light. Then I was presented with the opportunity to curate a show in the heart of Beverly Hills at the onset of the be-glittered holiday shopping-season frenzy -- and the story started to write itself on the spot."
Curator Shana Nys Dambrot has assembled a group of artists that constitute a true cross-section of contemporary art in Los Angeles in terms of style and media. "Together, these eleven artists come with a view of the world predicated on stipulating to the hyper-consumptive character of our society. But after that, each one takes his or her own path, and each draws their own conclusions."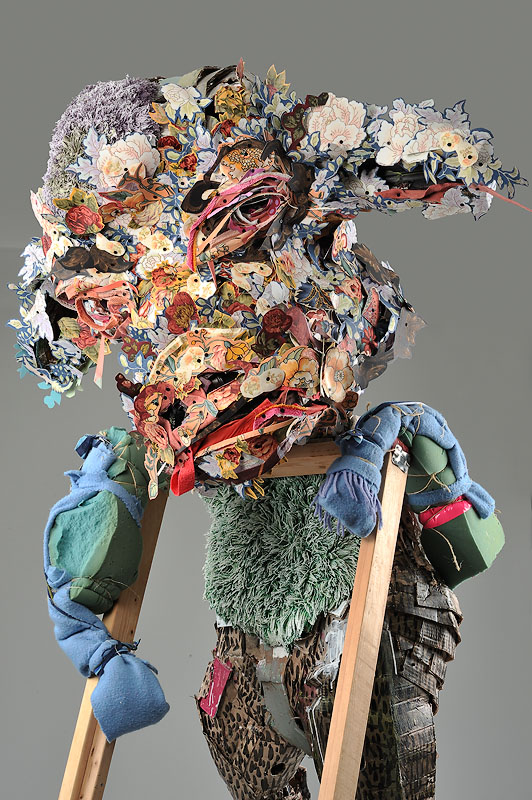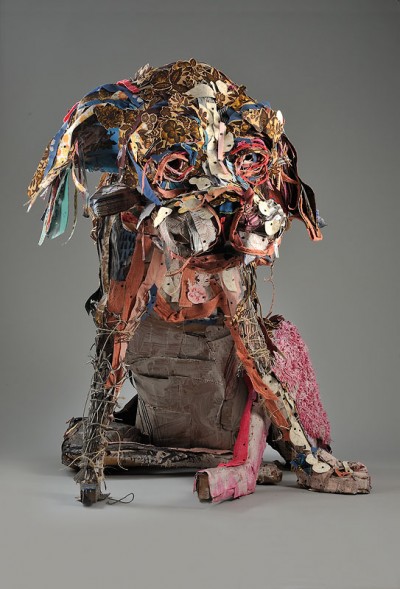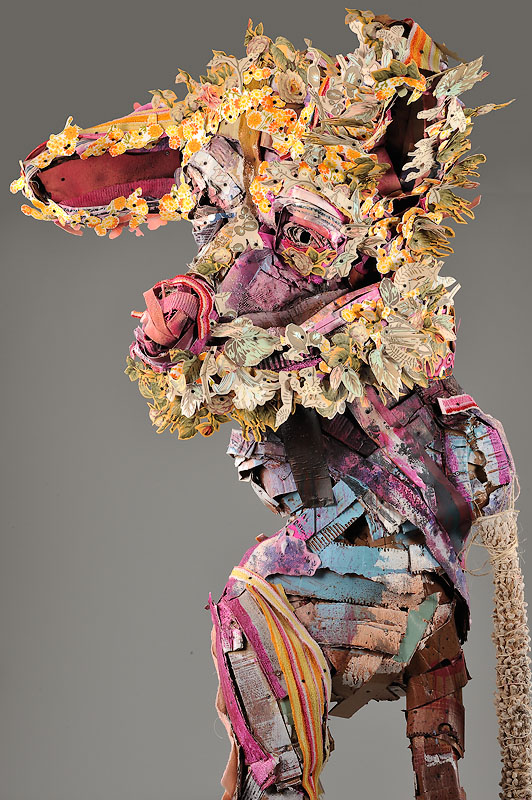 Elisabeth Higgins O'Connor: Dreadful Sorry Clementine | The exhibition takes its name from a children's nursery rhyme -- the original being sing-songy and childish, but contrasted with dark, melodramatic lyrics. This contrast relates to Elisabeth's work as well, as she continues her practice of walking the line between familiarity and chaos. Working with commonly available materials such as bed sheets, bedding and other discarded domestic fabrics; Elisabeth creates sculptural works that address the unique fascination we experience with the allure of the grotesque.
The exhibit features a suite of sculptural figures, ranging in height from 6 to 8 feet tall. Influenced by assemblage artists such as Bruce Conner, Elisabeth engages in the physicality of her materials. In using a new process she developed with cardboard, resin and stiffened fabrics, she is able to shape her creatures with more specific geometries. Elisabeth's execution of the materials suggests both obsessive anxiety and wild abandon.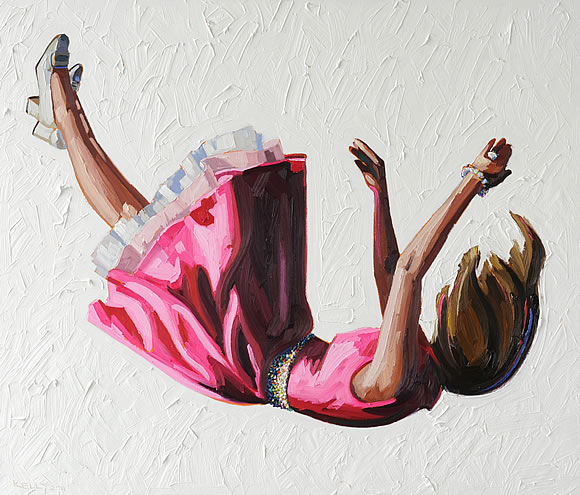 Kelly Reemtsen: New Paintings | Reemtsen's paintings explore the paradoxical state of being female in a post-feminist contemporary society. Her iconic image is that of a woman clothed a vintage party dress. In some paintings the woman carries a tool usually associated with masculinity. In other works the woman appears to be falling through space like Alice down the rabbit hole. Reemsten has described these figures as 'falling out of love and/or falling short of expectations." Another on-going series of paintings and sculptures lovingly present arrays of candy-bright pills that might be found on a bedside table in Valley of the Dolls.
Though the artist makes no overt allusions to film or television, one can't look at Reemtsen's paintings without thinking of both. In their bright, sumptuous dresses, the women bring to mind classic television icons of femininity from the 50's and 60's. A woman in one of the paintings could easily be taken for June Cleaver, Donna Reed, or Anne Marie of That Girl.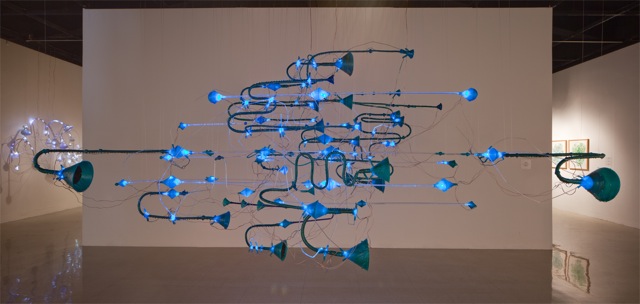 Deborah Aschheim: feeling-of-knowing | Since 2007, Aschheim has explored aspects of personal and collective memory, including how memories are formed, how they change over time, how they can be forgotten, and how they might be preserved. The artist is interested in both a subjective and a scientific understanding of memory, and has titled the exhibition with a poetic phrase that is, in actuality, a clinical term borrowed from memory studies. "Feeling-of-knowing" refers to the sensation that occurs when we feel that we know something about a particular subject, but that knowledge, which we believe exists within our memory, is just beyond our immediate grasp. In other words, we might not know the answer to a question at the moment we are asked, but we feel that the answer is stored within our memory, waiting to be accessed and recalled.
feeling-of-knowing features sculptures, drawings and sculptural installations that incorporate video and sound, the latter produced in collaboration with musician and composer Lisa Mezzacappa.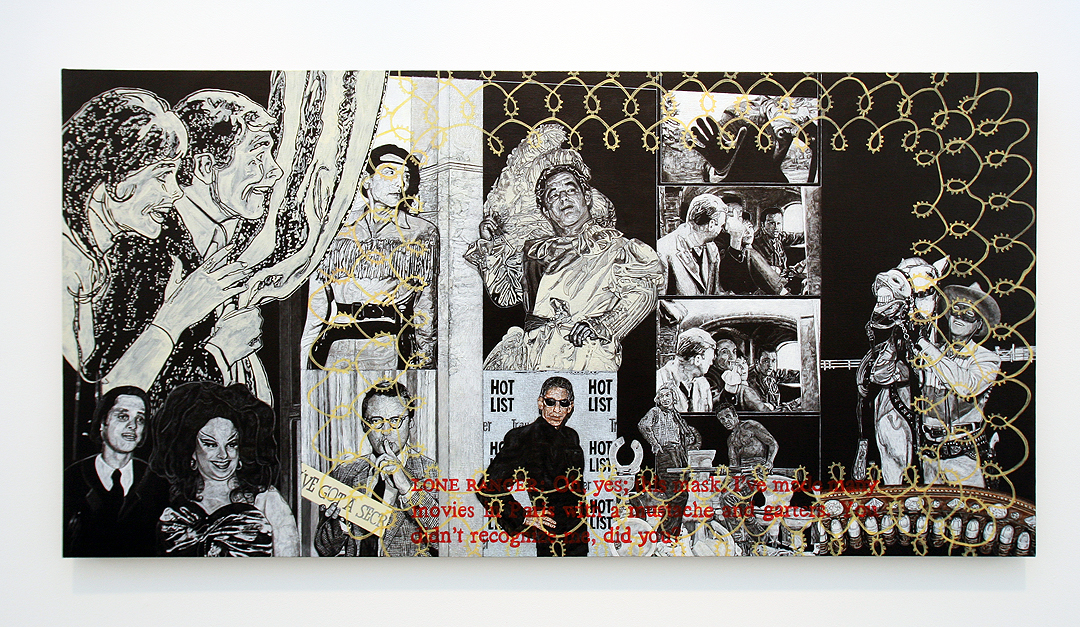 Carole Caroompas: Uncle Lenny: Right as Wrong / Wrong as Right | Four years in the making, seven layered drawings and three complex paintings comprise a body of work based on the artistry of comedian and enfant terrible, Lenny Bruce. Entitled, Uncle Lenny: Right As Wrong / Wrong As Right, Caroompas uses a cosmology of Pop culture figures in her non narrative, operatic images -- a kind of psychedelic film noir. The work explores the role of the artist in society and the exposure of truth and deception. Using characters from contemporary and classic television, Law & Order: Special Victims Unit, and The Lone Ranger (and Tonto), along with John Waters, Divine, Gorgeous George the wrestler, and a cast of others, the works address the outrageous, the stereotype, the forbidden and the unspoken. Caroompas uses quotes by Lenny Bruce as the primary 'voice' in the work; his stinging language ignites her compositions and is furthered by the use of lace veiling in the works alluding to the covering of something hidden or untoward.
For more information about art events throughout Los Angeles go to Artweek.LA.
SUBSCRIBE TO & FOLLOW CULTURE SHIFT
Every Friday, HuffPost's Culture Shift newsletter helps you figure out which books you should read, art you should check out, movies you should watch and music should listen to. Learn more