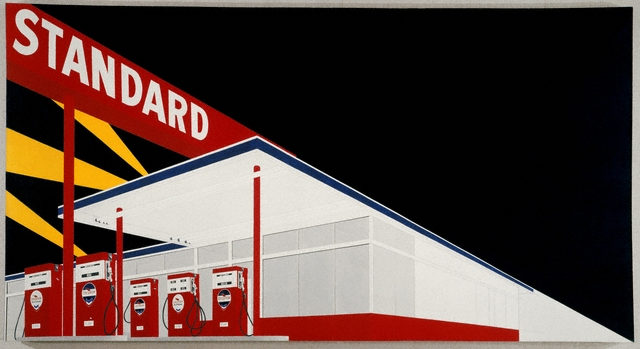 Standard Station, Amarillo, Texas, 1963, Ed Ruscha. Oil on canvas. 64 1/2 x 121 3/4 in. Hood Museum of Art, Dartmouth College, Hanover, New Hampshire; gift of James Meeker, Class of 1958, in memory of Lee English, Class of 1958, scholar, poet, athlete and friend to all. © Ed Ruscha
Pacific Standard Time: Crosscurrents in L.A. Painting and Sculpture, 1950-1970 | In recent decades, Los Angeles has shed its stereotype as the land of sunshine, palm trees, and movie stars to become an artistic powerhouse and an increasingly important international creative capital. This fundamental shift in the cultural landscape of the city dates back to the 1950s and 1960s, a period of critical importance in art history that has never before been fully studied and presented. Pacific Standard Time: Crosscurrents in L.A. Painting and Sculpture, 1950-1970 chronicles the rise of the Los Angeles art scene through a focused examination of painting and sculpture produced in Southern California during this crucial period.
Pacific Standard Time: Crosscurrents in L.A. Painting and Sculpture features 79 objects by more than 45 artists including Peter Alexander, John Baldessari, Larry Bell, Billy Al Bengston, Wallace Berman, Vija Celmins, Judy Chicago, Ron Davis, Richard Diebenkorn, Melvin Edwards, Llyn Foulkes, George Herms, David Hockney, Ed Kienholz, John McLaughlin, Ed Moses, Lee Mullican, Bruce Nauman, Helen Pashgian, Ed Ruscha, Betye Saar, and Peter Voulkos, among many others. This landmark survey of the period will be a cornerstone of the larger Pacific Standard Time initiative, an unprecedented collaboration of more than 60 cultural institutions across Southern California that will highlight different aspects of the region's postwar artistic production.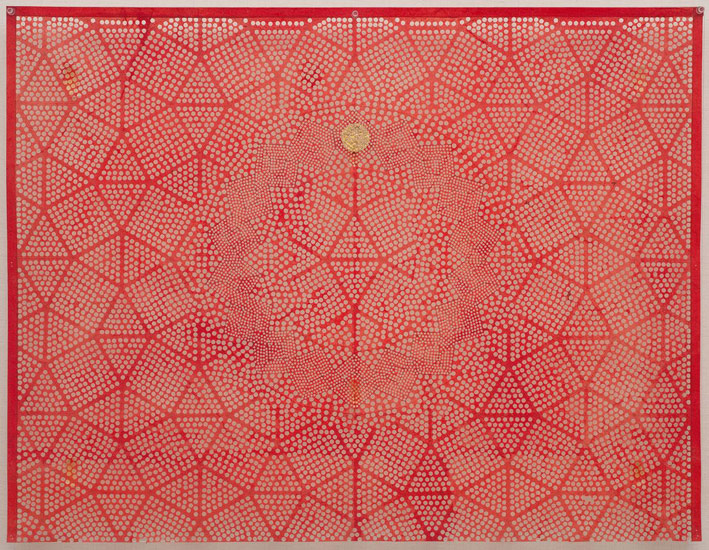 Homage to Buckminster Fuller, 1973 - 1975, acrylic and gold leaf on paper punch, 28 x 37 in (71.1 x 94 cm), plexi case: 35 x 43 x 3 in (88.9 x 109.2 x 7.6 cm)
Tom Wudl: Works from 1971-1979 | An exhibition of work from the groundbreaking decade of Tom Wudl's career: the 1970s. Wudl created his abstractions with handmade rice paper, which he pierced with innumerable punches of varying size, forming patterns with the perforations. Incorporating acrylic paint and gold leaf, and the occasional use of found newsprint, striking, sumptuous colors and geometric shapes are the hallmarks of these works. Motifs allude to the mystical and spiritual, as well as the natural world, and compositions are enigmatic. Most paintings are untitled, with a rare exception such as with Verde, from the Spanish (the artist's first language) meaning verdant or green, and perhaps a reference to Wudl's own artistic coming of age. Also, Homage to Buckminster Fuller, 1973-1975, is distinguished by patterning inspired by the work of the renowned system theorist and designer of the geodesic dome, and whose ideas were a primary influence on Wudl in this early stage of his career.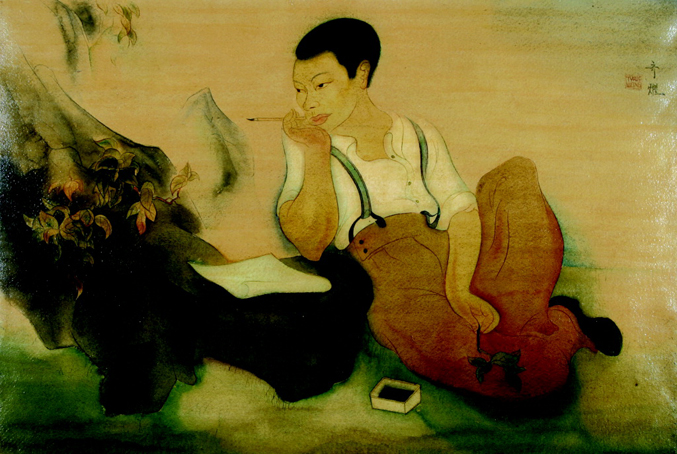 'Round the Clock: Chinese American Artists Working in Los Angeles | An exhibition featuring the work of George Chann, Jake Lee, John Kwok, Milton Quon, and Tyrus Wong, contemporary Chinese American artists who employed their artistic abilities in their professional lives while remaining true to their own artistic pursuits in their personal lives.
'Round the Clock: Chinese American Artists Working in Los Angeles features 60-70 works by these Los Angeles-based artists, including paintings, watercolors, storyboard illustrations, animation cels, drawings, photographs, film clips, and ephemera. 'Round the Clock considers how these contemporary artists balanced their personal art making and their professional demands; how they achieved success on their own terms in their commitment to making art in Los Angeles; and the significance of their contributions to the region's artistic and cultural legacy.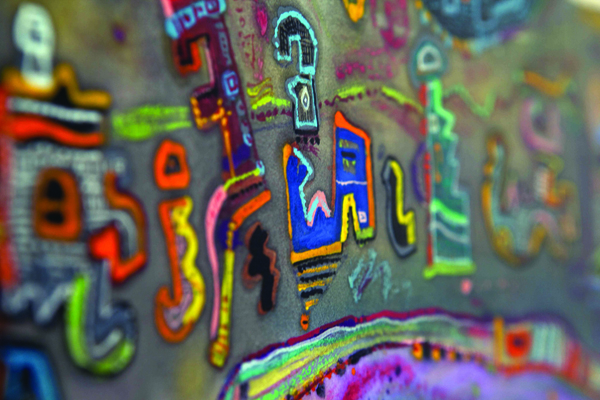 A Fantastic Voyage: The Art of Ynez Johnston | A painter, sculptor and printmaker, Ynez Johnston's art offers a world of visual delights. As with miniature Rajput paintings, illuminated manuscripts and Chinese scrolls, Johnston's imagery is intended for intimate viewing and affords an endless voyage of discovery. Her intricate depictions of royal kingdoms, elaborate cityscapes, mythological creatures, ancient symbols and human forms merge reality with the imaginary and transport viewers to mysterious and enchanting realms.
A Fantastic Voyage: The Art of Ynez Johnston will survey six decades of the artist's wood and bronze sculptures, paintings, prints and ceramics from the 1940s to 2010, including recent works that have never publicly been shown. This important retrospective is Johnston's first major exhibition in over ten years, and the only in a San Diego-area museum. Johnston grew up in California and earned an MFA from UC Berkeley in 1946. Although she has traveled the world extensively, she has lived and worked in the Los Angeles area since the 1950s. While this particular Mingei International exhibition is not officially part of the Pacific Standard Time event, Ynez Johnston's work is featured in several other PST exhibitions.
For the most comprehensive calendar of art events throughout Los Angeles go to Artweek.LA.
SUBSCRIBE TO & FOLLOW CULTURE SHIFT
Every Friday, HuffPost's Culture Shift newsletter helps you figure out which books you should read, art you should check out, movies you should watch and music should listen to. Learn more