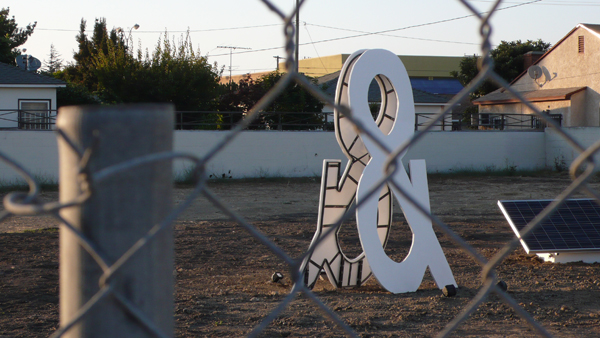 Shannon Ebner: The Electric Comma | Informed by various modes of writing--including poetry, experimental writing, and political speech--Ebner constructs images in the studio and the landscape. She builds letters and phrases out of vernacular materials such as cardboard, wood, and cinder blocks, calling attention to the ways language and imagery are constructed.
For this exhibition, Ebner presents a portion of an ongoing project called "The Electric Comma," which began as a poem she wrote of the same name about the various conditions of the photographic, such as its alleged static nature and its vocation of describing events in the past. The poem, conceived by Ebner as a "photographic sentence," aims to activate the image through strategies that ask the photograph to perform outside its usual function of reporting or depicting events, people, places, and things of our time.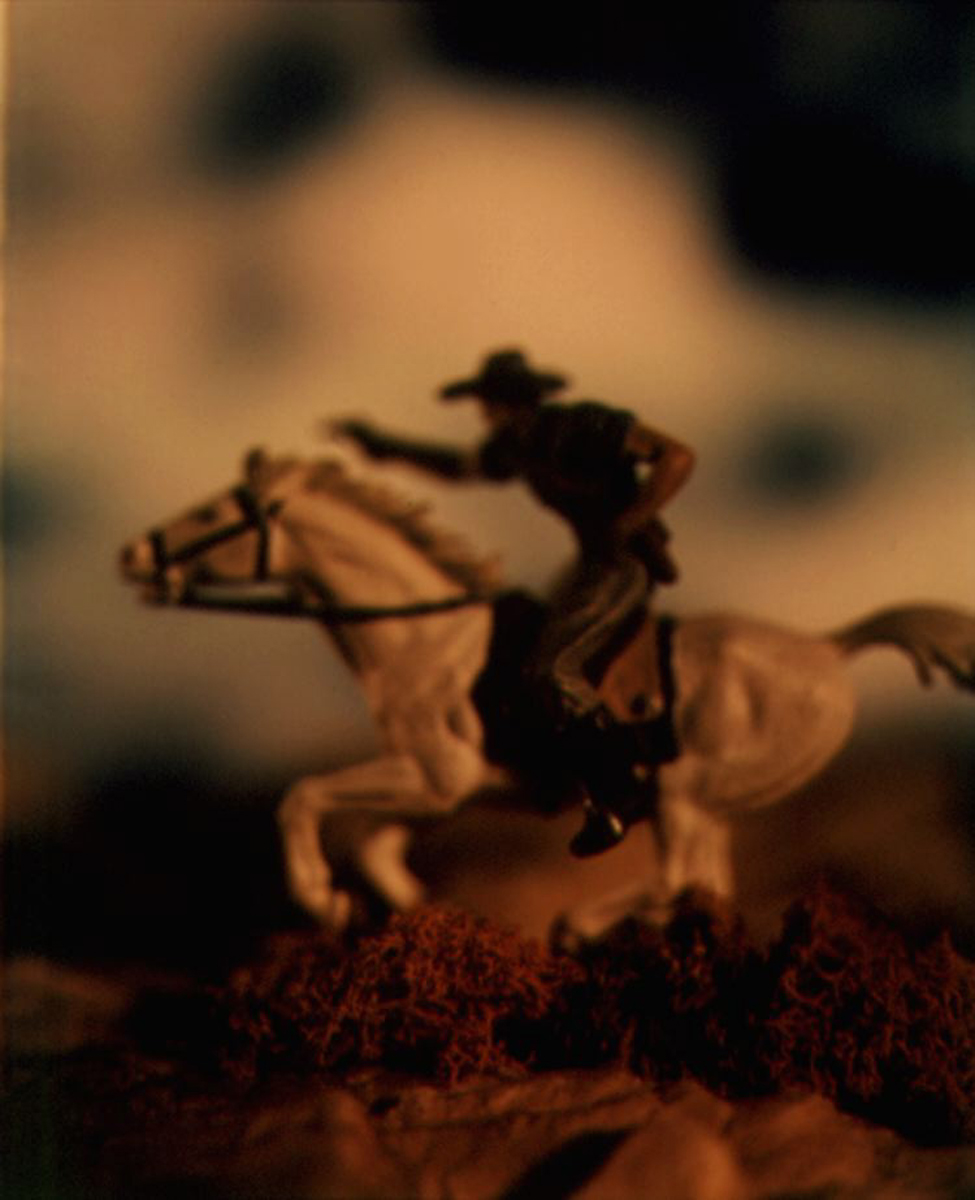 David Levinthal: Toyland | Do dolls have souls? Do toys? Most children wish them to. Toys are the objects that furnish our childhood and we learn both about the surrounding world and our abilities within it by manipulating them. To quote Baudelaire:
"All children talk to their toys; the toys become actors in the great drama of life, scaled down inside the camera obscura of the childish brain. The overriding desire of most children is to get at and see the soul of their toys."
Notes artist David Levinthal, "I don't think childhood is at all innocent, so why should toys be? It's a period of socialization and conformity. Boys are supposed to grow up to be strong and stalwart men, willing to die for their country, and so on. That period of one's life instills certain values. Playing with toys is innocent only in the sense that most people have passed through that stage. I suppose I never have." Levinthal has discovered and succinctly reveals "that toys are not benign objects, but metaphors for culture itself."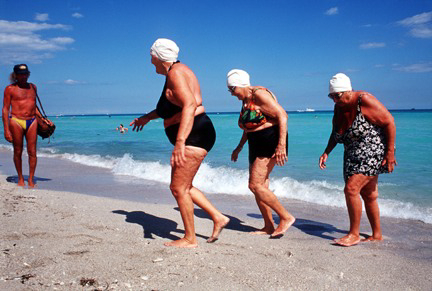 Naomi Harris, Sisters Getting out of Ocean/ Haddon Hall Hotel/ Miami Beach, FL, 2000, Cibachrome print, Numbered 1/5, Signed and numbered on verso, 15.5 x 23.25 inches
Angela Featherstone: Fuck Pretty | Actress Angela Featherstone's first curated show is a collection of photographs by both world-renowned and unknown women artists, whose work moves and inspires her. There are images from contemporary photographers and equally important to the curator, of emerging artists, some of whose work the curator is proud to be showing for the very first time. The exhibit is accompanied by a musical score created by film composer Claudia Sarne (Book of Eli).
"In Dec of 2010," shares Featherstone, "I found myself frustrated by forces beyond my control, alone and having just spent most of the year dealing with childhood trauma. I woke up, alone, right before Christmas and a conversation I had with my dear pal, Richard Jeni (r.i.p) came to mind. I had ranted to him about a deal gone south, 'they always say, 'she's so pretty and funny' but I say fuck pretty, gimmie money, get it now!' Jeni laughed so hard and said, 'Angie, FUCK PRETTY has to be the title of your autobiography.' The photographs are all, in some way, a reflection of who I am. So in the end, Jeni was right. It is an autobiography of sorts."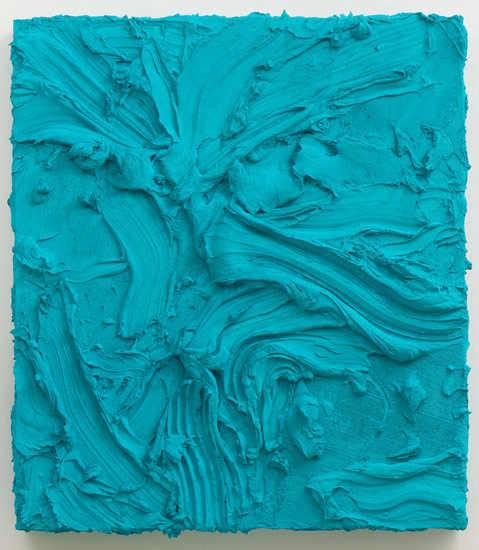 Moon, 2011, pure pigment on aluminum, 78 3/4 x 70 7/8 in. (200 x 180 cm). Courtesy L.A. Louver, Venice, CA
Jason Martin: Near By Far | Over a career that approaches two decades, Martin has become renowned for his rich, sensuous, monochromatic abstract paintings. In this new body of work, Martin pursues an increasingly textured, three-dimensional approach.
Far from being abstract paintings, Martin favors an eclectic and open interpretation of the associative possibilities inherent in each work. Titles offer access into the paintings and come from the natural world: Genus and Cay; scientific knowledge beyond our world: Aether and Moon; and from a shared cultural history: Shaolin, Rajah and Tzion. Martin states, "This exhibition is a testimonial to a place found through incident and circumstances beyond my control. If the title is considered as a journey, far only becomes near from the reflection of the distance traveled. Getting closer depends on your perception of how far you have traveled. This can be an illusion. And to arrive at a place is, of course, another departure."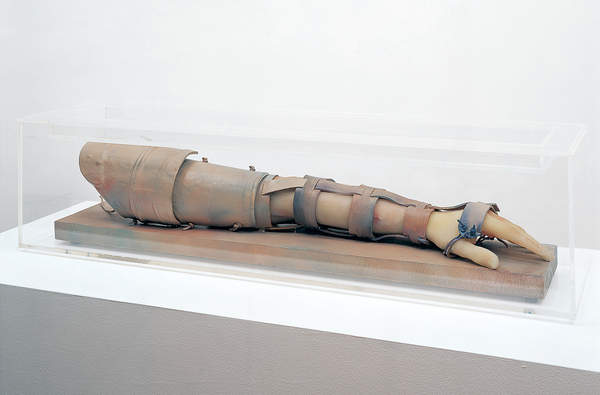 Paul Thek: Diver, A Retrospective | The first major exhibition in the United States to explore the work of this sculptor, painter, and creator of radical installations, and the first major exhibition of this artist's work to be presented on the west coast. Many of the approximately 130 objects, which include paintings, drawings, and sculpture, have not been seen in the U.S. in the decades since they were made; while others have never been seen here at all. Several of Thek's "meat pieces" will be shown, along with rare works such as Untitled (Dwarf Parade Table), never before seen in this country. The exhibition also includes images documenting the artist at work in his studio by photographer Peter Hujar as well as Thek's journals, filled with deeply personal thoughts and drawings.
"Paul Thek: Diver, a Retrospective is the kind of exhibition we love at the Hammer. Thek has achieved an almost cult-like status among artists--both during his lifetime as well as with a younger generation of artists. Despite that, his work is little known to the broader public and so it is our great pleasure to bring it forward to a greater audience," remarks Hammer Museum director Ann Philbin.
For a complete calendar of openings and exhibitions throughout Los Angeles go to Artweek.LA.
SUBSCRIBE TO & FOLLOW CULTURE SHIFT
Every Friday, HuffPost's Culture Shift newsletter helps you figure out which books you should read, art you should check out, movies you should watch and music should listen to. Learn more