Video art may not be new, but it certainly seems to be undergoing a renaissance here in Los Angeles. Challenged by the less cumbersome immediacy of the Internet and a trend towards more conventional artforms at various teaching bodies, its popularity seemed to wane in the early naughties.
A plethora of exhibitions incorporating video, however, suggest its spark has been reignited. The cost effectiveness and accessibility of the technology now sees artists making greater use of it as a component of their repertoire.
Artists of worth are now enriching their creative pallet via various media to express their vision and creativity. In turn they show versatility by combining video with other forms such as installation, painting, design, and sculpture, as typified by the likes of Mike Kelly, Cindy Sherman, and John Baldessari, considered an early adopter of video art.
From Kirsten Stoltmann's show, I AM SO HAPPY at Emma Gray HQ in Culver City through March 24.
Korean artist Nam June Paik, a member of Fluxus, is often attributed as having played a pivotal role in introducing artists and audiences to the possibilities of using video for artistic expression. With early work harking back to 1967, he combined use of video with music and performance.
While not quite as confronting or profound as the work of June Paik, several current LA shows incorporating video art are still bags of fun and well worth a look. -- Craig Stevens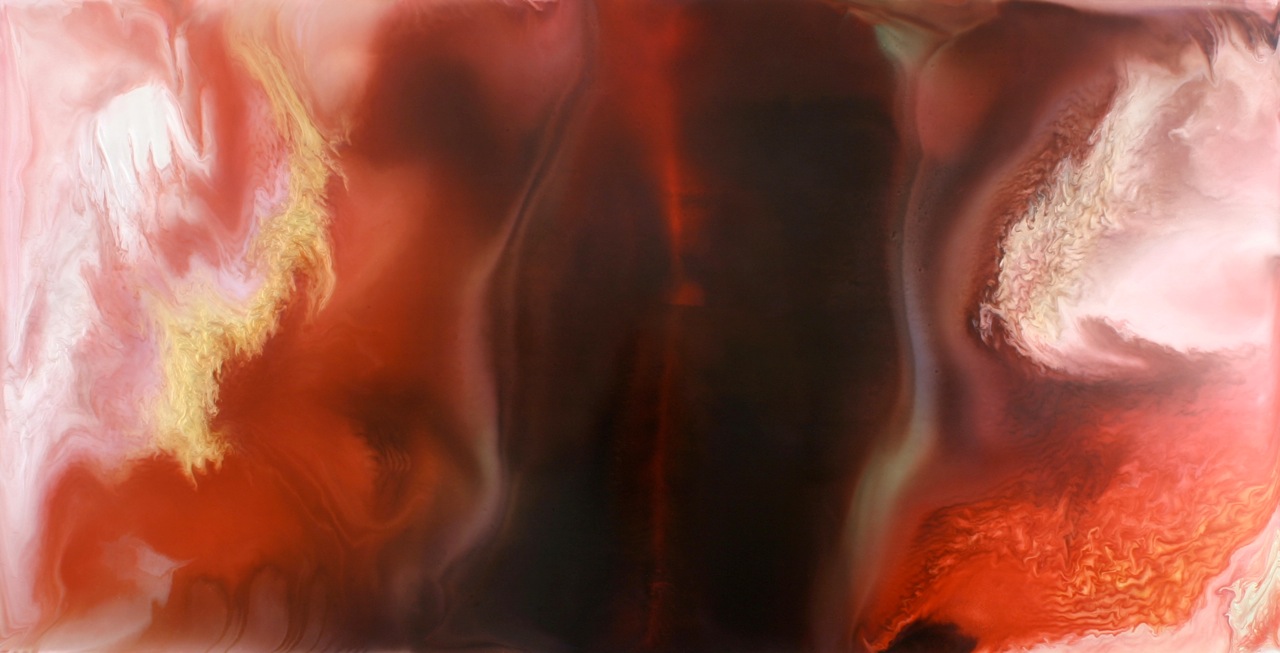 Suzan Woodruff: Luminous Matters | Suzan Woodruff's viscous vistas conduct the viewer through mesmeric realms where colors seem potentially sentient, diffusing, roiling, billowing, erupting their way across surfaces of cosmic commotion. The multihued tendrils and filaments that spread, striate and stratify before the eye bring to mind every manifestation of dynamic natural-world activity from the motions of tides and tempests to the configurations of solar flares and fractal patterns. (Think also of the swirling clouds spurring Mitchell Feigenbaum on to his epiphanies in chaos theory.) Some of these abstractions resemble satellite photographs of the Earth or distant nebulae or galaxies. Other paintings appear as if summoned from within the Earth's churning molten core. Woodruff is a sensitive cartographer of deliquescent chromatic terrains, an acute surveyor of tumultuous ecosystems of radiance and perception. -- Anthony Miller
Opens March 19 at William Turner Gallery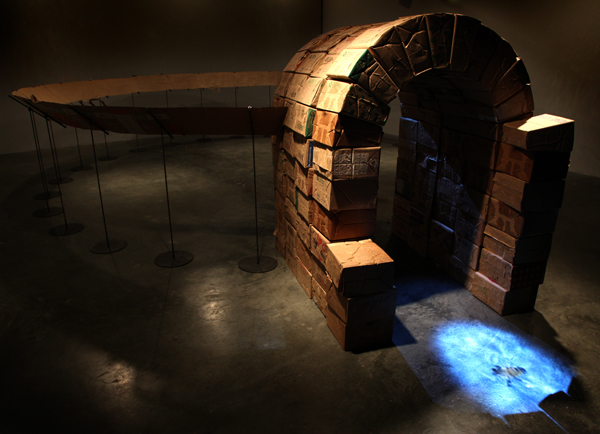 Daniel Wheeler, Bloom, 2010, Mixed media installation, Pasadena Museum of California Art, Image courtesy of the artist
Daniel Wheeler: Bloom | Wheeler's installation is more poetic than narrative in structure, and more reflective than analytic in tone. Containing both video and structural elements, the project is an elegy to the struggle of a single life, with its grind and pull, and momentary flashes of beauty. With Bloom, Wheeler continues in the vein for which he is well known: stretching our perceptions of the everyday with canny juxtapositions, an eye for the metaphorical, and meticulous craftsmanship.
The darkened room is entered through a low Romanesque tunnel made of recycled paper bricks, forcing a physical engagement with the viewer at the outset. Inside, a video is projected in a clockwise movement around a velodrome-like circular track, minimalist in its construction. The video comprises a simple, but miraculous activity: a small bee swimming across a watery surface. A meditation on the life of a drone, the installation is quiet and seemingly uneventful for most viewers, except for those who are lucky or patient enough to catch and witness a momentary transformation of the bee.
Extended through April 24 at the Pasadena Museum of California Art (PMCA)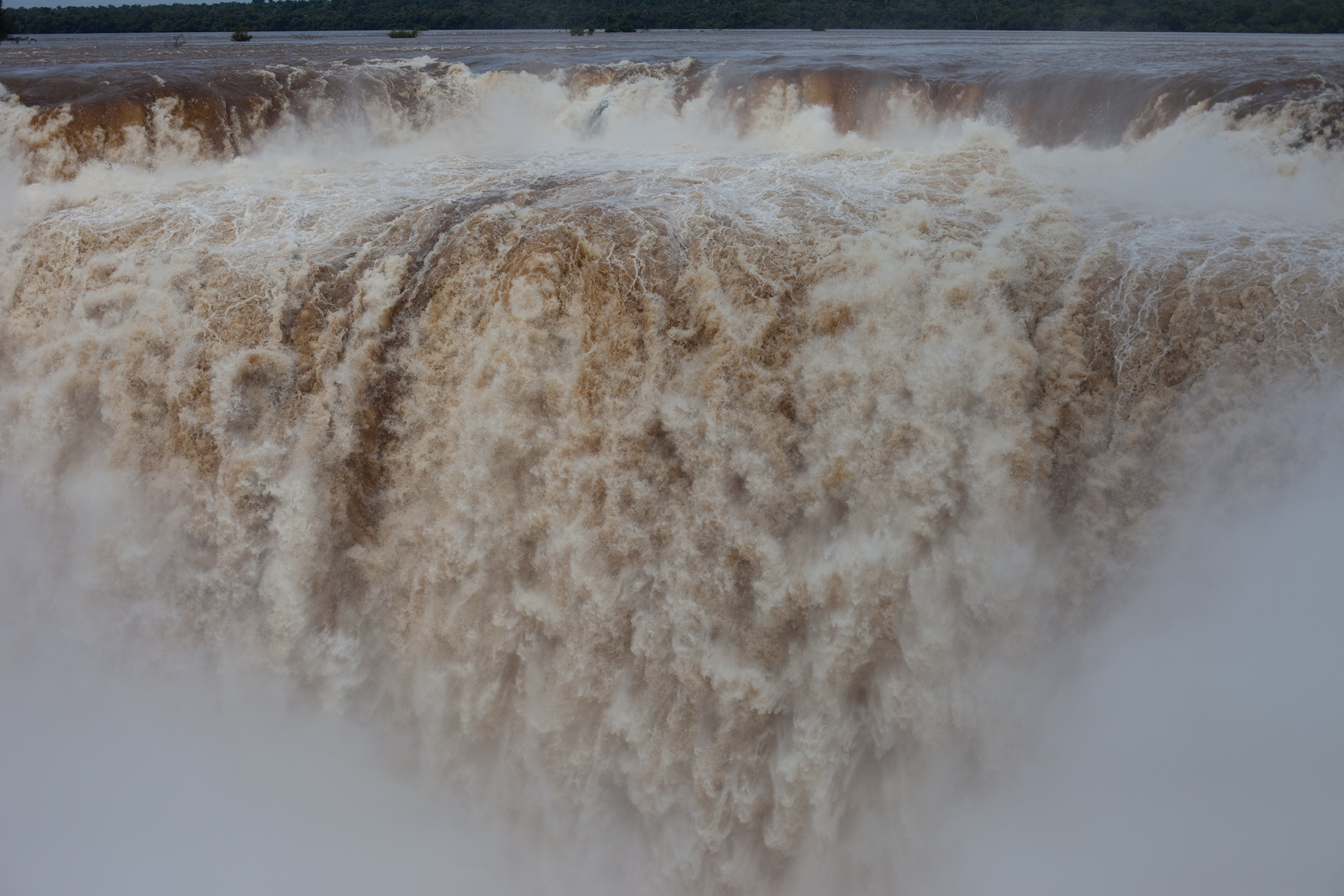 Image courtesy Regen Projects, Los Angeles © Wolfgang Tillmans
Wolfgang Tillmans | For two decades, Tillmans has pushed the limits of photography exploring the correlation between camera-less abstraction and figuration. With advancements in technology, the camera is now able to capture and convey information in a manner not previously possible when Tillmans began his practice. While the possibilities of digital imaging techniques are often put to use to cover up and create a fantasy version of reality, Tillmans searches for clarity through a double-sided investigation of simultaneous observation and utilization. On the one hand, the photographs of natural phenomena, such as the night sky picture taken from an aircraft over the Atlantic (in flight astro II, 2010) and a waterfall (Iguazu, 2010) with infinite frozen detail, were only realizable through the use of a digital camera. On the other hand pieces like Times Square LED, 2010 and TGV, 2010 featuring building size moving advertising displays and high-speed trains make new technological development their subject matter. Combining these poignant fragments of his experience of the world, Tillmans creates a crystallized view of our multisided reality, achieving what can be described as an updated version of modernity.
Runs through April 9 at Regen Projects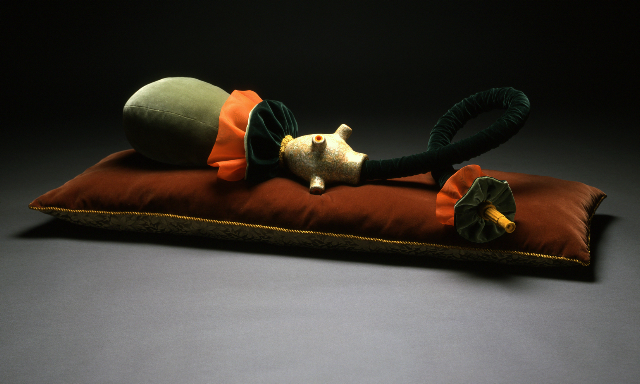 Splendid Entities: 25 Years of Objects by Phyllis Green | The first large-scale survey to present the innovative sculptures of Los Angeles based artist Phyllis Green, Splendid Entities highlights the important contribution Green has made to art and craft for more than two decades. Throughout her career Green has used the traditional techniques of craft to achieve unconventional outcomes in the realm of fine art. Cleverly combining such materials as clay, wood and fiber, she produces sculpture that pushes beyond the traditional boundaries of craft and challenges the lingering modernist assumption that decoration and ornament are enemies of high art. Many of her mixed media objects are hybrids of symbolic male and female representation: perforated and projecting, soft and hard, inside and outside. In her series Turkish Bath, amorphous organic forms recline on pillows, invoking the captive, reclining nudes in J.A.D. Ingres' Le Bain Turc, the painting from which the series takes its name. They are loaded to evoke all manner of "female" allusions by their small size and by the multi-layered use of flocking, feathers and fabric. The use of body imagery as form and content, and the location of the body as a site of desire and identity are consistent features of Green's artistic output between 1985-2010, the period on which the exhibition focuses.
Closes March 19 at Ben Maltz Gallery at Otis

SUBSCRIBE AND FOLLOW
Get top stories and blog posts emailed to me each day. Newsletters may offer personalized content or advertisements.
Learn more