That's right. Wake me up when September ends because I'm not sure I can take what it looks like the L.A. art scene is about to dish out. It started last week with Pacific Standard Time: Art in L.A. 1945-1980, a multi-institutional collaboration documenting the emergence of Los Angeles as an international nexus of post-war contemporary art, comprised of more than 120 exhibitions across Southern California.
This week we have 9/10/11, the Saturday following Labor Day, which traditionally kicks off the new art season here in Los Angeles. There are at least three-dozen openings, not including more than 20 PST openings. That's nearly 60 openings this weekend alone! Picking five to see was no easy task. Seeing it all is an even greater challenge.
And as if that weren't enough, September draws to a climatic conclusion with the launch of three new L.A. art fairs: Art Platform, Pulse, and Fountain. We'll have more about the fairs in the coming weeks.
For a complete calendar of openings and exhibitions throughout Los Angeles go to Artweek.LA.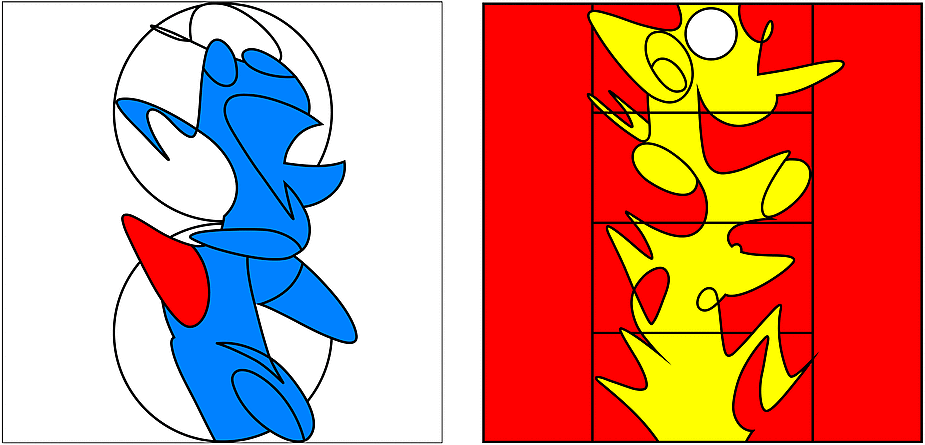 Adi Da Samraj: Orpheus and Linead | Adi Da Samraj is known for his monumental works meant to draw viewers into an ecstatic experience and connect them to a higher spiritual truth. Over the course of his artistic career, Adi Da embraced technology, which he valued for the precision, aesthetic freedom, and non-painterliness it allowed. For this body of work, Adi Da began by photographing a chair, a bicycle, and a bird in flight. He then made digital compositions of geometric shapes inspired by his photographs. Once completed, the first drawing served as the basis for the next work as he sought to progressively abstract his images. Thus each subsequent image was a further distillation of the previous one.
Adi Da's digital drawings were informed by a complex vocabulary of forms, colors, and spiritual concepts. He used two major visual elements in each work, which he called lineads and geomes. Lineads are hand-drawn gestural marks and curvilinear lines; geomes are solid geometric shapes. There is a momentum that takes place as the lineads uncoil upon the harmoniously positioned blocks of colors or the geomes. Together these forms unite to create a sense of dynamism and movement within the drawings.
Adi Da Samraj: Orpheus and Linead opens September 8 at Sundaram Tagore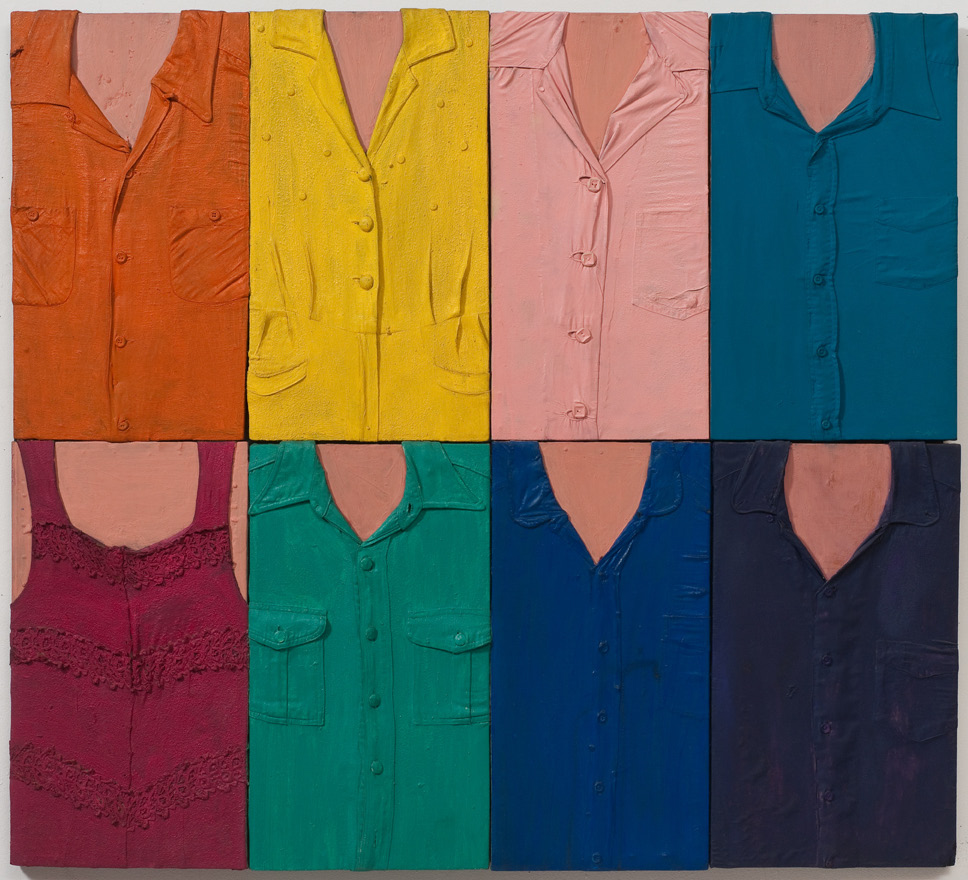 Tony Berlant: Works from 1962-1964 | Pre-dating the sophisticated collage works in tin on wood panel for which Berlant has become renowned, these "girl pieces" provide a unique insight into the early development of the artist's work. Although hung on the wall, these pieces are three-dimensional objects. Berlant combined non-traditional art materials -- clothes and resin -- as well as paint, to create hybrid works that exist between painting and sculpture. The outside edge of each work is a prominent extension of the face of the picture, conveying a strong assertion of object-hood. Most of these life-size works have direct reference to the figure, but without allusion to the face. Several are self-portraits, while others -- such as Elaine, Barbara and Sue -- refer to friends of the artist. Les 8 portrays a series of brightly colored shirts presented in two rows of four; in the enigmatic and emotive 3 a.m., one distinguishes a women's negligee under the thick accretions of dark paint and resin, while Made in Germany seemingly diverts from the figure entirely.
Tony Berlant: Works from 1962-1964 opens September 8 at L.A. Louver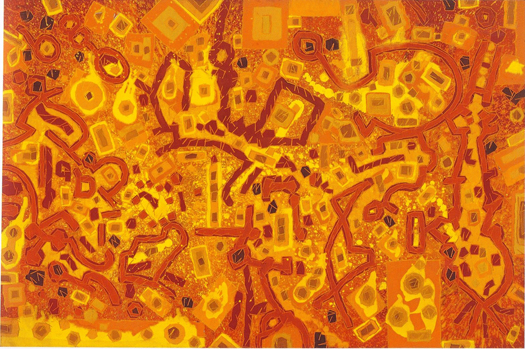 Lee Mullican: Paintings from the 1950s | Mullican, along with Wolfgang Paalen and Gordon Onslow Ford, was known as a member of "the Dynaton." This group of artists named after the Greek word for "the possible" acted as a bridge between the European Surrealist and American Abstract Expressionist schools. Disbanding shortly after its seminal exhibition in 1951 at the San Francisco Museum of Modern Art, the Dynaton explored the subconscious mind, mysticism, automatism, and the influences of ancient cultures, and bridged the gap between Surrealism (prominent in Europe in the 1920s to 1940s) and Abstract Expressionism (prominent in the United States in the 1950s). Mullican remained true to these ideas but went on to develop his own highly personal imagery.
Lee Mullican: Paintings from the 1950s opens September 10 at Marc Selwyn Fine Art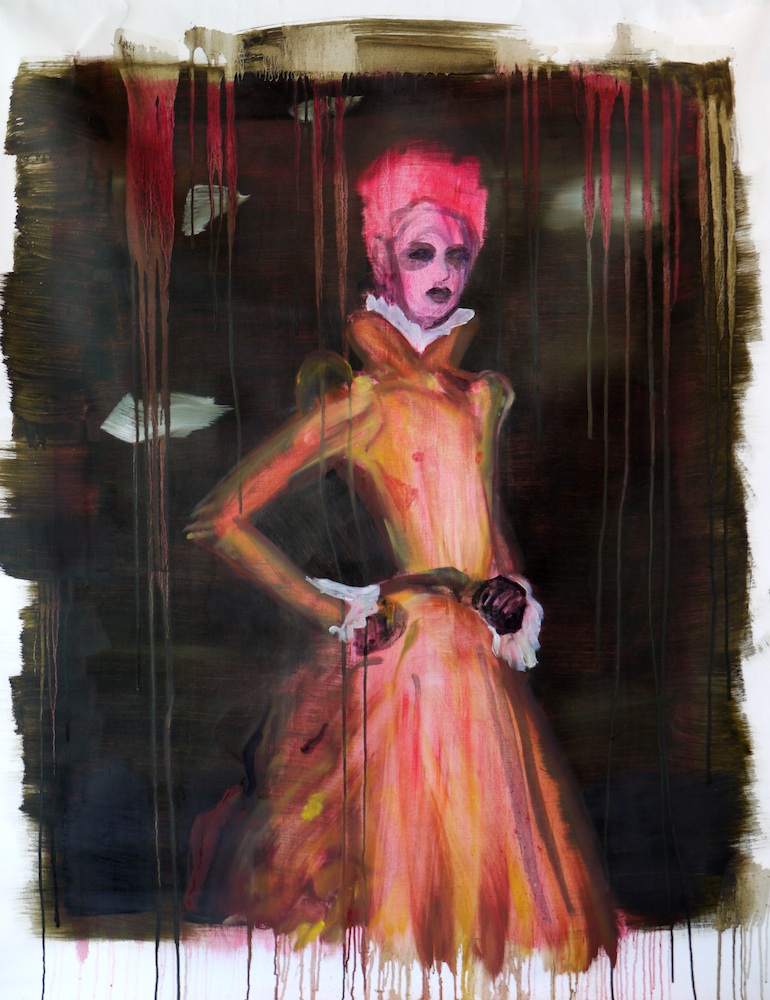 Kimberly Brooks: Thread | While in her previous series, including Mom's Friends (2007) and The Stylist Project (2010), Brooks used figures to construct narratives, here the female form is part of a broader abstracted landscape. And while earlier portraits boasted an uncanny likeness to their subjects, Brooks' style has shifted into something that is simultaneously looser and richer. Facial features have been abstracted and bodies distorted. Fashion and costume, a longtime theme for Brooks, is also deconstructed. Once painstakingly rendered folds and drapes have been reduced to their essential shapes and color fields. In these sumptuous new images, Brooks continues to address questions about how we frame beauty, and the phenomenon of fashion as a both pop culture and artistic touchstone. Taken as a whole, the new paintings create a meta-narrative that contemplates "threads" that define, unite and separate us across different cultures and eras.
Kimberly Brooks: Thread opens September 10 at Taylor De Cordoba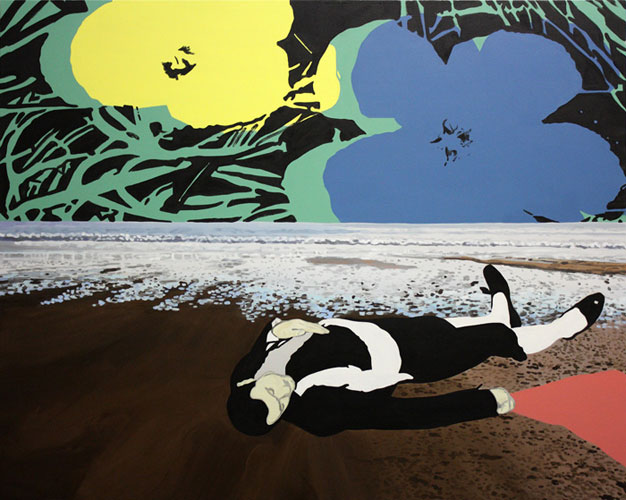 CK Lyons: Dead, Headless, and Female: The Matador Paintings | In the matador paintings, a series of work which began in 2006, Lyons makes a direct historical reference to three paintings by Edouard Manet : The Dead Man, ca. 1864; Matador Saluting, ca. 1866; and Mlle V... in the Costume of an Espada, 1862. Lyons explains, "I was initially attracted to Mlle V... in the Costume of an Espada for what I believe to be the painting's currency, in particular, Manet's choice of painting a woman in matador costume. This deconstruction of Mlle. V. led to investigating the symbolism of the matador."
There are no bullfights in these paintings. They exclusively consider the matador in his/ her costume, the ritual between the two, and its metaphorical possibilities in contemporary culture. It is a ritual in preparation for a staged act of violence. The artist contemplated a symbolic connection between this ritual and the global political climate in 2006.
CK Lyons: Dead, Headless, and Female: The Matador Paintings runs through September 24 at Gallery 3209
For a complete calendar of openings and exhibitions throughout Los Angeles go to Artweek.LA.
SUBSCRIBE TO & FOLLOW CULTURE SHIFT
Every Friday, HuffPost's Culture Shift newsletter helps you figure out which books you should read, art you should check out, movies you should watch and music should listen to. Learn more