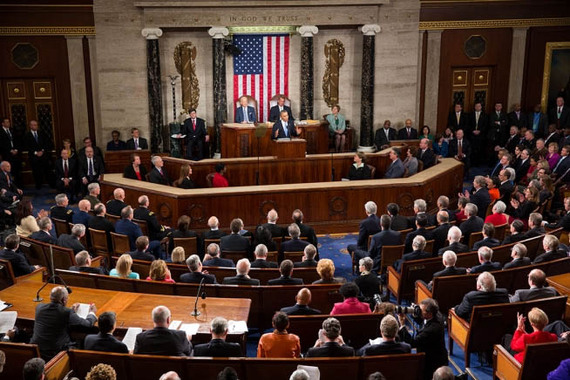 President Barack Obama addresses the nation from the House Chamber of the U.S. Capitol, Jan. 28, 2014. (Official White House Photo by Amanda Lucidon)
A continuing series on what folks in the public sphere
have said about climate change in recent days.
On Tuesday, President Obama delivered the constitutionally required State of the Union address. Climate change was among the topics mentioned.
Climate change is a fact.

.
The president says it's a fact, but it's not a fact here [in the Senate].

.

--Sen. Tim Scott (R-S.C.),

in response

to Obama's State of the Union
• Climate Change Chatter, Issue 1
• Climate Change Chatter, Issue 2
• Climate Change Chatter, Issue 3
• Climate Change Chatter, Issue 4
• Climate Change Chatter, Issue 5
• Climate Change Chatter, Issue 6
• Climate Change Chatter, Issue 7
• Climate Change Chatter, Issue 8
• Climate Change Chatter, Issue 9
• Climate Change Chatter, Issue 10
• Climate Change Chatter, Issue 11
• Climate Change Chatter, Issue 12
Keep up with TheGreenGrok | Find us on Facebook
Follow Bill Chameides on Twitter: www.twitter.com/TheGreenGrok