Did you know that both presidential candidates have weighed in on some of the key scientific issues facing our country today, including global warming? Check it out -- knowledge is power.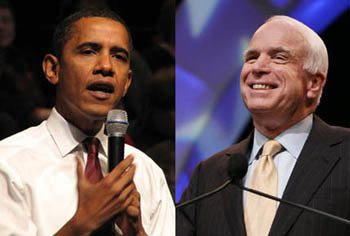 Imagine you had the opportunity to ask Senators John McCain (R-AZ) and Barack Obama (D-IL) about our most pressing environmental and scientific challenges. What would you ask? Maybe something like the following:
What are the best ways to address global warming?
How can we ensure that the United States remains the world's top scientific, technological innovator?
With our oceans in decline, what can we do to revive and protect this precious resource?
Well, a group of concerned citizens has gotten such an opportunity, and their Q&A with the candidates is available online.
Science Debate 2008: How It Happened
Call it an online town meeting. Last November, six scientists and writers came together over the common goal of reinserting science into the political dialogue. In a short time, their small group grew to a force of 38,000 strong. These scientists, academics, and writers, collectively known as Science Debate 2008, came up with more than 3,400 questions for the presidential candidates. (Duke University president Richard Brodhead and I are two of the many signers. Check out my video address to the candidates.) The group whittled the queries down to 14 and got them into the hands of the presidential candidates. Now the senators have weighed in.
Sneak Peek on Climate
To address global warming, both candidates support a market-based cap-and-trade system. Where they part ways a bit is in the details. Obama's program would aim to reduce carbon emissions 80 percent below 1990 levels by 2050, and require the auctioning of pollution credits. McCain's program would aim to reduce carbon emissions at least 60 percent below 1990 levels by 2050.
For more details on the candidates' proposals to tackle climate change and a whole range of scientific issues, check out ScienceDebate2008.
FOLLOW HUFFPOST