For the second installment of our series on what senators on the fence are thinking about cap and trade, we turn to the senior senator from Tennessee: Lamar Alexander (R).
A Look at Alexander's Career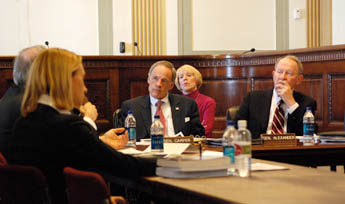 Shown here with Sen. Tom Carper (D-DE), left, at a Congressional clean air roundtable, Sen. Alexander acknowledges the problem of air pollution. As for global warming and a cap-and-trade bill that would address it? Take a look at the post.
First some background. Alexander arrived in the U.S. Senate in 2002 after winning the seat vacated by Fred Thompson (that's right, the real-life politician who played one on TV before running for the Republican presidential ticket in 2008). Before representing his state in Congress, Alexander had been Tennessee's governor then president of the University of Tennessee. From 1991 to 1993 he served as President George H. W. Bush's secretary of education. Alexander is probably most famous for his own unsuccessful presidential bids in 1996 and 2000. He currently serves as the Republican Party's conference chair.
Among Alexander's committee assignments is his seat on the Environment and Public Works Committee, chaired by Barbara Boxer (D-CA). The EPW is one of the hurdles over which any climate bill must pass on its way to the Senate floor.
Why Alexander Could Be Characterized as a Fence-Sitter
Despite Alexander's conservative credentials, the environmental community has long hoped he could be counted on in a legislative vote to sap greenhouse gas emissions.
I recall in my days at the Environmental Defense Fund his name often came up as a swing vote within reach. In fact, EDF's web site quotes him as saying, "Greenhouse gas is a problem. We ... should, working with other countries, use our
science and technology to deal with it and, in the process, see if it
can lead us toward that brilliant intersection of clean energy and
clean air that will one day give us a steady supply of energy and clean
air that we can breathe."
In addition to such statements, Alexander has been thought of as a possible "yes" vote on climate legislation because, for example, of his co-sponsorship of the Clean Air Planning Act, which among other things would use a market-based system to cap power plant pollution.
Indeed, in April 2009 the environmental news publisher Environment & Energy listed Alexander as a fence-sitter [pdf] on a cap-and-trade bill. A month earlier in March the wire service Agence France-Presse quoted the Tennessee senator as saying, "I'm open, as are several Republicans, to cap-and-trade," with a caveat of concern about the recession. All consistent with the notion that Alexander might very well vote for a Waxman-Markey type of bill.
Recent Statements Indicate Where He Stands Now
Now, Alexander wasn't always in the bag, of course. Note his vote back
in October 2003 against the McCain-Lieberman Climate Stewardship Act,
the only climate bill to date to get an up-and-down vote in the Senate.
He also voted in the summer of 2005 against Sen. John Kerry's Sense of
the Senate resolution "regarding the need for the United States to
address global climate change through comprehensive and cost-effective
national measures."
Alexander's recent statements given at the National Press Conference this past Monday might well be the strongest indication yet where he currently stands.
"Our country is at a critical point in its economic and energy history. Today's recession is the most severe in decades. . ... There's the unfinished job of cleaning the air and for many the global warming of our planet has become an urgent concern.
So it is against this backdrop that for the first time ever legislation dealing broadly with energy and climate change is coming out of the House of Representatives. The Senate's also moving ahead on both issues and the decision Congress makes will affect our well-being for years to come. The House of Representatives has chosen the high-cost solution to clean energy and climate change. Its economy-wide cap and trade and renewable energy mandate is a job-killing, $100 billion/year national energy tax that will add a new utility bill to every American family's budget." (See his press release complete with video.)
The Wall Street Journal noted that Alexander also said that the Waxman-Markey "unfixable" climate bill "needs to be junked."
At this juncture, it looks like we can safely move him off the fence and into the "nay" column.
Check out thegreengrok.com on Thursdays for the latest in our series, On the Climate Bill Fence: What Undecided Senators Are Thinking.
SUBSCRIBE TO & FOLLOW THE MORNING EMAIL
Start your workday the right way with the news that matters most. Learn more